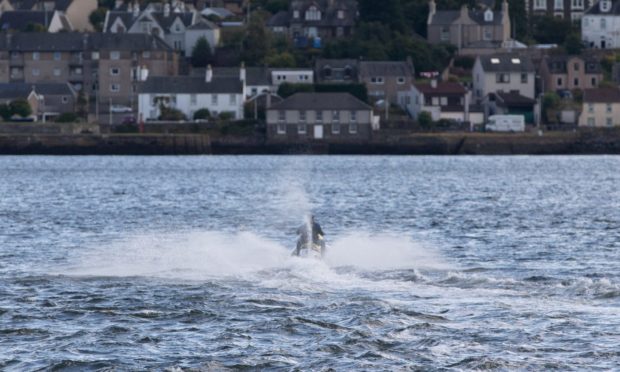 Police have been urged to take action on reckless jet-skiers using the River Tay in Dundee amid claims they are breaching the rules of the water and intimidating swimmers.
Kris Copeland says he was close to the shore at Beach Crescent, Broughty Ferry, with friend Jojo Neff when a man on one of the crafts became hostile towards him, performing a close-quarters U-turn that sent waves of water crashing on him.
And now the pair have urged police to take action on those who are using jet-skis on the Tay recklessly.
They are also calling for an education process to begin which better explains the guidelines on use of the Tay around Broughty Ferry. Currently a map on the harbour notice board is all there is to explain the rules.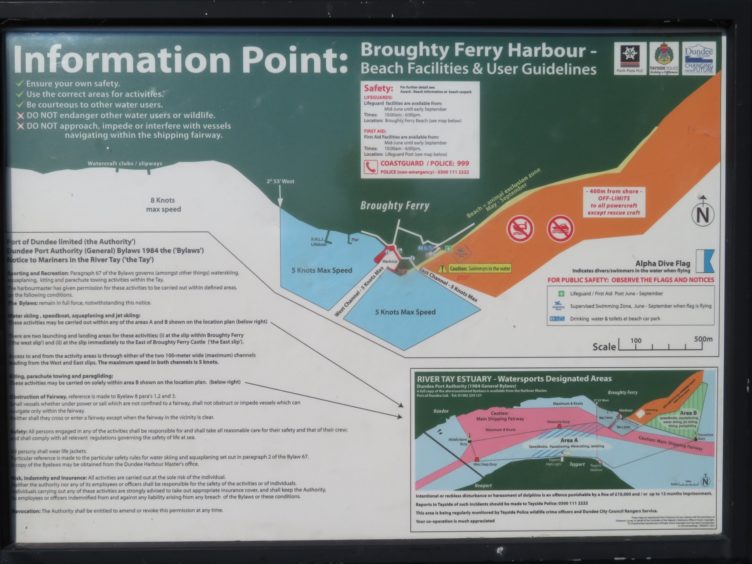 It points out the five-knots (5.7 mph) speed limit in place for crafts using the water on either side of the harbour, along with two channels at both ends to allow vehicles to go further out.
The map also shows a 400m section of the river along the Esplanade is completely out of bounds to all powercrafts.
However, speed-boaters, jet-skiers and others can use a large section of water beyond the shipping fairway on the Tayport side, known as Area A, freely.
Another section of river between the out-of-bounds Esplanade stretch and Horseshoe Buoy, known as Area B, can also be used openly by the crafts.
It must have been about 15ft-20ft (away). The guy just comes up at speed and just does a big U-turn and then goes back but obviously kicks up a big wave. I just thought 'He's done that on purpose just to make a point'."

Kris Copeland
Water skiing, speedboating, aquaplaning and jet skiing are prohibited anywhere
within 400m of the shore at any speed, from Grassy Beach to the Esplanade.
Jojo, 47, said: "Our issue is that obviously we can only swim near the shore because the river is too cold to go much further than the shore.
"They are not new rules, they have been there for decades, that regulate where powered crafts – especially jet-skiers – should operate.
"They have got two clearly defined access channels to get from the shore to their area. They are supposed to use those to get out to roughly halfway into the River Tay and then they can do what they want at whatever speed in the south half of the Tay.
"Some jet-skiers do that and nobody has got a problem with those. You can hardly see, and can hardly hear them, from the shore.
"But unfortunately some of them just don't seem to care really what the rules are. Either they just don't bother finding out what the rules are, or they know and they ignore them.
"If they were where they are supposed to be by law then I don't think anybody would bat an eyelid.
"There's no problem with considerate jet-skiers who stick to the areas where they are supposed to be. It is the people who are not considerate that cause the problem."
Tay jet-skiers warned of prison or £5k fines amid fears for Tentsmuir seal colony
The mechatronics engineer added: "I think it is a police matter."
Speaking about the incident, which happened on Saturday July 11, Kris, 38, said: "I set off swimming and I think I must have got about one third of the way breathing out to my right-hand side towards the buildings and a jet-ski came right up.
"It must have been about 15ft-20ft (away). The guy just comes up at speed and just does a big U-turn and then goes back but obviously kicks up a big wave.
"I just thought 'He's done that on purpose just to make a point'.
"You are pretty used to taking in water when it is choppy but again you give them these crafts or jet-skis, hitting you, it is lights out. It is good night.
Broughty Ferry RNLI crews in double call-out drama on River Tay
"We swim within the crescent and we've got a very small margin of water that we use. They have got a huge body of water to play with. The whole river.
"The police need to, if they are not going to enforce anything, go and speak to these people and let them know (the rules)."
A police spokeswoman said: "We are aware of concerns and have provided suitable advice."
The pair have only been taking to shallow sections of the water, a few metres from the coast, during favourable weather conditions.
It comes after the Broughty Ferry RNLI were called out to save stranded jet-skiers near Broughty Castle on Thursday evening.
And in early July, Fife Police Division issued a warning to people using the crafts close to the seal colony at Tentsmuir Point.