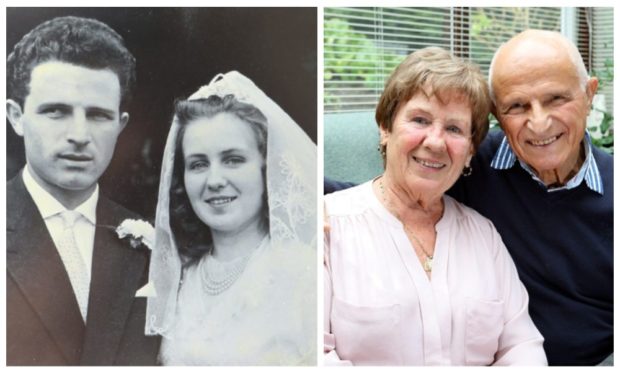 When Betty and Peppino met in 1959, the odds were stacked against them.
She was a 17-year-old from Dundee, he was a 26-year-old Italian working in Belgian mines.
Peppino Lapadula travelled to Scotland to visit his sister and picked up work on a Longforgan berry farm to pay his fare back to mainland Europe.
It was there he met Betty and fell in love but after a two-week whirlwind romance he returned to Belgium.
He spent five months writing letters in Italian, which Betty had translated before appearing at her parents' Lochee home on Hogmanay with an engagement ring in his hand.
The couple are celebrating their diamond anniversary today, 60 years later.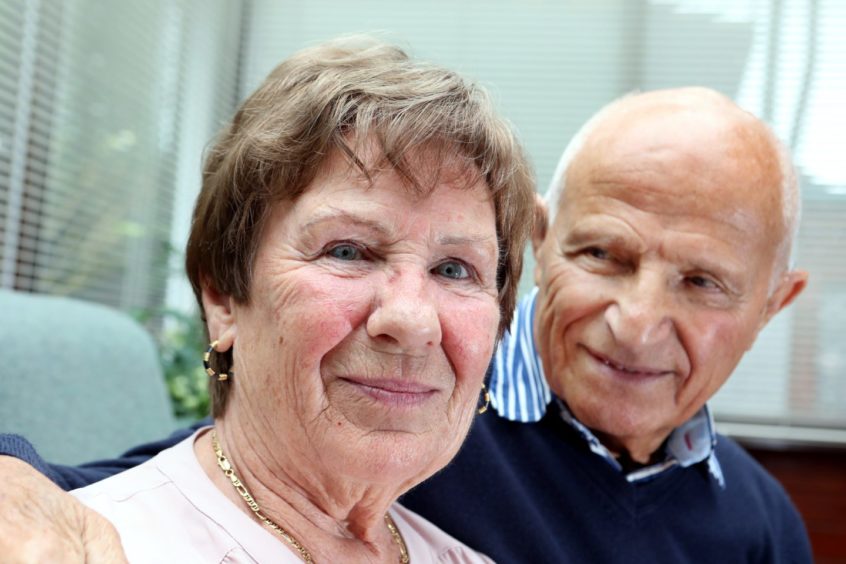 Betty, 78, said: "When Peppino appeared with a ring on Hogmanay, my mother said 'Are you crazy? Do you know what is in front of you?' but I really didn't.
"It was hard going in the first months of marriage.
"We didn't know if he was going to be allowed to stay. We had our first baby and the police came to ask questions but when he was allowed to stay we worked hard and built our whole lives here."
Peppino, 87, also faced questions from his family but said he is grateful to Dundee for the opportunities he has been given.
"If I wasn't able to be here Betty would have come with me," he said.
"They said if I was a good boy and worked I could stay and for me that was no problem.
"There were so many girls in Belgium my father said 'why here?' But we were fine and we're still fine.
"There was a lot of work but not much money, my first pay packet was £5. Everything I have here was done with my own hands."
After marrying in St Mary's RC Church, Lochee, on July 23 1960, the couple quickly settled into work and family life, with Betty working for Beatties Bakery and Peppino in a jute mill.
They went on to have four daughters and five grandchildren and were heavily involved with Club Romano, a community of Italian immigrants. Peppino even coached the club's amateur football team.
The thought of retiring to Fasano, the south Italian town where Peppino grew up, crossed their minds but they are glad they stayed in Dundee.
Betty said: "As long as we can keep going to Italy it's important that we go but  we wanted to stay here and visit a lot so we can have the best of both worlds.
"Our family is our life so we want to be near."
Peppino added: "Sometimes I do get fed up of the rain and miss home but this is my home now.
"I am lucky at this age to have family and my friends with me."
The Lapadulas celebrated their 50th anniversary with a big family party in in Fasano, where locals were stunned by the sight of men in kilts.
They were due to return this summer before coronavirus forced them to change their plans. Instead they will enjoy an Italian Mass  by Monsignor Aldo Angelosanto at St Brides RC Church in Monifieth, before a family meal.
One daughter will be missing from the celebrations as she chose to move to Fasano with her husband two years ago, bringing the town's links with Dundee full circle.
The couple's secret to a long and happy marriage? Trust, tolerance and listening to each other.