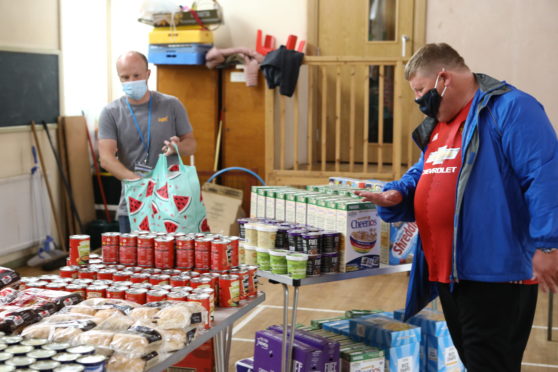 Volunteers are offering a lifeline to people as they open the doors of the a Dundee church to offer free food.
The Fintry Parish Church Community Larder project started life as a delivery service, working with charity Dundee Bairns and the city council to feed families struggling through lockdown.
It has widened the scope of the work and is using the church, on Fintry Drive, as a base for people to collect groceries.
July 23 marked the second week the church was opened.
Ross Clark, Fintry Parish Church community worker, said: "We were delivering food to families mostly because of how the referral system was working but then we thought it might be better for people to come to us now that lockdown is easing.
"It means we can help a wider variety of people. We're seeing more elderly people than we had been before.
"And the hall hasn't been getting used through lockdown, so it's good to put it to some use.
"We're also helping to reduce food waste, so it's a win win."
While the service is free for the time being, Ross said there are plans to introduce a £2 charge to to fill a bag in order to keep it sustainable.
"You can easily get at least £20 worth of food in a bag I think, so this small fee would allow us to keep the larder going longer," he said.
The volunteers hope to diversify the weekly service. A community nurse has joined the volunteers and they are considering setting up an appointment system for anyone who wants to get advice.
Ross said local engagement in the first two weeks has been healthy, with several people reaching out through social media to thank them for the food.
He said: "A lot of people have messaged us to thank us and some have said they would never have thought to use a service like this before, but with job losses and things like that there are more people in need it seems.
"Even people on furlough, losing 20% of their income can be difficult. We're just trying to help."
The larder is open on Thursdays from 11am to 1pm.