'They just attack': Efforts for a cafe culture in Dundee 'wrecked' by aggressive gulls
By
Emma Crichton
July 31 2020, 8.32am
Updated: July 31 2020, 9.29am
Efforts to create a cafe culture in Dundee are being wrecked by aggressive gulls swooping on terrified diners, a city centre business owner has warned.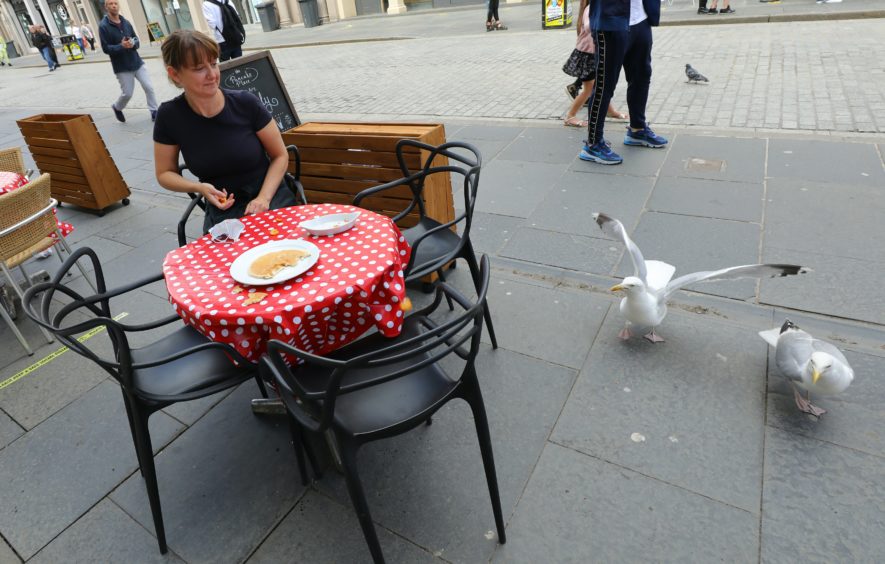 Euan Dunn, owner of the Pancake Place, extended his outdoor seating area when he reopened after lockdown but said his customers have been beseiged daily since the Reform Street café reopened a fortnight ago.
"If you put a plate down to anyone they just attack," he said.
"We've had to move people inside because they jump right on to tables and take the food, it's horrible.
"They have been attacking every customer but what do we do? Put a mosquito net around them? It seems a bit ridiculous, they are ruling the roost.
"It's bad enough for adults but it must be terrifying for kids."
Mr Dunn said he had planned to apply for permission to extend his outdoor area further, to allow for more social distancing, but is now thinking twice as customers are scared to sit outside.
It comes after Dundee City Council leader John Alexander said more of the city centre could be pedestrianised to devote space to bars, restaurants and cafes.
When Mr Dunn complained to the council's pest control department, he said he was told nothing can be done as wild birds are protected in Scotland.
"Dundee doesn't have much of a café culture but it could if space was given to it," Mr Dunn said.
"I was going to apply to extend further down Reform Street but there's no point if the gulls are driving everyone indoors.
"We could apply for a canopy which might hide the food a bit. I think it's one for the town as a whole to sort out. I'm not the only one suffering from it."
Previous attempts to reduce the city's gull population included work by pest control officers to remove eggs and nests in 2016. At the time it was warned this could take five to seven years to show an improvement.
Signs asking people not to feed birds have been erected and in 2017 new bins were installed across the city, with lids and sensors to stop gulls pulling out rubbish.
A spokesperson for Dundee City Council said: "We know that gulls can often be a cause for considerable distress and annoyance and over the years we have continually pursued tried and tested, as well as new and innovative, solutions to the problems that can be caused by these birds.
"We would also ask that people do not feed seagulls as this only exacerbates the problem."