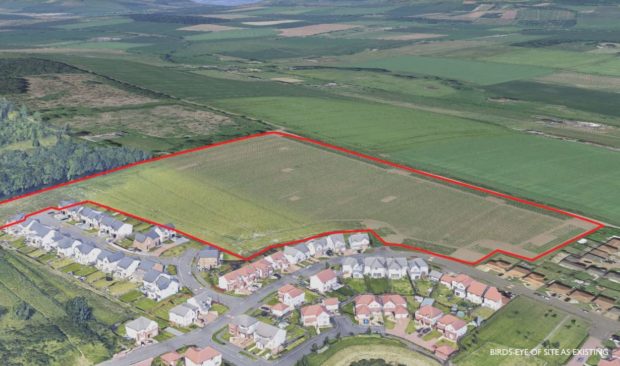 More than 100 houses are to be built on the outskirts of Dundee, despite fears over safety and flooding.
Residents living near the proposed development at Baldragon Farm called for safety measures for planned footpaths adjacent to a narrow and unlit farm road.
But Dundee City Council's planning committee voted to approve the 120 houses in the north of the city.
The mix of three and four bedroom houses form the latest phase of a wider development  on the site and nearby resident David Mulholland, who can only access his home via the single-track road, said there has been an increase of dog walkers and cyclists due to the development.
He raised safety concerns about the footpaths to be built alongside the farm track and told councillors he has been abused by pedestrians for driving on the road.
During the video meeting last night, he said: "While we have no objections to the houses being built we have safety concerns about the footpaths.
"These footpaths will be in addition to some residents have already installed.
"Since Craigowl View was built there has been an increase in pedestrians.
"Some of the pedestrians object to us using it and have been verbally abusive, resulting in us having to contact Police Scotland."
A spokesperson for developer Avant Homes said staggered barriers will be installed on all footpaths and a condition was imposed saying all safety plans must be shared and approved by the council.
But this did not convince SNP Strathmartine councillor Stewart Hunter who moved to reject the application.
He said: "I have previously supported applications on this site.
"I am not doing this as someone who does not want to see housing in the area, or more housing in the city. My main issue is that although some of the issues have solutions, this will just exacerbate existing problems.
"Residents have a lot of concerns about traffic in that area. While I do want to see more houses built and the economy start to get going after a difficult period, I can't support the application."
But his amendment, calling for the application was refused, was outvoted by 18 votes to five.
Meanwhile, another application to build 49 houses at Downfield Golf Course was unanimously approved.
There were public objections to the Kirkwood Homes development, including a petition against it, but planning officials had recommended approval and councillors approved the application without debate.
The land is not part of the current course and the golf club has agreed with the developer to use profits to renovate the clubhouse.
Objectors complained of a loss of green space and raised concerns about an increase in traffic and a negative affect on wildlife.