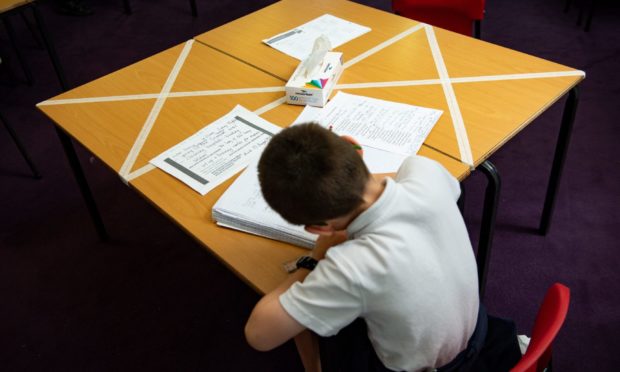 Millions of pounds ring-fenced for helping pupils from the most deprived communities in Dundee will be "reprioritised".
Dundee Council chiefs are trying to plug a £19.5m Covid-19 hole in the city's finances after spending an additional £33m tackling the outbreak.
Executive director of corporate services Greg Colman will present to councillors on the policy and resources committee on Monday a report on the financial implications of coronavirus and a financial recovery plan.
It contains "measures" accounting for almost £16.5m of the shortfall, leaving the cash-strapped council still facing a £3.1m gap in its budget for this financial year.
A "targeted" programme of voluntary redundancies and early retirements is another measure contained in the plan.
Council leader John Alexander branded the figures "very concerning" but said the authority has to spend extra "to save lives."
Mr Alexander said: "We have been working hard to support individuals and communities who have been hardest hit by the coronavirus crisis and lockdown.
"But this has come at a price, and we have incurred significant extra spending. Despite receiving funds supplied by the Scottish and UK governments we are still left looking at a substantial deficit.
"The council has been hit hard by the lack of income in areas like parking and construction services, while Leisure & Culture Dundee has suffered from a major drop in revenue."
He said his administration would be sending the report to the Scottish Parliament's local government and communities committee "to show the financial impact on Dundee."
"The financial recovery plan represents a sensible way forward. Although these are very concerning financial statistics, it cannot be forgotten that direct action was taken to save lives.
"We still all have a part to play in helping suppress this deadly virus further."
The council will take advantage of looser rules around funding previously ring-fenced by the Scottish Government to help pupils from more deprived backgrounds.
Officers will look to "re-prioritise" £4m from children's services budgets, including money previously allocated for the Pupil Equity Fund, Scottish Attainment Challenge and for the expansion in early years and childcare.
The funding will help "offset the significant Covid-19 costs in children's services," according to the plan.
The financial recovery plan highlights staff costs currently account for around 67% of the council's day-to-day spending budget.
Recruitment to vacant posts has been restricted to essential roles and teaching posts since March.
Under the plan, the freeze will continue until the end of this financial year while a redundancy programme looks to cut staff costs.
Mr Colgan states in his report: "In order to deliver savings in staffing budgets, opportunities for voluntary early retirement and voluntary redundancy will be identified on a targeted basis across all services."
The 2020/21 budget staff costs savings target of £0.5m – approved before the pandemic – has not been changed, the report states.