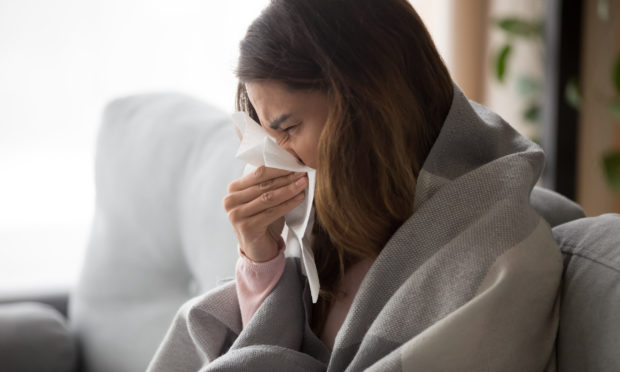 Tayside health chiefs fear poor uptake of the flu vaccine could cause a winter double whammy if a second wave of Covid-19 hits.
Public health bosses say inoculating as many health workers and vulnerable locals as possible is more important than ever this year as cases begin to rise again across the country.
They fear many could be at increased risk if they fall ill with both viruses while already strained services in the colder months could struggle to cope.
NHS Tayside vaccine programme manager Jane Forbes said it is "vitally important" to get as many health and social care workers, as well as those in at-risk groups, vaccinated against flu this year.
She said: "The possibility of COVID-19 circulating alongside flu could have a significant impact on our health and social care services in Tayside.
"By taking up the offer of a free flu vaccination, people can help us to minimise the spread of infection in our hospitals and communities and more people than ever before will be eligible to receive a free flu vaccination.
"Flu can be a very serious illness. It spreads easily and is much worse than a bad cold. The flu jab only takes a few moments and the earlier that people are vaccinated, the less likely flu is to spread. So don't leave it too late – get ready for flu this winter."
The influenza programme will start in late September/early October and run through to the early part of 2021.
NHS Tayside has again set a minimum target of vaccinating 60% of healthcare staff.
Soon-to-retire director of Public Health Dr Drew Walker urged colleagues at a recent NHS Tayside board meeting to step up their efforts.
He said: "This is going to be a particularly important challenge for us this flu season.
"It is always a challenge to get uptake of this vaccine, which is very safe and very effective, as high as it should be.
"Although it does not always prevent flu, it invariably reduces the severity experienced.
"This really is a vaccine we should be achieving much higher levels of uptake for. I would encourage anybody — both NHS, care workers and our vulnerable and older population — to take up the opportunity.
"This year it's more important than ever before."
Senior statistician and epidemiologist Dr Mike Lonergan, of Dundee University's school of medicine, said prioritising the programme "makes sense".
He said: "The NHS is always under more pressure in the winter and the flu season tends to be a struggle.
"Therefore if we do get a second-wave of Covid, it doesn't sound like a particularly good situation to be in.
"Getting people vaccinated is cheap and safe so I imagine it would be an easy decision to push for better uptake and I'm glad NHS Tayside are.
"I suspect they will try and get it started as fast as possible to avoid doing it at the same time as any potential increase in Covid-19 cases.
"This may be their best chance to do it while cases are still relatively low and people are getting back to their normal lives."