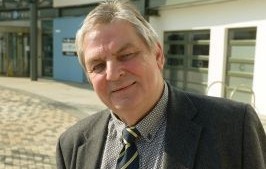 Police and local councillors are determined to bring an end to antisocial behaviour carried out by reckless youths on petrol bikes.
The Courier was contacted this week by a concerned mother from a housing estate in the city's Fintry area, who claims that teens on scooters and petrol bikes are making locals' lives hell.
The woman, who asked not to be named, insisted that the area's streets are filled with young children on a nightly basis, but that young bikers continually "bomb up and down".
The mother-of-two fears not enough is being done to tackle the issue.
She said: "There are kids out here every night, but young people with their hoods pulled right up speed up and down the streets on petrol bikes.
"They all come down from places like Mill of Mains and cause problems.
"I have an 11-year-old daughter and I tell her to be careful when she's going out to play.
"it's been like this for ages."
The frustrated parent's words come as Police Scotland launched a plea for information following the vandalism of several vehicles in the area.
Thugs threw bricks and poured black liquid over resident's cars during a 24 hour period last weekend.
Labour representative and local councillor Brian Gordon conceded that areas like Fintry have a very real issue with "hoodies" on bikes.
He said: "The is a city-wide problem, but it is particularly prevalent in Fintry.
"And when we're coming into the better weather, things are going to get worse.
"This has been an issue on and off in the north-east for a few years now.
"There are quite a few quad bikes in Fintry and I would appeal to people all over Dundee that if they know where the bikes are, then let the police know."
Such is the severity of the problem, police have launched a special operation to bring the bikers to justice.
Constable Richard Heggie, Dundee Local Policing Area said: "Operation Challenge has been running in Dundee successfully over a number of years in response to concerns raised by local communities across the city.
"We will carry out intelligence led patrols in identified hotspot areas throughout the city to combat the anti-social and illegal use of motorbikes.
"Officers will make full use of their powers to prevent and detect offenders."
Dundee City Council community safety and public protection convener Councillor Alan Ross added: "Operation Challenge is an excellent example of how the city council and Police Scotland respond to community concerns about anti-social behaviour with a proactive campaign."