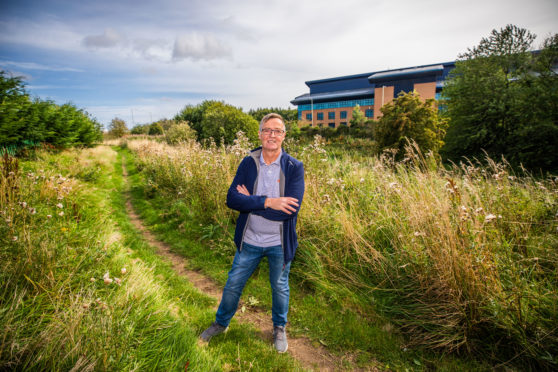 Residents of an new housing estate in Dundee have raised concerns the developer is delaying building vital infrastructure as they face accusations of breaching planning restrictions.
Homeowners at the Western Gateway are living without footpaths and a crossing over the Kingsway near the Swallow Roundabout, which they claim is an accident waiting to happen. They have also demanded an upgraded entrance at the roundabout.
Planning permission was granted for 700 homes at the site but a restriction imposed by Dundee City Council stipulated developer Springfield could not build more than 270 homes until the infrastructure was in place.
However, there are more than 300 homes now occupied in the area, according to chairman of the community's resident group Bill Batchelor. The roadworks have yet to start.
The limit was placed by councillors to ensure traffic is manageable and residents have previously made pleas for the work to begin amid safety concerns.
Plea for safety measures at Dundee's Swallow Roundabout before lives are lost
When asked by The Courier why more than 270 homes had been built, neither the council nor Springfield offered an explanation.
It is understood a private strip of land in the area has caused some disruption as Springfield negotiate with the landowner.
Mr Batchelor said: "All we want is answers. If there is a reasonable explanation to this, then fair enough.
"But I have been in contact with the council and Springfield and have not got a clear answer from them.
"Springfield will need to ask for an extension to the planning permission and we have heard that this could be up to 100 houses. That would increase the delay by a further 18 months
"The land has not even been purchased yet and we think it's a deliberate delay to get a compulsory purchase order. They're dragging their heels on this. We need to have confidence in them."
Dundee residents say new housing estate is not pedestrian-friendly
Local councillor Michael Marra, said: "We cannot have more traffic on this roundabout without the upgrade works being completed. The longer this goes on the greater the risks for residents using the Swallow roundabout who, it is worth remembering, have no paths out of the area and no public transport.
"I want to protect jobs with continued house building in the area, but that is dependent on the roundabout being upgraded. That is the legal position and there is no getting away from it."
Mr Marra has a meeting with the council's head of planning "in the coming days" and will raise the concerns then.
He added: "Residents deserve answers. The process must be open and transparent for all. The safety of those using this roundabout must come first. We cannot see lives put at risk."
A council spokesman said: "The council is monitoring the situation and is in discussions with the developer."
Springfield Central Managing Director, Peter Matthews, said: "Springfield is committed to improving the Swallow Roundabout in partnership with Dundee City Council and we are working together to upgrade it.
"Unfortunately, as a result of the pandemic and in line with Scottish Government guidelines, Springfield had to stop all construction work, including an anticipated start on the roundabout.
"Our original programme assumed the work could be started and completed this year. This is no longer the case and we need to look at the potential impact of working into 2021. We would like to reassure residents that all parties are committed to ensuring that the roundabout upgrade can be delivered as quickly as possible.
"Springfield would like to thank residents for being patient and understanding while we have been working to overcome these challenges."