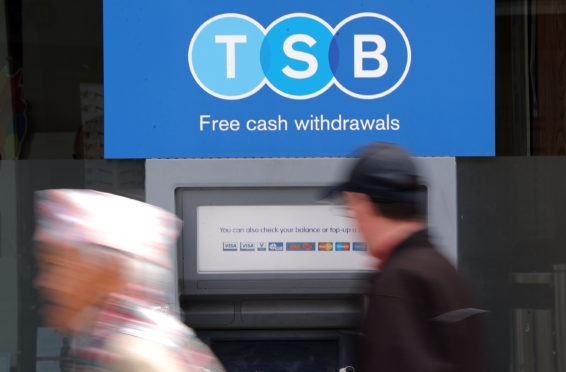 The planned closure of TSB branches has been labelled as the end of communities such as Lochee in Dundee.
The bank announced a slew of closures across the country, including 15 in Tayside and Fife, earlier this week.
Among them is Lochee High Street, where the bank has had a branch in one of the area's most distinctive buildings for decades.
Jayne Kelly, of campaign group Save Our Lochee High Street, said she got "quite emotional" when she heard the news, knowing it was another significant blow for the area.
She said: "We campaigned to save Santander and I said then any further closures will be devastating for Lochee.
"All the businesses in the area bank locally and now they have nowhere to go.
"TSB is an institution in Lochee. It's been here for as long as I can remember. It's in a distinctive building and I don't know what would go in there now.
"Kids need to grow up somewhere they are proud to be. Seeing everywhere empty will not help that.
"It is people in communities like Lochee who made banks like TSB what they are, so for branches like this to be closing is a kick in the teeth."
Ms Kelly said many elderly people in Lochee need the branch for their banking needs, as well as a for some much-needed social interaction.
She added: "For some of them, it is the only time they are leaving their homes at the moment so there's a social aspect as well. It's also safer taking out their cash inside the building rather than at an ATM on the street.
"The staff there are brilliant. They are part of the community so it's really sad for them. It's the end of the High Street."
The spate of closures will leave Carnoustie without a single bank in the town.
Community council chairman Arliss Rhind said he will raise the matter with his colleagues to see if TSB can be persuaded to change their minds.
He said: "I feel sorry for the people who bank there and will have nowhere to go nearby. Not everyone uses online banking or is comfortable with it.
"This will leave our nearest banks being in either Arbroath or Monifieth I think.
"As far as I am concerned it is awful. We will make sure the feelings of those in the community are known to TSB."
In a statement when announcing the closures, TSB customer banking director Robin Bulloch said: "These decisions are the most difficult we take, but we must always be guided by our customers – and we are clearly witnessing a substantial shift towards digital banking"