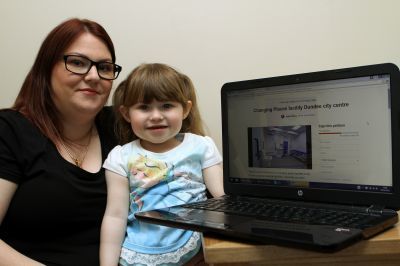 A passionate plea from the mother of a disabled toddler for improved disability facilities in Dundee has attracted mass support.
Jennifer Wilson, 33, created a petition calling for Dundee City Council to introduce more disabled toilets with specialist changing 
equipment.
Jennifer cares for three-year-old daughter Lacey, who has suffered from a bowel and bladder condition since birth.
Lacey's illness has forced her to undergo more than 60 operations and means she needs help in accessing the toilet.
Inspired campaigner Jennifer began her crusade after becoming frustrated by what she sees as a dearth of suitable changing facilities in Dundee.
Within days of going live, Jennifer's petition attracted more than 100 signatures of support.
Since The Courier publicised the 33-year-old's campaign, the petition has exploded and now boasts a phenomenal 1900+ signatures.
Speaking previously, the determined mother told The Courier: "There is a very small amount of changing places 
facilities in the Dundee area, but we definitely need something in the city centre.
"Some of the people who use these facilities have open wounds and have to lie on floors which are splashed with urine and God knows what else.
"If we had more changing places it would allow disabled people to enjoy the city centre with ease knowing they can be changed in a suitable and more 
dignified facility."
Jennifer's campaign has also caught the attention of local disability group PAMIS.
The group's chief executive Jenny Miller said: "This is a human rights issue.
"We should be building environments that are accessible for everyone.
"I think it should be compulsory for all new buildings to have these sort of facilities."
She continued: "PAMIS have been campaigning for the past 15 years for this facility and agree with Jennifer that this is a really important, basic human right issue
"The Scottish government have been very supportive of this initiative and it was a key target in the strategy for people with a learning disabilities.
"But there are still real deserts where there aren't any changing places toilets."
A spokesman for Dundee City Council said: "We are looking forward to 
receiving the petition and will consider its contents in due course."
To view the petition visit www.change.org/p/dundee-city-council-changing-places-facility-dundee-city-centre.