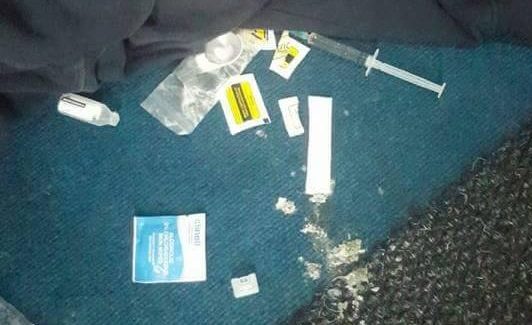 Residents of an Ardler terrace were shocked over the weekend when they awoke to find used needles discarded in their close.
Paul Scobie contacted The Courier after discovering the dangerously abandoned paraphernalia – including used needles and dirty, drug encrusted spoons – on the stairwell of his flat on Turnberry Avenue.
Paul, 20, had returned from his work at McDonalds at 8am to discover the items, and assumes someone had entered his close to inject the drugs.
He said that this was the first time anything like this had happened in the block of flats where he lives.
"It's not something you would expect to see," he said.
"When I came in from work, I noticed a jumper lying on the floor and when I looked closer at the pile I could see used needles and spoons."
John Alexander, SNP councillor for Strathmartine, said that incidents like the one discovered on Turnberry Avenue were "completely unacceptable".
He said: "As a councillor and as a father, I am deeply concerned about the implications of drug users using public spaces to inject and abuse drugs.
"It was lucky that the paraphernalia was discovered by an adult and not a child.
"It is really concerning that drug users are using communal public spaces to take drugs and any issue like this one will be deeply concerning to residents.
"We encourage all members of the community who discover used drug paraphernalia in the city to report the matter to the council community safety team.
"I would also call on those suffering from drug addiction to seek help from our drug, alcohol and blood borne virus social work team, who can provide assistance and direct users to 'safe' areas where needles can be discarded in sharps boxes.
"The council are working in close partnership with NHS Tayside, Police Scotland and Scottish Fire and Rescue to tackle incidents like this.
"This unfortunately is an issue that affects too many areas in Dundee."
The find comes as a shocking report revealed that up to a third of substance abusers in Tayside and Fife became addicted to drugs as teenagers.