Other Dundee landmarks have come and gone, but this soaring spire has pierced the city skyline since the mid-19th Century. Caroline Lindsay praises the gothic perfection of St Paul's Cathedral, and looks at its place in the modern world.
Once upon a time, in medieval Dundee, a formidable war-torn castle stood on a rock. Today, St Paul's Episcopal Cathedral stands peacefully in the same spot, welcoming all who come through its doors.
One of the finest examples of gothic architecture in Courier Country, the cathedral was built by renowned Victorian architect Sir George Gilbert Scott in the 1850s, replacing the one and only Episcopal chapel in Dundee.
The Provost of St Paul's since 2010, the Very Reverend Jeremy Auld, takes up the story: "A young Scottish priest, Alexander Penrose Forbes, was elected bishop and came to minister in the Dundee chapel. He immediately decided that the drab church was unworthy of the worship of God and did nothing to lift the spirits of the congregation that worshipped there.
"So he bought the site of the old castle including two 18th century merchants' houses, immediately opening a school in one of the houses, and set about raising money for a new church that would sit up on the rock," Jeremy continues.
"Forbes cared passionately about the plight of the poor in Dundee and would tirelessly visit the slums around the city centre with a prayer book in one pocket and a bottle of port in the other looking after the holistic needs of his community! And he wanted his new church to lift their spirits and give them a taste of colour and splendour, a foretaste of the glories of heaven, so he commissioned Scott to design a church 'whose very stones will cry 'Alleluia.'"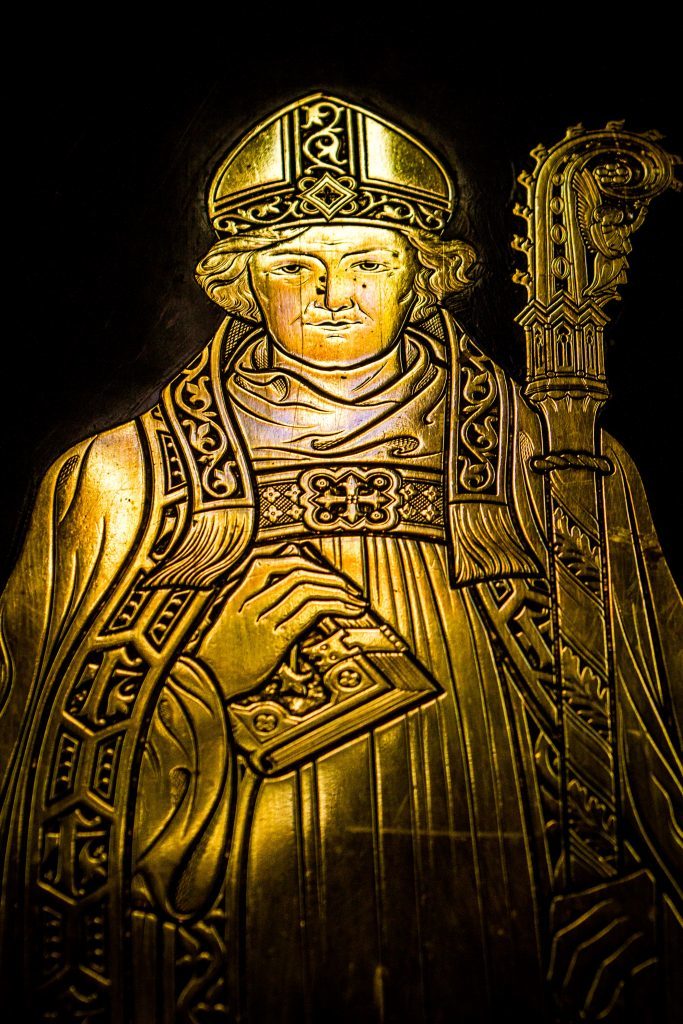 The foundation stone was laid in 1853 and the church on the rock, with the tallest spire in Dundee, was opened in November 1855. Even then building projects went over budget and so they had to settle for cheap pine pews and wait another 10 years to put in the stained glass windows, the pipe organ and the glorious golden mosaic altarpiece by Salviati of Venice.
"They were worth the wait though as St Paul's now has some of the very best Victorian stained glass in the UK and a fine organ still played several times a week," smiles Jeremy.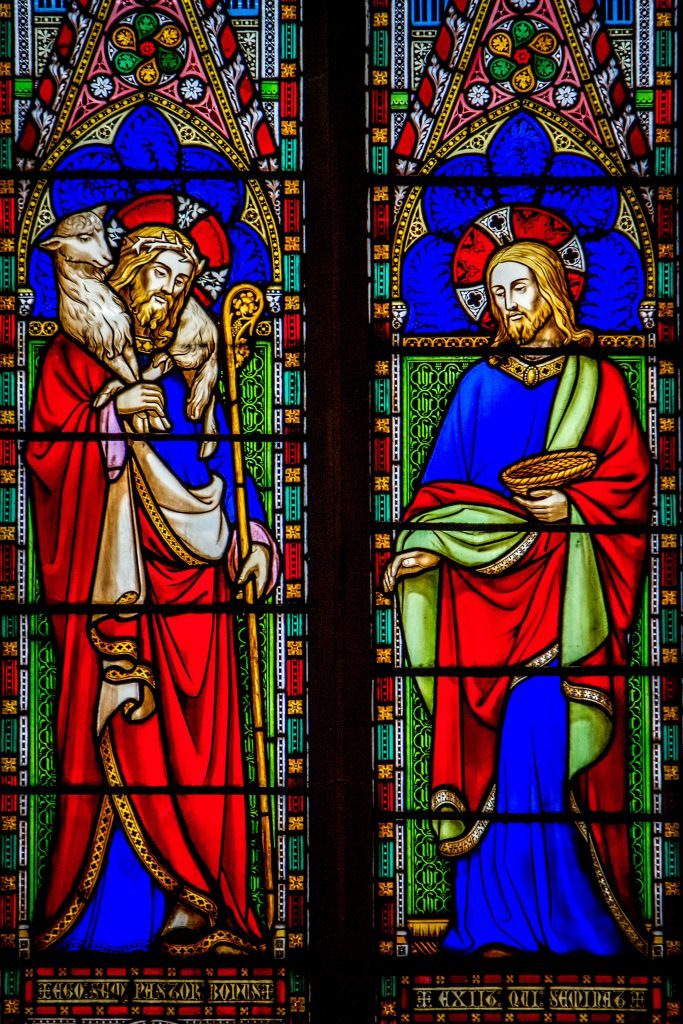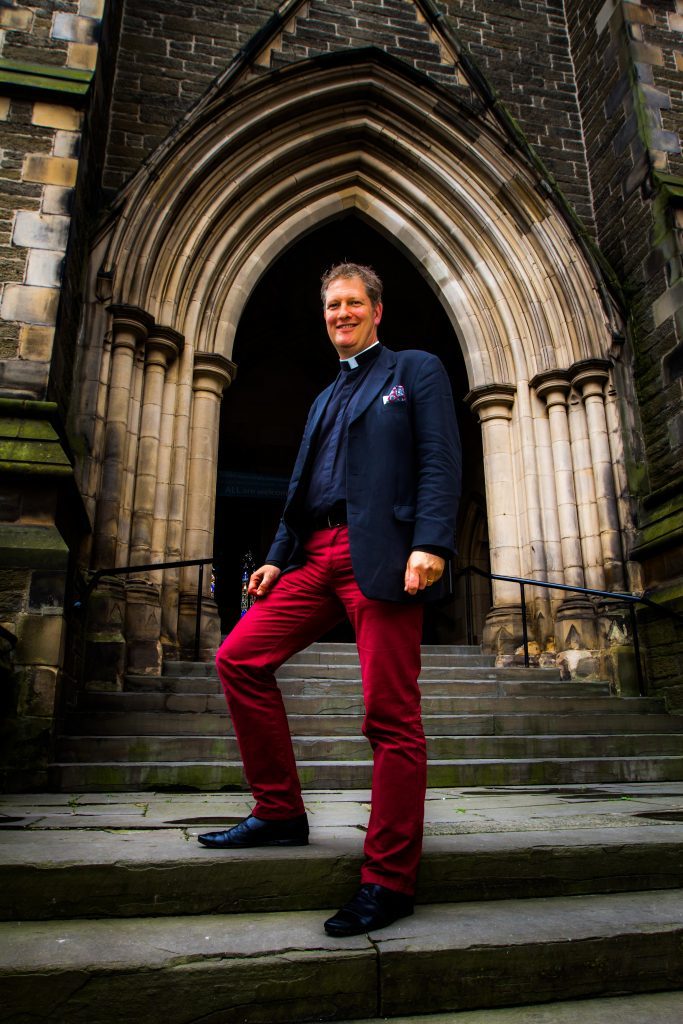 For a cathedral, St Paul's is quite small – Scott achieved grandeur mainly through height, and birds occasionally take advantage of the 70 foot high vaulted oak roof to swoop in during services. "During one evensong we had to turn off all the lights and lay a trail of food to lure it out," recalls Jeremy.
Described by conservation architects as one of the finest and most important churches of the 1850s in the whole of the UK, it really is a hidden gem.
"It never ceases to amaze me how many locals come in because they see the door open and exclaim they never realised such a beautiful church existed here."
Outside, St Paul's is dominated by the massive tower and spire which soars to a height of almost 250 feet. Once a year, two intrepid steeplejacks climb the outside of the spire to to check for loose stone, repoint any loose mortar, inspect the lightning conductors and carry out other general maintenance. The spire is topped by a cockerel, cast from copper. Jeremy recalls that a few years back, the cockerel fell from his perch and until he was reinstated, Jeremy used him as a sermon prop.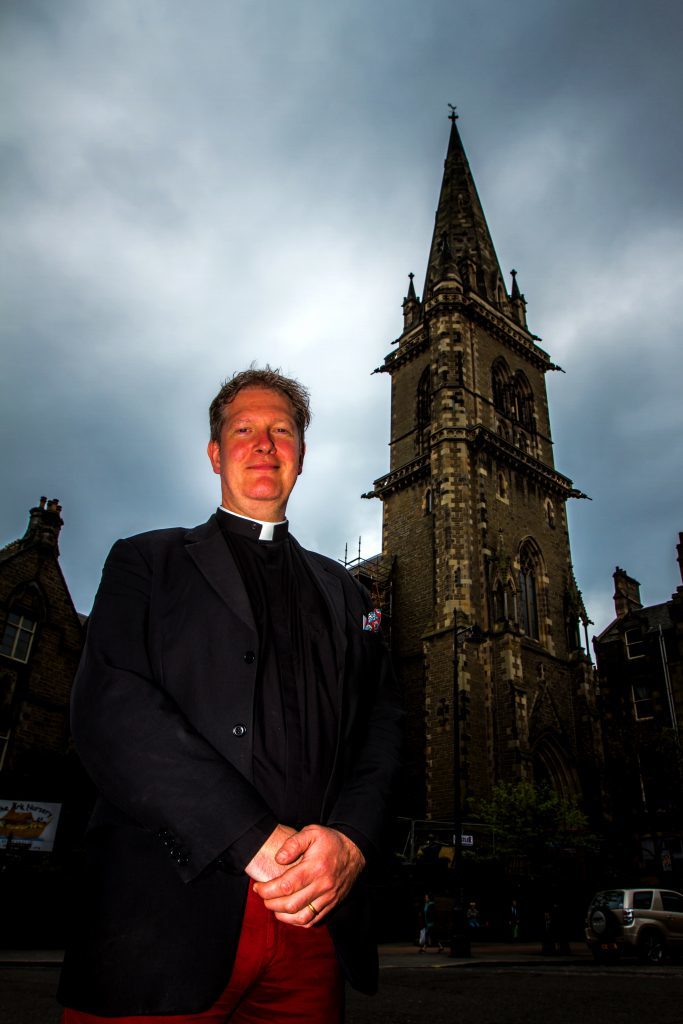 Up in the tower, eight magnificent bronze bells, which ring in the key of E flat, are rung by a team of 10 bell ringers.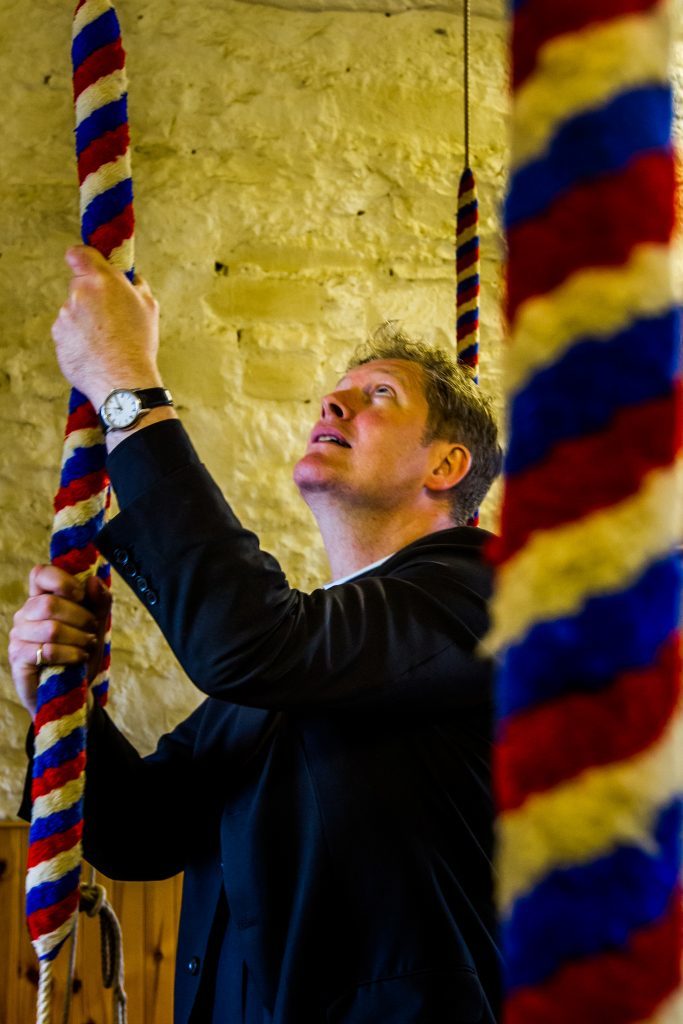 Inside, the tomb of Bishop Forbes can be found in the chancel together with a large marble memorial built by members of the congregation. Many of the present members feel his friendly ghost moving around the cathedral and Jeremy admits he always says "Good morning" and "Good night" in case the bishop is listening!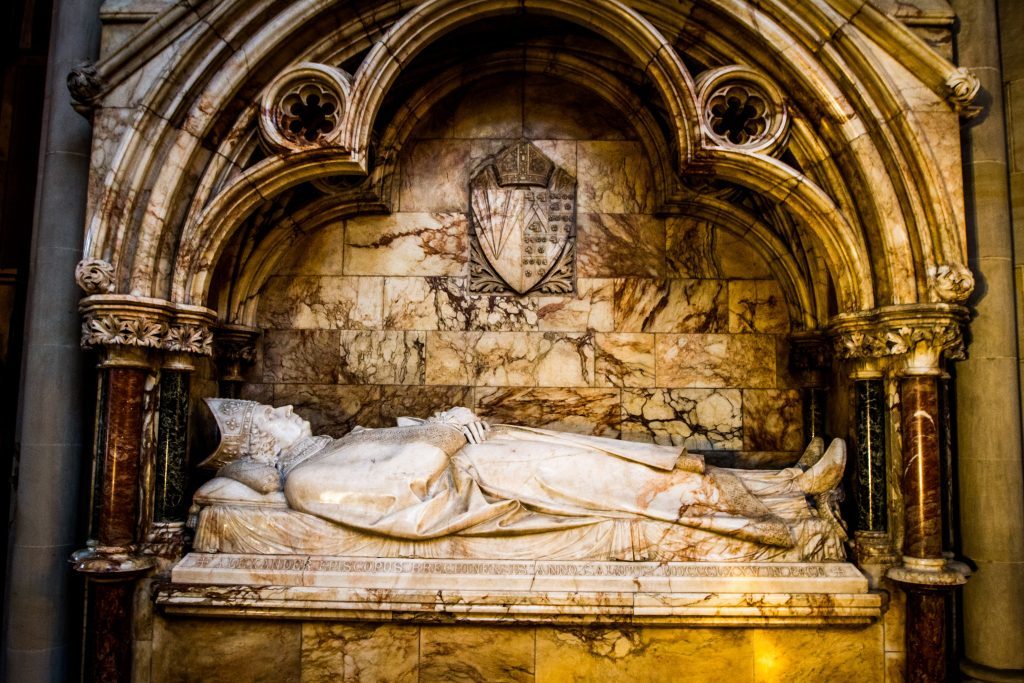 There is also a memorial to Patrick Chalmers of Castle Street who spent many years trying to get official recognition for his father James for inventing the adhesive postage stamp.
Past congregation members include Mary Lily Walker who worked in the Dundee slums to educate children out of poverty. On a slightly more sinister note William Berry, believed by many to have been Jack the Ripper who moved to Dundee after his reign of terror in the Whitechapel area of London, worshipped at St Paul's before being arrested and convicted for the murder of his wife. Former Rector of St Paul's, Edward Gough, prayed with him in the condemned cell on the morning of his execution and accompanied him to the gallows.
There's no doubting the splendour of this great cathedral but now, appropriately for a building whose motto is "the spirit of discovery", a major restoration project is under way to bring it into the 21st Century and to provide, above all, the disabled access that has never before been possible.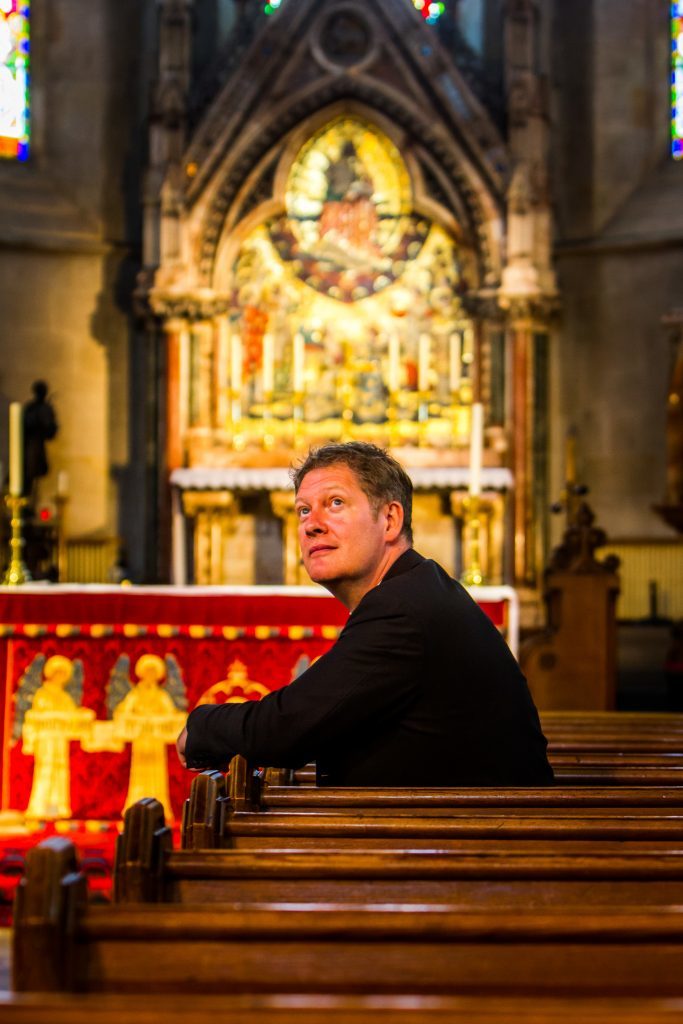 Jeremy explains the extent of the work needing done: "We're currently carrying out around £100k of work to the roof but our major challenge is access. I admire Forbes's vision to build a church on a rock so that people literally ascended to his representation of heaven on earth but for a church of the 21st century which seeks to be inclusive and welcoming of all, having to climb 28 steps from the pavement as the only way in, really will not do.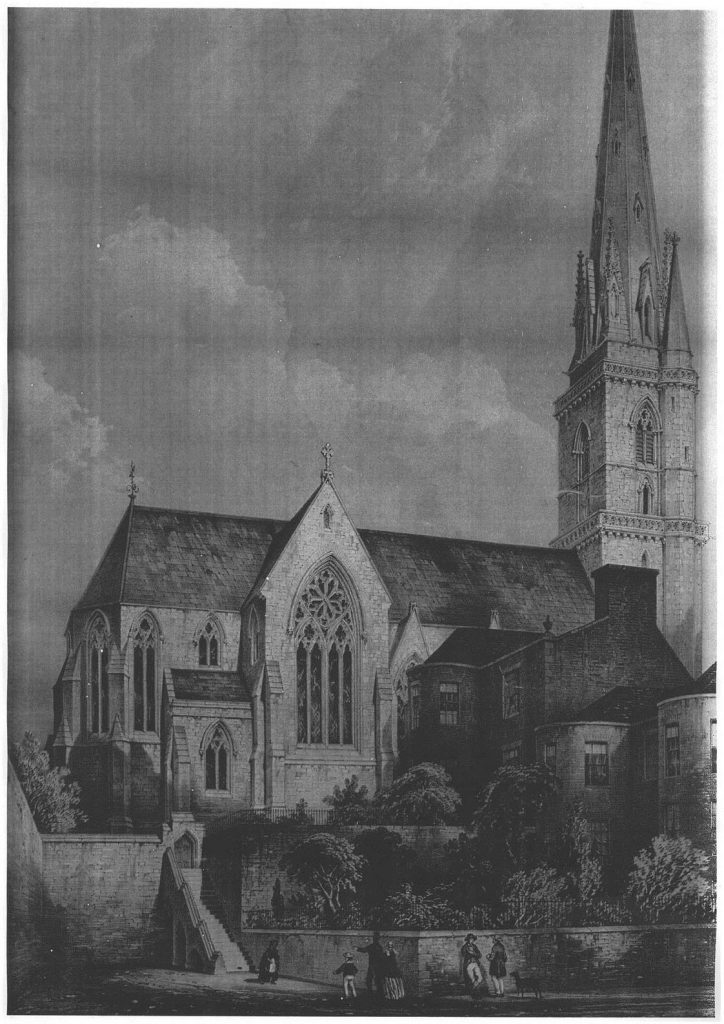 "Cathedrals and parish churches in medieval times were at the hub of their communities and not just for religious ceremonies – they were used for anything from business meetings to dances, from markets to theatre. Since the reformation when we have tended to fill our churches with pews, we have lost a lot of this and our vision is to get back to something similar," says Jeremy.
"We want St Paul's to be there to serve the community and for the building to be loved and used much more broadly by the wider community. It is, we think, potentially one of Dundee's best spaces and it deserves to be used. The architects (Wellwood Leslie of Broughty Ferry) have come up with a design that uses a series of lifts and ramps which will allow disability access through a new glass porch entrance to the side of the cathedral. The plans have been approved and now all we need is approximately £500k to implement them."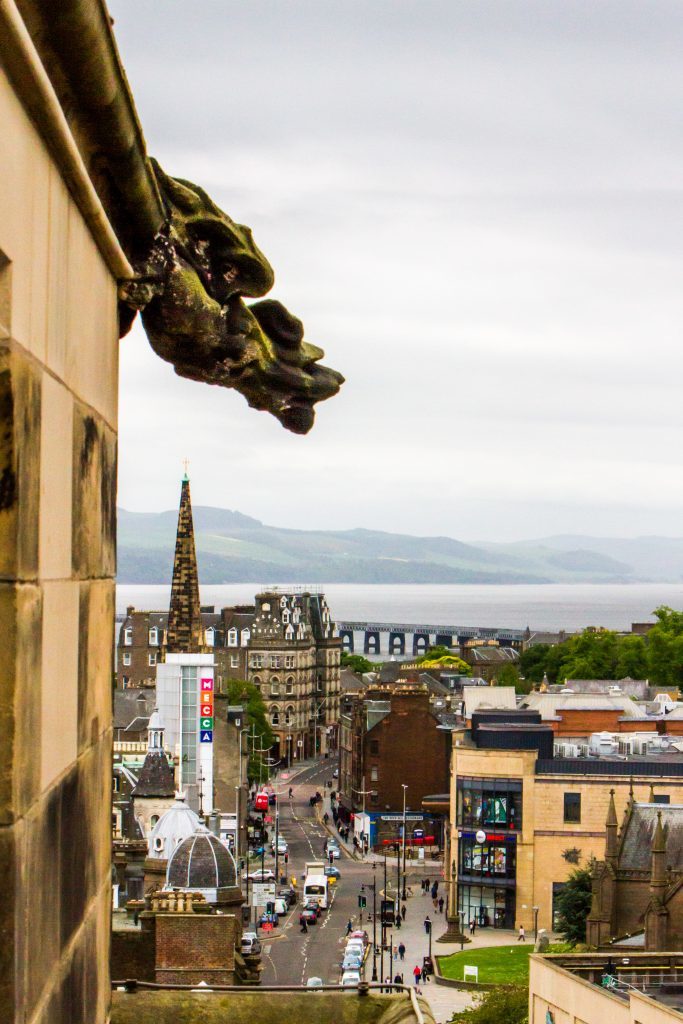 Aesthetic flexible seating will replace the pews, and new flooring and lighting will also be installed.
"The current lighting system does nothing to enhance the architecture and is an ecological dinosaur," explains Jeremy. "At the moment a friendly fireman in the congregation has to climb up and change our bulbs!
"The lighting designers have come up with a state of the art design which will not only reduce our carbon emissions by 72% but will subtly illuminate and enhance every architectural feature," he continues.
"The exterior of St Paul's will also be illuminated so that from the Tay Bridge, the tower and spire will appear to float in the darkness.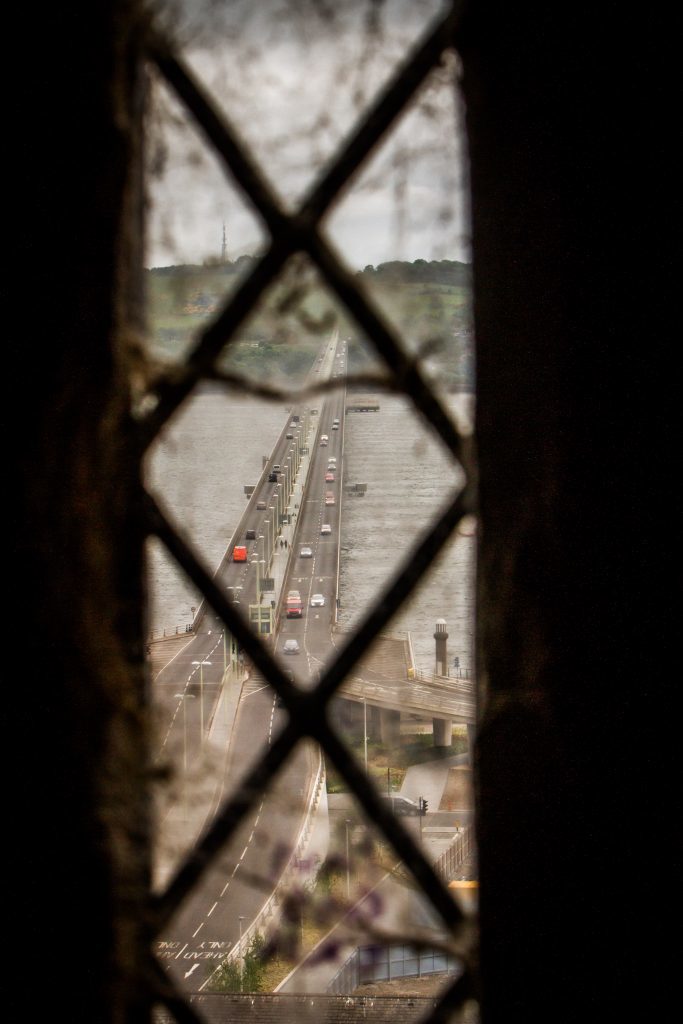 "With all these changes in place, I have no doubt that not only will Dundee have another important heritage site, but I think it will be sought after as a venue for concerts, art exhibitions, small theatre, banquets, even fashion shows whilst remaining a sacred space available to all during the day.
Jeremy, who says he doesn't come from a particularly "churchy family", qualified as a lawyer after graduating from the University of Edinburgh. He became more involved in the local church through playing the organ and was aware of a sense of some kind of vocation.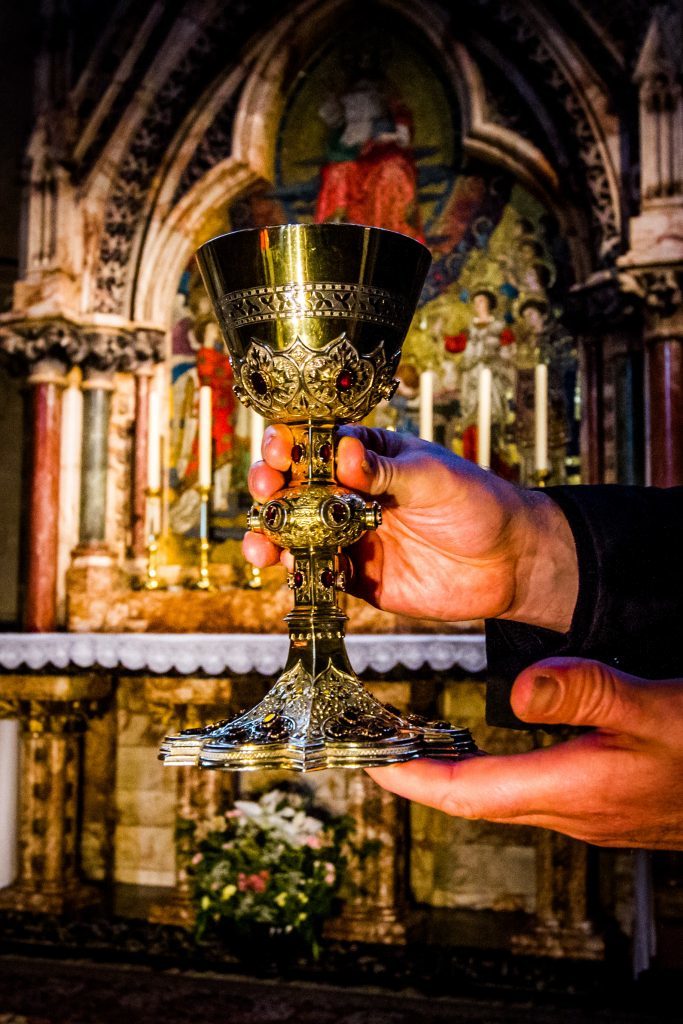 In 1997 he signed up to a two year contract as a state prosecutor in Fiji and, on his second day, was thrown two into leading on a seven week murder trial.
Between trials he had lots of time to reflect in tropical paradise.
"I realised the huge link between faith and justice and helped set up a free legal advisory clinic for those who couldn't afford professional legal advice – there was at that time no legal aid," says Jeremy.
"After just short of three years, I returned with Fiji-born Christine, we married and I went back to Edinburgh University to study theology and train for ministry before being ordained in Edinburgh in 2004."
In his role as Provost, there's no such thing as a typical day for Jeremy. He modestly explains that the provost is simply the priest in charge of a cathedral – a church that contains the 'cathedra', the chair of the bishop, in this case the Bishop of Brechin, the Right Reverend Dr Nigel Peyton.
As well as conducting the worship Jeremy is the chairs the cathedral committee and the board of the Ark Nursery in the old schoolhouse next door. "I conduct weddings, funerals, baptisms and blessings, including the first church blessing ceremony of a same sex marriage in Dundee," he says.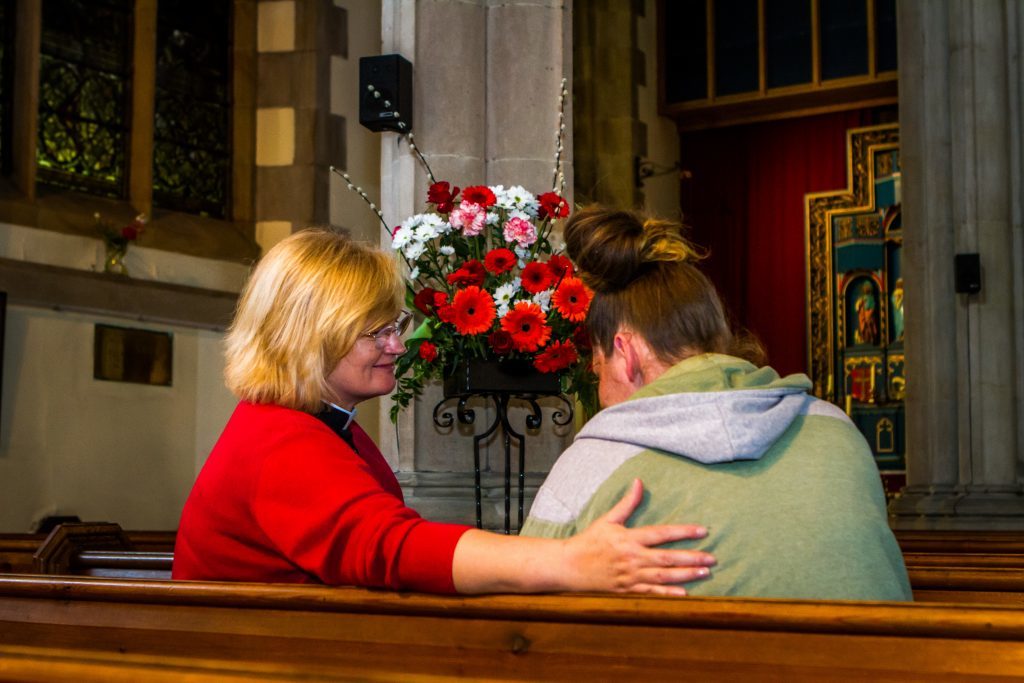 "I am also responsible for pastoral care which includes anyone who comes across our threshold seeking help."
St Paul's also has strong links with local schools and universities – Jeremy is honorary chaplain to the University of Dundee and the High School of Dundee while his colleague, the Reverend Tracy Dowling, is honorary chaplain to Abertay University.
"We also have a great relationship with the city council and most years host a multi-cultural and multi-faith service for the Dundee Twinning Association," Jeremy adds.
Ask Jeremy about the most rewarding aspects of the job and it's hard to get him to stop.
"I love people and get my energy from being surrounded by others," he enthuses. "It's so rewarding when I feel I have made a difference for the good in someone's life. Jesus at the last supper gave a commandment to his disciples: 'Love one another as I have loved you' as he bent down and washed their feet," he reflects.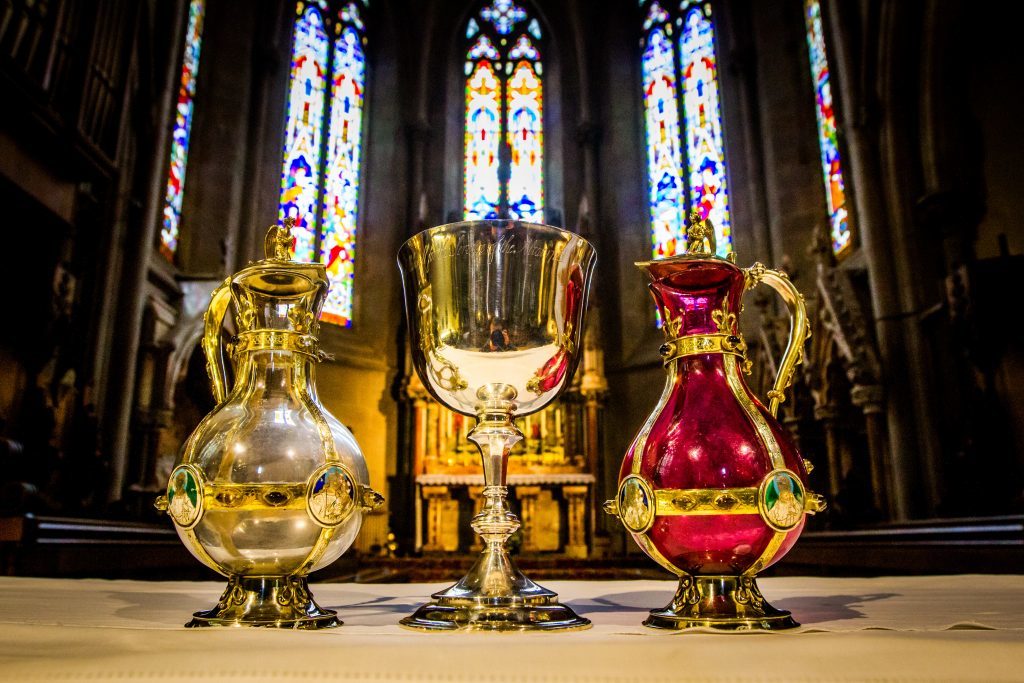 "We are each called to express that love in service in different ways. It can be a hard thing to do – I meet some pretty challenging people in my role and often people turn to us when there is no-one else to help and they're pretty much at rock bottom. Unlike Forbes, I tend not to give too many people a swig of port to help them cope, but we still pray with people, feed them and listen to them.
https://www.youtube.com/watch?v=ew1BhPaln3Y
"We take our turn at Graham's Soup Kitchen which is open each Saturday night serving free hot food at the back of Debenhams.
We also run our own soup kitchen every Wednesday lunchtime called Soup 'n' Soul in the cathedral itself when anyone is welcome to come and sit around the table and share in a bowl of homemade soup, pastries, tea and coffee, much of which is donated by Greggs the bakers.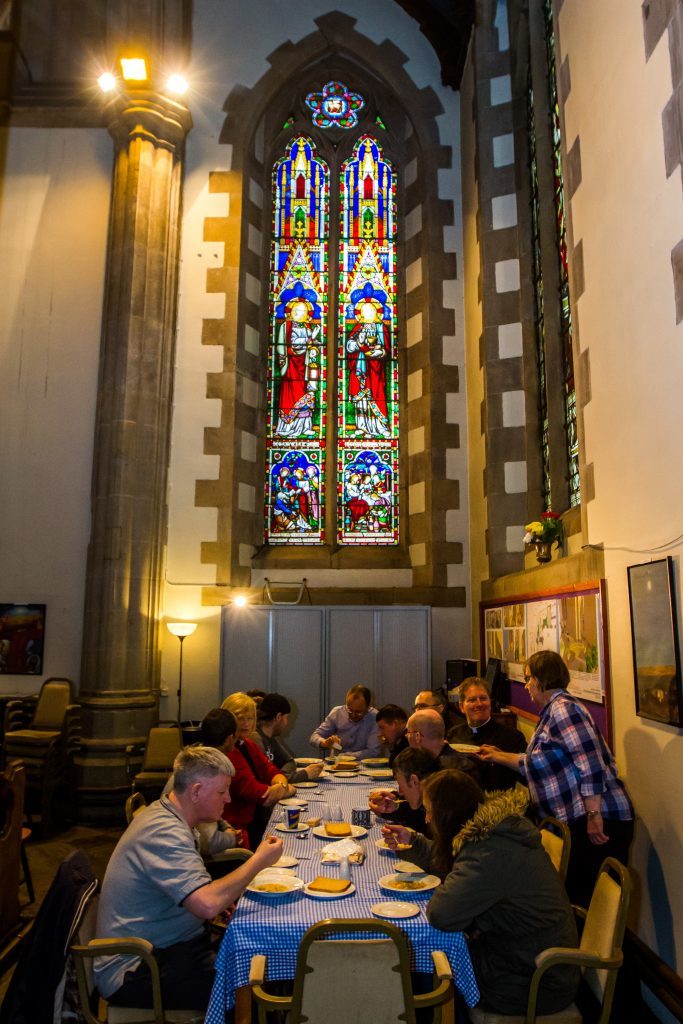 "Everyone is welcome at St Paul's – and you don't need to be a member of St Paul's to be involved with any of our activities, whether it's bell ringing, flower arranging, tending the garden or polishing the brass," says Jeremy.
"We want the community to feel a sense of ownership and to get to know their cathedral. Come in to look round and say hello, or say prayers, light a candle and simply enjoy some peace in the midst of your busy day.
Info
The cathedral is open Tuesday-Sunday and there is a regular Saturday lunchtime concert.
Tours of the tower are available during Doors Open Days in September.
The plans for the restoration are on display in the cathedral.
To donate to the restoration fund or for more info visit www.stpaulscathedral.net, or contact the treasurer Carol Spink on 01382 224486 or email treasurer@saintpaulscathedral.net.
Photos by Steve MacDougall