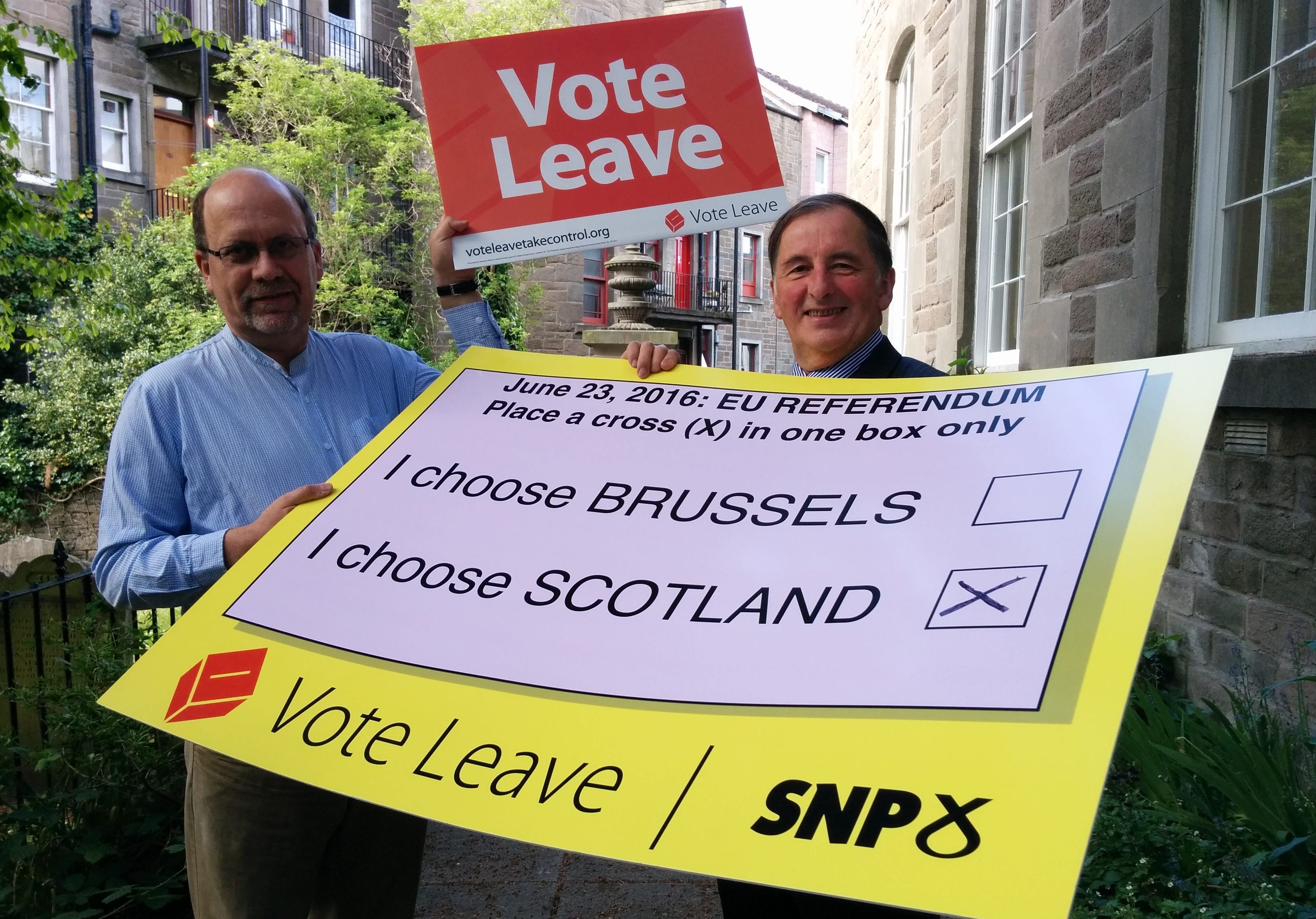 The SNP has been accused for being anti-democratic by shutting down dissent over its pro-EU stance.
SNP supporters Don Morrison and Rev David Robertson launched the pro-Brexit SNP Vote Leave in Dundee on Thursday.
Rev Robertson, who was speaking in a personal capacity, said it required a "post-modern illogicality" to believe Scotland should be independent from Westminster but should remain in the EU.
He said he believes the fastest route to Scottish independence is Brexit as if the UK votes to remain in the EU then it makes the prospect of another independence referendum less likely.
He said: "The trouble with the SNP is that is has gone from being a kind of rag-tag group with lots of opinions to being a very tightly disciplined party.
"I find it very hard to believe that 63 MSPs and 54 MPs are all pro-EU. It doesn't make sense to me. It seems they are imposing a view on absolutely everybody when 30 to 40% of Scots are opposed to the EU."
He added: "If that is the case then we have entered the era of Stepford politicians, where they are all clones."
The former moderator of the Free Church said that as an SNP supporter he feels his views are being ignored by the party and the party had been "bought and sold by Brussels' gold"..
Rev Robertson claimed the party's stance of wanting independence from the UK but not the EU makes no sense.
"You have to say it takes a lot of post-modern illogicality to accept that," he said.
"I'm a democrat and want to see some discussion. The SNP's position is logically and politically untenable. It doesn't make sense.
"Independence from the UK and interdependence with the EU makes no sense. We have a bigger voice in the UK whereas in the EU we are stuck with unelected commissioners."
Rev Robertson denied the SNP's claim that the new group is not part of the official Vote Leave campaign and challenged SNP leaders to take part in a debate about EU membership.
He was joined at the launch in St Peter's Freee Church by Aberdeen importer and exporter Don Morrison, who joined the SNP in 1966.
"Fifty years ago I believed then as I believe now, that small is beautiful and that we can run our own affairs much more efficiently and effectively on our own," he said.
The SNP has said the campaign "misses the point" that the EU is made up of independent nations who choose to work together for the common good.