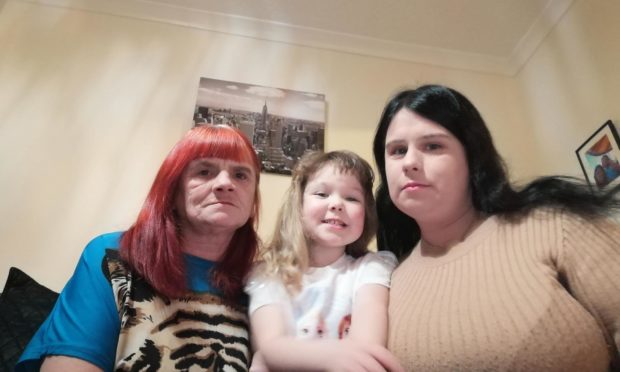 A Dundee woman says her life has been taken over by severe pain amid a long pandemic-enforced wait to have her gallbladder removed.
Douglas resident Kelly McMillan, 36, has been told she cannot be operated on by doctors, despite being in constant agony.
She has been waiting almost two years for an operation that in some areas in the UK is carried out on the NHS in just a few months after diagnosis.
The situation has left her four-year-old daughter Robyn scared to leave her beloved mum's side.
Kelly said: "It's like someone is sticking in a knife and twisting it.
"I don't know how much longer I can handle it."
Her mum Roberta McMillan says the pain is so severe her daughter struggles to walk and talk.
Roberta said: "I'm angry and worried because she's just getting worse and worse. We don't understand what's happening."
She has been on the waiting list since April 2019 but it is understood she was not deemed suitable for surgery until March last year.
Why is it taking so long?
Unfortunately at this time, "non-urgent elective care" across the Scottish NHS was postponed due to the pandemic.
These are defined as procedures that are "non-life threatening" and which can be delayed "without a negative impact".
Procedures such as gallbladder and hernia surgery are listed as examples by the Scottish Government.
Even before many NHS services in Scotland were put on hold to help staff concentrate on Covid-19 patients, those awaiting surgeries such as gall bladder removal often saw very long waits.
Many have to wait for at least a year before surgery is carried out.
Studies show prolonged waits can increase the chance of  more serious gallstone-related complications.
Why does the coronavirus mean Linda has to wait for her gallbladder op? Mother's case raised at First Minister's Questions
Roberta is adamant her daughter requires surgery ASAP.
"My granddaughter keeps asking why the doctors can't make her mummy better; it's so difficult to watch.
"We feel helpless as she's up all night crying.
"Kelly has felt like she could collapse walking her to nursery. Robyn doesn't want to go and just wants to try and make her feel better.
"I don't want to leave her alone right now.
"The staff at Ninewells just tell her to go home and rest and if it gets worse, call her GP.
"That situation has been repeated so many times.
"We don't know if she'll ever get surgery."
She added: "She's on a really high dosage of morphine but it's not relieving her pain.
"I'm worried about her mental health because it's no way to live."
A spokesperson for NHS Tayside said: "Due to patient confidentiality, we are unable to comment on matters relating to individual patients.
"We would invite Ms McMillan and her family to contact our Complaints and Feedback team if they have any concerns.
"Any patient who feels that their condition has changed should contact their GP for review and advice."