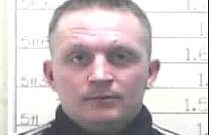 Police officers are hunting a violent offender who absconded from Castle Huntly after a period of leave.
Thomas Proctor is currently serving a fife year prison sentence for a brutal attack on his sister.
Samantha Proctor required 72 stitches and was left permanently scarred after the 33-year-old slashed her across the face with a knife at a Hogmanay Party.
Proctor was jailed for the attack in 2014 and had been transferred to the open prison, by Longforgan, ahead of his eventual release.
He was, however, reported missing at 3pm on Wednesday after failing to return from home leave.
Proctor is thought to have travelled to the Airdie area.
He is described as six feet tall, with short dark hair and Police Scotland is asking the public for information about his whereabouts.
Anyone who spots him is, however, urged not to approach the prisoner, who has a history of violence.
They should instead call Police Scotland on 101 or the charity Crimestoppers anonymously on 0800 555 111.