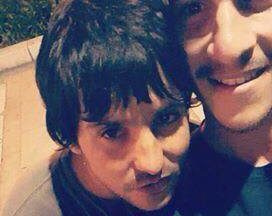 A Dundee man living in Nice has revealed taking a shower may have saved his life.
Ciaran Laverty, 28, has been living in Nice since 2013.
The musician was meant to be meeting friends to celebrate Bastille Day, but decided to stay at home.
After having a change of heart, Ciaran went for a shower and began making his way to the city's promenade to meet up with fellow revellers.
It was during his journey to the beachfront that Ciaran became aware something had gone badly wrong.
Ciaran explained: "As I was going into the old town I heard a bang.
"At the time I really didn't understand what was going on.
"My friends sent me a message saying: "Ciaran, wait".
"Where I was meant to go to meet my friends before they text, is up by McDonalds near the Negresco Hotel where it happened
"Luckily for me, being late has saved me from being in any further repercussions.
"Taking that shower has been the thing which has caused me not to be some sort of casualty or fatality."
The 28-year-old revealed he initially thought crowds of people running past him were revellers, but that he soon realised the awful truth
He said: "I was going in the other direction, but there were thousands of people running out of the old town.
"People congregate and celebrate at the event and initially I thought that's what they were doing.
"But then I was seeing people crying, screaming and in hysterics. I thought it was bizarre, but no one told me what was going on.
"Eventually I went down to the beach and phoned someone to ask them where they were. It was then explained to me what had happened. "
Like everyone else in the city, Ciaran has been advised to stay indoors.
He had intended to spend another season in the southern city, but now intends to come home.
Ciaran said: "It was always the plan to do another season here, but the security issue with France has been a massive factor in my decision to leave.
"I've never seen anything like the chaos in the old town and I never want to see it again.
"There was a lot of fear. It was horrible."
Another Taysider, Sandra Kinloch, from Stanley, Perthshire, was also caught up in the attack.
Sandra witnessed the driver responsible for the carnage driving at speed.
Admitting she feels fortunate to have avoided the tragedy, Sandra said: "I was walking on the promenade and seconds later the lorry didn't have its lights on, so we could just hear it.
"It was coming at speed and it was noisy and kicking over bins and things. We were just so lucky to get out of the way at the right time.
"We realised something had happened straight away when we got back."
"I just want to go home but we're stuck now, it's awful."
Eighty-four people were killed during the attack after a lorry drove into a crowd of pedestrians.