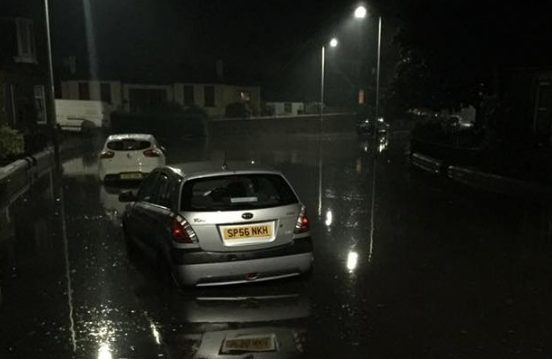 Thunder and lightning played havoc with electricity supplies across Scotland on Wednesday.
The summer sky turned black and torrential rain lashed parts of Tayside and Fife on Wednesday morning.
It knocked out power across many parts of Tayside and north east Scotland.
Sciottish Hyrdo Electric Power Distribution was put on "yellow alert" as the storms swept across the country.
There were 66 faults report in high-voltage lines and more than 32,000 homes lost power over the course of Tuesday morning.
Around 1,400 powers remained without power at 2.30pm.
Dale Cargill, Director for Customer Operations at SHEPD, said: "We were prepared for the bad weather and our engineers have been working hard to repair customer supplies and they will remain in the worst hit areas to make sure any homes or businesses without power are restored at the earliest opportunity.
"If anybody has concerns for their own safety, or the welfare of their friends or family we would encourage them to contact us and we'll do everything we can to help them."
Storms hit parts of Angus and Perthshire overnight, while Fife and Dundee were hit with downpours on Wednesday morning.
Courier reporter Jamie Buchan shot this video of the storm over Perthshire.
Freaky storms in rural Perthshire during the night. Stay safe folks! #thunderstorm pic.twitter.com/yfpA9kU32S

— Jamie Buchan (@C_JBuchan) July 20, 2016
Fife was hit by an early morning thunder and lightning storm.
Within seconds clouds darkened ominously and lights went on.
Just after 9am came the sheet lightning and thunder, coupled with torrential rain.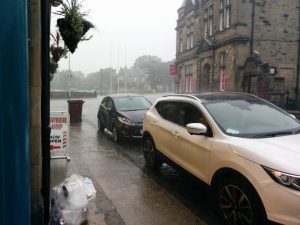 There was localised flooding in parts of Arbroath overnight which appeared to have eased off this morning.
This picture of three inches of water in Nolt Loan was posted in an Arbroath community Facebook page.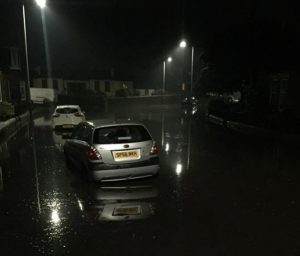 However, there was more heavy rain later on Wednesday morning as this video shows:
The weather also caused the practice day for The Senior Open at Carnoustie, which begins on Thursday, to be suspended.
The skies darkened above Dundee around 9.30am as the storm moved in and caused flooding on Dens Road.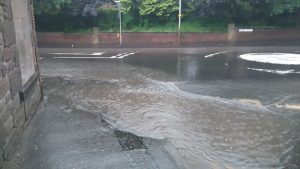 Bus services to surrounding streets had to be diverted.
Emma Allen shared this video of the rainfall this morning.
My bus journey to work today ?? @WindyWilson88 #dundee pic.twitter.com/pFoqytwEsn

— Emma ? (@Snowy273) July 20, 2016
Richard Gribble posted:
Dundee right now, it's the end of days pic.twitter.com/Nd1EbmdRGU

— Richard Gribble (@Gribble0) July 20, 2016
Andrew Petrie took this photograph of the sky over Dundee just before the heavens opened.
It shows how the miserable weather completely obscured Dundee from view on the top of The Law.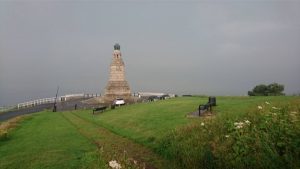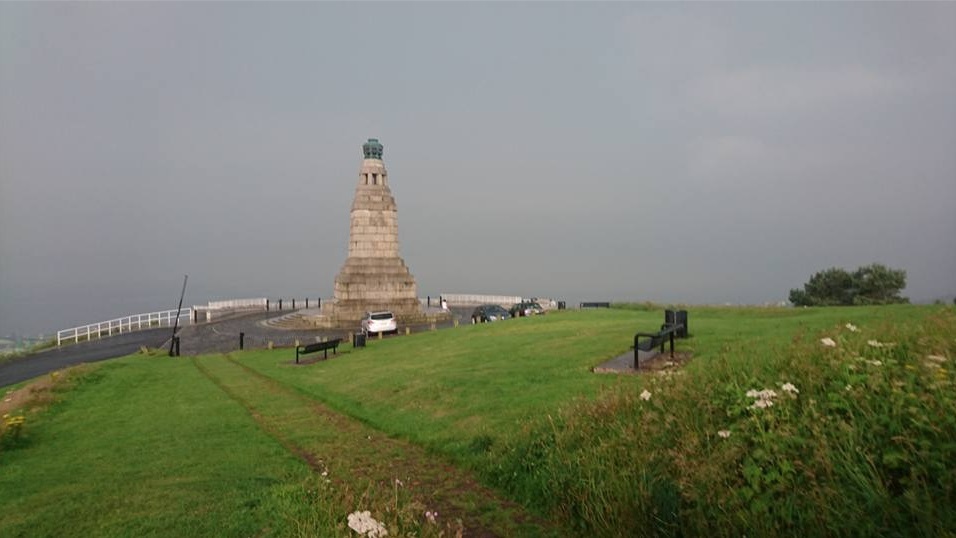 The storm caused power cuts in the DD4 and DD8 postcode areas and parts of Perth.
Barry Farquharson managed to film some lightning over Dundee docks over night.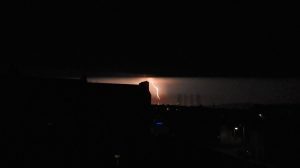 Very dark, very suddenly in Perth. Street lights back on and torrential rain just started @WindyWilson88 pic.twitter.com/2cZJ0Qx6Go

— Kirsty McIntosh (@C_KMcIntosh) July 20, 2016
Courier reporter Kirsty McIntosh captured this video of the torrential rain in Perth.
The Co-Op in Pitlochry had to close on Wednesday morning after being flooded by the Moulin Burn.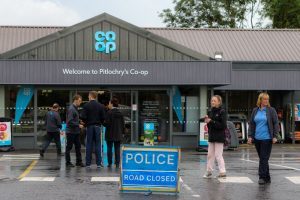 Perthshire MSP Liz SMmithhas called for clarification on the rules surrounding the issuing of sandbags after claiming scores of home owners were left calling "multiple organisations" for help after today's freak weather.
Ms Smith, who is one of the representatives for the Mid Scotland area, said some of her constituents found it difficult to know who to contact when it came to obtaining additional sandbags.
"Everyone recognises that it is very difficult to predict the extent of these flash floods which is why it is even more important that affected residents and shop owners know exactly who to call when an emergency arises," she said.
"This morning, when Methven post office staff and residents of the nearby Church Road sought help it was necessary to make no fewer that seven different telephone calls before the residents could find someone who could take responsibility for delivering the sandbags.
"The authorities rightly ask all home owners and business proprietors to be as well prepared as possible when it comes to flooding risk but that is not easy if there is a lack of clarity over who has the responsibility for delivering them."
The Met Office has a yellow "be aware" weather warning in place for Tayside and Fife until Wednesday evening.
Heavy rain accompanying #lightning and #thunder in parts of the UK. pic.twitter.com/3obJ3mDfnp

— Met Office Storms (@metofficestorms) July 20, 2016
This map by website Lightningmaps.org shows the location of every lightning strike in Scotland so far this morning.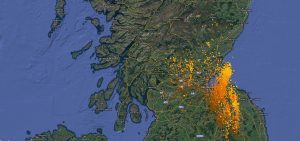 The Met Office produced its own animated map showing lighting strikes in the UK over the past 24 hours.
Crash! Bang! Animation shows #lightning strikes across the UK over the last 24 hourshttps://t.co/GLwsa6ZUek

— Met Office (@metoffice) July 20, 2016