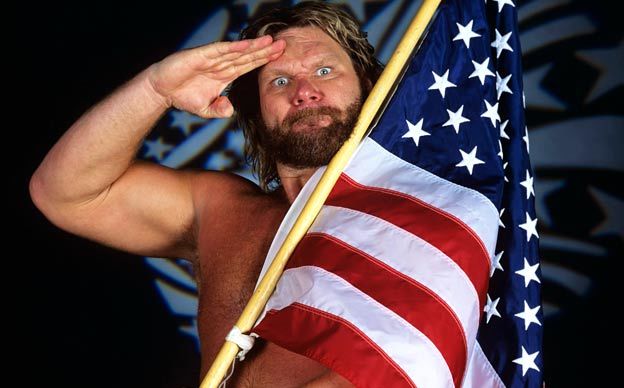 He is the flag-waving, two-by-four-wielding tough guy who is one of wrestling's most recognisable characters.
Hacksaw Jim Duggan went up against the likes of Andre the Giant, Hulk Hogan, Earthquake and Ric Flair during the industry's golden age.
The big man is bringing his iconic block of wood and the American flag to Dundee today for a "very special seminar" in the city.
World Wrestling Entertainment (WWE) Hall of Fame wrestler Hacksaw will put Scotland's grappling stars through their paces and will also take part in an afternoon and evening meet and greet with his legion of fans.
Blairgowrie-based Scottish Wrestling Entertainment owner David Low said Hacksaw's appearance has taken three years to secure.
He said: "SWE have brought everyone from NXT trainers Brian Kendrick, Johnny Saint and Dave Taylor to WWE/TNA stars like Roddy Piper, Ted DiBiase, Bret Hart, Doug Williams and DDP to Dundee to name just a few.
"This Tuesday another WWE legendary Hall of Fame wrestler will embark on SWE's territory as he arrives in the City of Discovery to meet fans from all over.
"It has taken SWE three years to secure Hacksaw.
"He was originally earmarked for Hell for Lycra 10 with Ted DiBiase and SWE had planned a Mid-South reunion of sorts but that wasn't to be when Duggan appeared at a rival company just months before.
"This is truly a once in a lifetime opportunity to meet such a legend."
Hacksaw will be signing autographs at SWE HQ, Unit 3, Angus Works, on North Isla Street, Dundee, between 2-4pm and again at 8pm.
Mr Low said Hacksaw will also take the Scottish wrestling stars "through their paces in a very special seminar that only he can deliver".
Hacksaw's wrestling career began in 1979 before he joined the WWE in 1987 and won the Royal Rumble in 1988.
In the WWE he was best-known for entering the ring with an American flag in his right hand and his signature two-by-four in his left.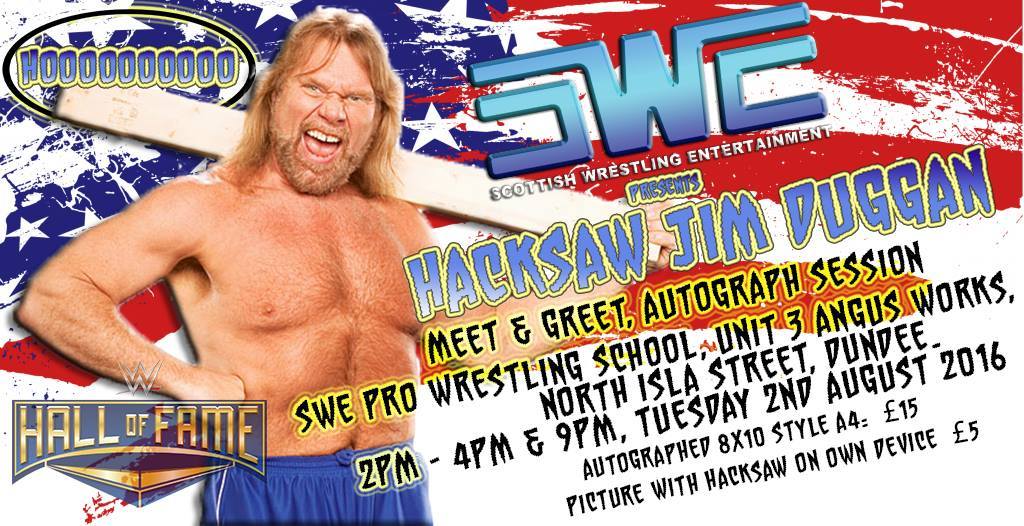 His battle cry of "Hooo!" and the "U-S-A!" cheer would shake the rafters and intimidate his opponents for more than two decades.
He immediately put himself at odds with anti-American "heels" and engaged in legendary feuds with some of the biggest names in the industry, including the Iron Sheik, Nikolai Volkoff, and Andre the Giant.
Hacksaw left the WWE in 1993 but returned in 2005 and returned again between 2007-09 and 2011-12 before signing with Global Force Wrestling in 2015.
The big names keep on coming to Dundee with Colt Cabana, Drew Galloway and EC3 among those appearing at the Caird Hall on August 27 at SWE's annual Hell for Lycra event.