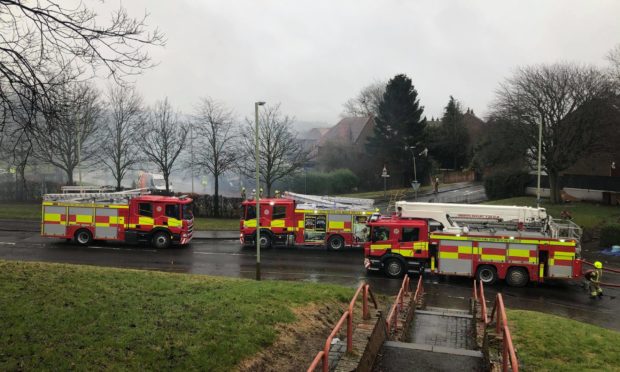 A number of emergency services vehicles remain in attendance following a fire in Kirkton.
Three Scottish Fire and Rescue trucks are currently at the scene after a blaze at an external lock-up on Dunmore Street shortly before midday.
Streets around Derwent Avenue and Dunmore Street were closed off as smoke billowed from the lock-up.
A man who had been approaching from the opposite end of Dunmore Street said he had seen the smoke "billowing over" from afar.
"It was thick black smoke coming over the street, I'd just come around to see a section around that area all taped-off," he said.
"I was pretty shocked to see the extent of it to be honest with you, I know the property in question has a lot of items stored outside on the driveway.
"With that being said I thought it was maybe a controlled fire at first when saw the smoke."
Another neighbour said he had just been retuning home from work when he discovered the roads were closed.
He added: "There were fire engines, police and ambulance crews on the scene at about 12.30pm and it's been like this for a good few hours now.
"The smoke was literally engulfing the whole the area, it was really bad just after 12pm, by the time it had got to nearer 2pm it had died down significantly.
"Given the extent of the smoke people were on the embankment across the road looking at what was going-on."
A spokeswoman from Scottish Fire and Rescue confirmed appliances from the Macalpine Road Fire Station and Kingsway East Fire Station are in attendance.
She added: "Crews were called to Dunmore Street at 11.48am, a hose-reel jet and a thermal image camera are being used at the scene."
A spokesman for the Scottish Ambulance service confirmed no one required any treatment at the scene.
He said: "We received a call today at 1202 hours to attend an incident on Dunmore Street in Dundee.
"We dispatched one ambulance, which arrived on scene at 1210 hours, and our special operations team."