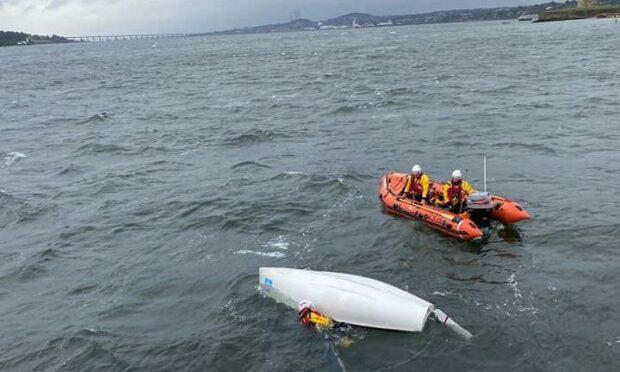 A dramatic rescue took place on the River Tay on Saturday after two yachts capsized in blustery conditions.
The yachts both capsized on the river between Broughty Ferry lifeboat station and the beach around 3pm.
The two crew members of one of the yachts were forced to sit on their upturned vessel to wait to be rescued by the crews of both Broughty Ferry lifeboats.
No injuries
The crew from the other vessel were also removed from their yacht and taken to safety.
No one was injured in the incident.
A spokesman for Broughty Ferry RNLI said:" At 3.05pm on Saturday Broughty Ferry RNLI  were requested by the coastguard service to respond to two yachts upturned in the Tay between Lifeboat station and the beach.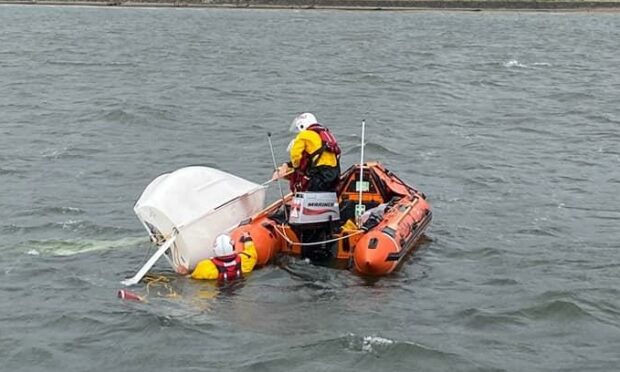 "By 3.15pm the volunteer lifeboat crew with the assistance of shore crew launched both lifeboats in the blustery conditions, which were quickly on scene."
The spokesman added: "The crew from one of the stricken vessels had been safely removed and were uninjured.
Rescue
"The crew of the other were found sitting on the upturned boat awaiting rescue. Both were uninjured but cold.
"They were taken on board the all weather lifeboat.
"Both stricken boats were returned to Broughty Harbour for recovery before both lifeboats returned to station shortly afterwards where they safely dropped off the casualties before being made ready for any further calls."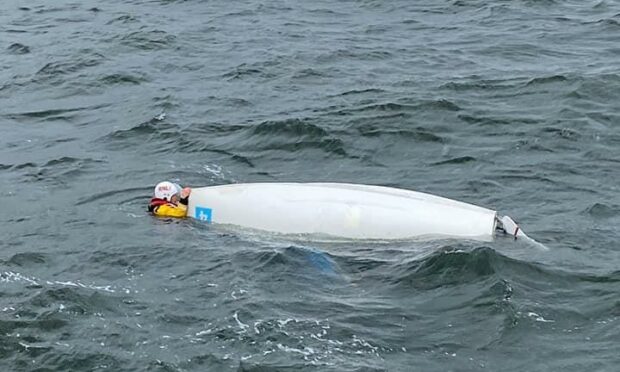 Broughty Ferry lifeboat crews have had a busy year with dozens of call outs to incidents in the Tay and the North Sea.
Last year the crews saved a total of eight lives and launched a total of 123 times.
The figures for this year have not yet been calculated but the crew say they are funded by donations alone.
If you would like to donate, please click here.
Can you help saves lives this summer? Broughty Ferry RNLI's volunteer call as charity will be 'busier than ever'