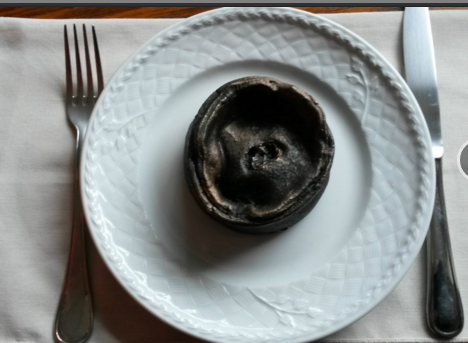 A former Tayside resident living in Texas who bought a "Dundee-peh" at a charity auction has donated some space-themed memorabilia for their next fundraiser.
In April, an auction was held by Marie Curie which allowed charity supporters the opportunity to bid on a Dundee peh — or pie — sculpted by Dundee artist Tony Morrow.
Stephen McDonald, who moved to Texas several years ago, said he was moved to bid for the artwork after reading about the Marie Curie foundation's work in his digital Courier.
Stephen was one of the successful bidders, and had one of the custom-made works shipped to America, as a reminder of his home town.
He felt so moved by the work Marie Curie carry out, he decided to send something to Dundee for their next auction.
Stephen got in touch with Marie Curie fundraiser Catherine Lawson, and sent over mission patches of American space-shuttle astronaut Joe Engle and a ukulele carved from wood of the Titanic's sister ship, the Olympic.
Joe Engle flew on the space shuttles Columbia and Discovery, and is the only person to have flown a shuttle manually on re-entry and landing.
He said: "It's a big thing to change the country where you were born and brought up. I live in America, and despite sharing the same language, there are more cultural differences than you would think.
"I have always needed to keep up to date with the goings-on in Dundee, and mostly do that by reading the online Courier, which I enjoy very much.
"It was in The Courier that I read about the Dundee Pehs made by the artist Tony Morrow, which he had kindly donated to the Marie Curie auction.
"I just had to have one, and was lucky enough to win one.
"The auction also drew my attention to Marie Curie and the important and unenviable work that they do to help those who are terminally ill live with dignity in their own home, and the help they offer to their family members.
"Knowing that there was another auction coming up, I decided to try and help by donating several things which I thought might be able to boost people's interest."
As well as creating the Dundee Peh sculptures, Tony Morrow is the artist behind the well-known Desperate Dan and dragon art-works in the city centre.
He had originally been asked to come up with the peh idea more than a decade ago and has gone on to enjoy success with variations of the design.
The items which have been donated are available to bid on now, and can be viewed at jumblebee.co.uk/mariecurie_dundee_auction .