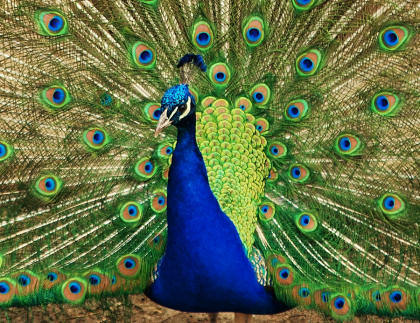 Dundee has been hit by a bizarre flood of escapee peacocks with three of the brightly-coloured birds spotted in city gardens miles apart by increasingly bewildered residents.
First to go on the run was Major, who went missing from his home at the Abertay Guest House in Broughty Ferry.
He has since been found roosting a short distance away from his pining mate and within days a plan will spring into action to return him to his home.
Since then, however, there have been a rash of sightings across the city of largely flightless mystery birds whose origin is unknown.
One has taken up residence in the city's Craigowl area – several miles from the Ferry – where residents have been feeding the bird.
RSPCA officers attempted to coral the young male bird but he defied their attempts to capture him and remains happily ensconced on a garage roof.
Images of a third peacock – also a young male – have also been shared by residents in the Brackens area of the city.
Major has become something of a celebrity since he went missing from his home at the Abertay Guest House late last month, prompting a frantic search by his owners.
After four days of searching, neighbours finally laid eyes of the strikingly coloured bird, discovering him roosting in a tree in the overgrown garden of a house for sale.
He's proved unwilling to relinquish his new perch, despite being sorely missed by his mate, Gertrude, waiting patiently just a few streets away.
Catherine Victor, of Abertay Guest House, she'd been deeply concerned about his well-being but had been touched by the concern of friends and neighbours.
"We've not got him back yet but we are putting a plan in motion and hopefully in a few days he will be back with Gertrude.
"We know where he is an we go to see him every day but unfortunately he's just not prepared to come home with us at the moment.
"Everyone has been so kind. I just can't believe how kind. Every day there are calls from people who have seen him and want to tell us that he's OK.
"Gertrude has definitely been pining for him as peacocks don't like being on their own.
"Hopefully he will be back home very soon. I'm looking forward to seeing them reunited."
While Major's adventures may soon by at an end, a second bird has been surprising residents in Kettins Terrace.
It has taken up residence in Doreen Smith's garden and she said she was at a loss to explain where it had come from.
Initial investigations have proved fruitless and keepers at the Camperdown Wildlife Park have reported all of their birds present and correct.
Doreen said she had been feeding the bird to the best of her abilities and it appears to have taken a shine to its new surroundings.
"I just looked out of the kitchen window on Wednesday morning and there it was strolling around the garden," Doreen said.
"It has disappeared from time to time since then, wandering through neighbours' gardens but it always comes back.
"It seems to have decided that the garage roof is its spot.
"The RSPA came out to see third and they told us that it is a young male. They also tried to catch it but they didn't succeed.
"Since then, it seems to be getting used to us and its coming nearer and nearer.
"We've been uncertain about whether we should be feeding it, but it just seems so hungry.
"It now comes right up to the door to be fed. It's so tame that it must belong to someone."
Doreen said she was happy for the bird to stay but worries that it will be unhappy or endangered by local pets.
She added: "I don't mind it being here at all but I worry that it is in distress or pining for a mate.
"It certainly seems used to people and it is looking out for us to get fed so I am sure that someone is missing it."