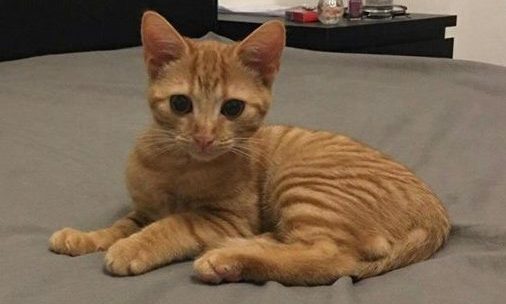 Mindless youths who tortured a tiny kitten by spinning it relentlessly on a play-park roundabout have been slammed.
Horrified members of the public spotted a four-month-old kitten, named Penny, being abused in a Whitfield park on Sunday evening.
The pet's ordeal was only brought to an end after a Good Samaritan intervened and messaged Penny's owner.
Penny, who had previously been reported missing, will be taken to a vet for a check-up.
Kaydi Duncan, the kitten's devastated owner, spoke of both her anger and relief following the incident.
She said: "Thankfully our kitten has been found, after a very kind person rescued her when she was being abused by children at a park.
"Thank God our baby is okay now and has been kept safe.
"Embarrassing beyond belief that people can bring up their kids in the way that would make them think this was the correct way to treat animals!
"God help the culprits when I get the police involved."
Kaydi was only alerted to the situation after a member of the public, who wished to remain anonymous, sent her a message saying he witnessed Penny being "abused and thrown about" by a group of teenagers.
Thankfully, the unnamed man intervened and ensured Penny was "safe from danger and harm".
Nicky Beaton, from the Dundee Missing Pets Facebook page, who shared information of the incident, said: "This is disgusting behaviour.
"We don't know the ages of the people involved, but they are described as youths, so I think they are teenagers.
"That would mean they are an age to know better, where they know what they are doing.
"If you're brought up properly you know fine well not to do things like this.
"That's why it's so important that we share details of this."
Scottish SPCA Chief Superintendent Mike Flynn said: "Thankfully the majority of Scots regard cruelty towards animals as unacceptable and unthinkable, but there is a minority of people out there who think it's acceptable to treat cats in particular like rubbish.
"Because of their free roaming nature, cats are often subjected to cruelty and ill-treatment at the hands of complete strangers.
"We always encourage anyone who witnesses an animal suffering or in distress to call our Animal Helpline on 03000 999 999."