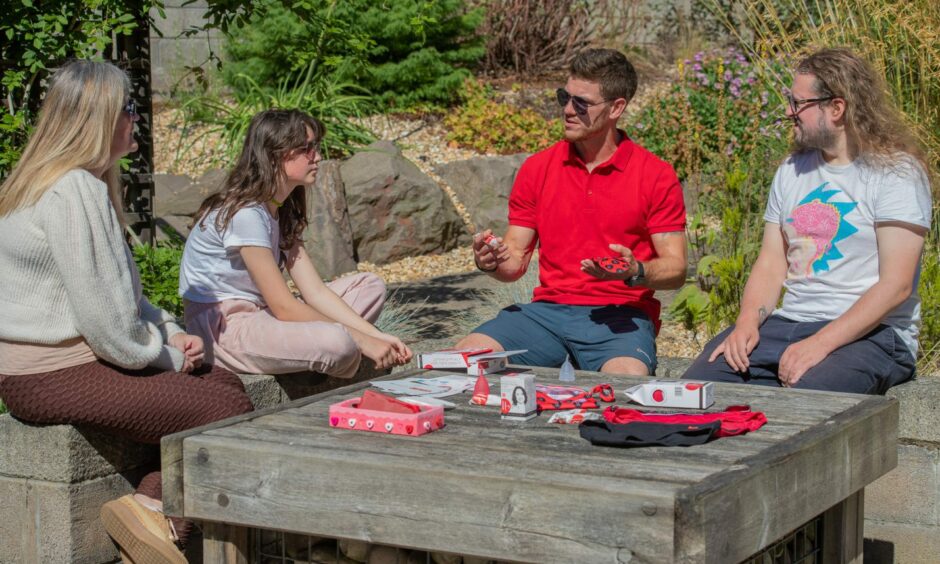 In a week that should have seen Scotland heralding a new approach to period poverty, a man from Dundee inadvertently stole the spotlight.
On Monday August 15, 2022, we revealed former personal trainer Jason Grant had been appointed as Tayside's first period dignity officer.
Cue controversy on the global stage as Martina Navratilova – widely regarded as the greatest female tennis player of all time – made her feelings clear.
"This is just f***ing ridiculous," she wrote on Twitter.
"Have we ever tried to explain to men how to shave or how to take care of their prostate or whatever?!?"
Days later the outrage reached The Washington Post and CNN (and on Tuesday September 6, we revealed the role had been axed; a day later we broke the news Jason was taking legal action and considering a sex discrimination claim)
On Tuesday October 24, 2023, it emerged the case had finally been settled out of court.
Just how did we end up here?
Let's rewind back to Thursday August 11, 2022, when Dundee and Angus College sent out a press release with the headline Dundee Man Leads Scotland In Role To End Period Poverty.
This was not an organisation with something to hide.
The college were unashamedly proud of the appointment and their part in Scotland's revolution.
We were told Jason would be employed – on a two-year fixed-term contract – by the project team comprising Dundee and Angus College, Perth College, Angus Council and Dundee City Council.
The release said: "He will coordinate and streamline the approach to 'period dignity' across the area by working directly with the colleges and local authorities."
Jason, on a salary between £33,153 and £36,126, was quoted as saying: "I think being a man will help me to break down barriers, reduce stigma and encourage more open discussions.
"Although affecting women directly, periods are an issue for everyone.
"We'll also raise awareness of the menopause, which, although a natural process for women, has wider repercussions in the world of work and family.
"It's time to normalise these topics and get real around the subject.
"I believe I can make progress by proving this isn't just a female topic, encouraging conversations across all genders and educating and engaging new audiences."
Signs of naivety
We learned the Period Dignity Working Group was comprised of four women – Katie Baxter (Dundee and Angus College), Shelley Hague (Angus Council), Jill Brash (Dundee City Council) and Deborah Lally (Perth College).
Following interviews with potential candidates in July, the quartet were delighted to employ someone with Jason's experience in project management in both the private and public sectors.
There was nothing in the correspondence to indicate an organisation wary of a backlash.
But there was, perhaps, a hint of naivety in the use of what was supposed to be a joke in a quote attributed to the Working Group.
They said: "Employing Jason was a no-brainer with his vast experience in project management from both the private and public sectors, coupled with his passion for making a difference to the people in our community, period!"
Landmark legislation
Had they overlooked the O word – optics?
Access to free period products had been in place in Tayside schools, colleges and the wider community since 2018.
However, on Monday August 15, Scotland became the first country in the world to pass a law ensuring period products are provided free.
MSP Monica Lennon – who proposed the bill which went through parliament last year – was the driving force behind the landmark legislation, campaigning against period poverty since 2016 supported by thousands of women across the country.
All of this should have made for positive headlines.
Instead, there was an air of crisis and it wasn't long before The Courier's coverage was followed up by the likes of the BBC, Sky News, LBC, The Spectator, The Daily Mail and The Daily Telegraph.
'Positive male role model'
I spoke to Jason – now based in Tayport, Fife – on the Monday morning the law came into force.
This was before the furore – and he was enthusiastic, raring to go and full of energy for his new role.
The Perth College and Abertay University graduate said: "I was chosen as the best person for the job and for me, it's irrespective of gender.
"Having a guy can't be a bad thing – it grabs the headlines, but that's not the reason I was put into post!
"For me it's about driving the discussion from a young age so boys and girls are included and there's no hiding it away because that keeps it as a taboo topic.
"I want to be seen as a positive male role model."
In previous work, especially in his role as a student wellbeing officer, he had to have conversations with young people on a variety of topics and hadn't been afraid to challenge stereotypes or the way people think or speak.
This didn't appear to be a man bullish or arrogant in his approach – he came across as an honest person willing to work hard to do a good job.
But those angry about the appointment will argue that this is not the key issue here.
Picture imperfect…
One aspect of the announcement that left very little wiggle room for defence was the publicity pictures, which prompted complaints of mansplaining.
How could he know what it's like? How could he relate?
They provoked a significant strength of feeling, anger and disbelief on social media.
The lack of clarity in the public domain about his day-to-day role was also unhelpful, with the vacuum of information filled with Twitter guesswork.
Would it have made a difference to the wave of dissent?
A day after the controversy erupted, the Period Dignity Working Group defended the male appointment.
They said: "This new role, funded by the Scottish Government, was created to promote and implement new legislation, specifically focused on project management.
"The role builds on some fantastic work which has been gathering speed across the Tay region for several years.
"It is led by a passionate group of people of all genders, ages and backgrounds.
"With all partners in the working group Equal Opportunities Employers, Jason was the strongest candidate.
"By changing the culture, encouraging debate and removing the stigma around periods, we look forward to supporting the delivery of this important work across the region."
When pressed on the practicalities of the job, the group said they had "nothing to add".
Lingering questions about the recruitment process for the publicly-funded role were met with a wall of silence from the Working Group.
In an interview with The Scottish Sun on September 12, a whistle-blower claimed she was working on a period poverty project at Dundee and Angus College as early as December 2019 before being edged out in favour of Jason Grant.
It was also alleged management took "shortcuts" in the hiring process.
A spokesperson for Dundee and Angus College said: "The college has recently been made aware of a historical claim and is currently investigating.
"No further comment can be made as a result."
On September 21, The Courier revealed Mr Grant's appointment was the fourth time he had been given a job by Dundee and Angus College recruiter Katie Baxter.
But in response to 13 of our Freedom of Information questions, the college said no conflict of interest was reported by any member of the Period Dignity Working Group.
Authorities go to ground
Angus Council's top figures have gone to ground since the row erupted, with leader Beth Whiteside saying she did not feel she needed to comment.
Her Dundee City counterpart John Alexander at least fronted up, calling for calm and claiming discussion around the controversy had "so far lacked context".
He said: "Male midwives are not controversial, but there is no doubting that they have no experience of child birth.
"That said, I'm not naïve enough not to see why there is the current controversy.
"The appointment has been made and the successful applicant's focus should be on what such a role can achieve for people across Tayside."
Jason, we were told, was on annual leave.
Just three weeks later – after several rounds of talks between the relevant authorities on how to handle the situation – he was out of a job, declining to comment when contacted by The Courier.
A spokesperson for the Period Dignity Working Group told us: "The partners involved in the Period Dignity Working Group are committed to alleviating period poverty in Angus, Dundee and Perth and Kinross.
"It is regrettable that given the threats and abuse levelled at individuals in recent weeks, the Period Dignity Regional Lead Officer role will not continue.
"The working group is now looking closely at alternative ways to deliver these vital services in line with the legal requirements of the Period Products (Free Provision) (Scotland) Act 2021."
Personal attacks
The statement – which prompted further questions – added: "Meanwhile, support will continue to be provided to the colleagues and students who have been subjected to personal attack.
"Their safety and wellbeing is of paramount importance.
"The group's joint work to provide free period products is rooted in kindness. We therefore ask that the same spirit of kindness is extended to those involved, and that their privacy is respected."
Yet Jason's lawyer, Ryan Russell of MML Legal, told The Courier his client had been hung out to dry by the group.
He said: "Let it be known that my client was removed from his role and did not leave.
"This was not something they wanted to happen and he was excluded from key discussions and decisions that were made.
"My client was publicly removed on Tuesday before his employer had officially confirmed the position in writing to him.
"Jason was appointed by the partnership and collectively they concluded that this person was the best candidate for the role after a thorough recruitment process.
"A very public landmark appointment was to be the beginning of an exciting new chapter for all concerned. The reality has been poster boy to fall guy in a matter of weeks."
He added: "The partnership chose to remain completely silent in the last few weeks until publicly announcing the dismissal from the post.
"The partnership said absolutely nothing whilst Jason came under constant attack from all around the globe.
"There are many legal issues arising not only from the appointment but in the decisions that have been made not to support Jason or stand by their appointment which could impact his health, career and future prospects."
"If Jason was not a man, would he have been dismissed from the role?
"How would you feel if a member of your family was treated like this? The legal process and pursuit of justice will bring answers."
On December 17, we told how Jason had raised a claim with the Employment Tribunal Service under the Equality Act.
Ten months on, this chapter in the life of the Dundonian appears to be over.
He even rejected several big-money offers to do tell-all interviews with US and UK chat shows about his ordeal before a settlement was reached with the Period Dignity Working Group – made up of Dundee & Angus College as the "host employer", as well as Dundee and Angus councils, and Perth College.
Speaking last year, his lawyer Mr Russell said: "Mr Grant is just an ordinary person who successfully applied for the role and was removed before he even got started.
"His life has now changed forever and the tribunal will forensically analyse the reason why he is no longer in the period dignity role."
---
Additional reporting by Jake Keith and Laura Devlin.
This article was published on Tuesday August 16, 2022, and has since been updated to reflect developments in the story.