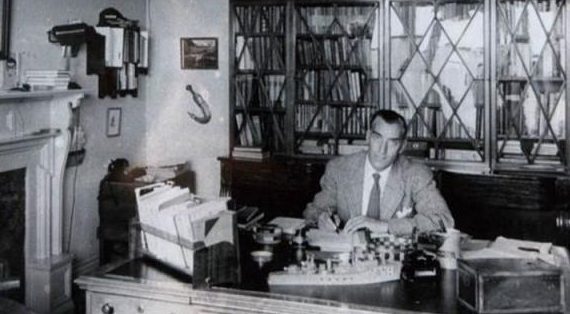 He was the Oscar-winning screenplay writer and novelist whose personal career highlight was leading Dundee United.
With Sunday's Academy Awards on the horizon, Neil Paterson's former clubs and his former university have paid fond tributes to a man whose name they always think of and remember at this time of year.
Mr Paterson was hailed as the best storyteller Scotland had produced since Robert Louis Stevenson and his screenplay Room at the Top stopped Ben Hur from taking a record-breaking 12th Oscar.
A Dundee United spokesman said: "It is not everyone who will win an Oscar or captain Dundee United and Neil uniquely managed to achieve both in his life.
"He scored ten goals in his 27 appearances for the club and we are proud to say we have an Oscar-winning ex-captain in Neil."
Born in Greenock in 1915, Mr Paterson grew up in Banff and went to Edinburgh University to follow in his father's footsteps as a solicitor.
But after joining Edinburgh University AFC he quickly realised that his passion lay with football, and after graduation a brief but successful career in the game ensued.
A spokeswoman for Edinburgh University said: "We are very proud to count an Oscar-winner among our alumni.
"Neil Paterson's varied and highly successful career reads like a film script itself, and now is a fitting time to remember him."
He joined Dundee United after spells with Buckie Thistle and Leith Athletic, skippering United in the 1936–37 season.
Spurning the chance to turn professional, he stayed as an amateur and was automatically released at the end of the season.
Leith Athletic president Bert Bungay said: "At this time of year when the Oscar season is coming up we are always aware that our former player Neil Paterson went on to receive an Oscar and we are proud that we can say he was one of our own."
It was after his football career was over that Neil joined DC Thomson, writing about sport for the company's newspapers.
He took up a freelance writing career after the war and won awards for his books and short stories, which were published on both sides of the Atlantic.
His first novel, The China Run, was published after the war and proclaimed by W Somerset Maugham as book of the year in the New York Times.
After the China Run, he wrote Behold Thy Daughter, and in 1951 a volume of short stories, And Delilah, appeared.
One of the stories, Scotch Settlement, transferred to the big screen as The Kidnappers and became the tearjerker of 1953.
The film went on to be a box office success and won honorary Oscars for its two child stars.
In 1960 he was awarded the Oscar for the screenplay of Room At The Top beating competition from Some Like it Hot and Ben Hur.
Mr Paterson spent long periods working in Hollywood with stars but was never tempted to move away from his home in Crieff.
After retiring from writing he devoted his energy to administration and development of the arts in the UK.
He was a governor of the National Film School, on the board of Films of Scotland and a governor of the British Film Institute.
He died in 1995, aged 79.