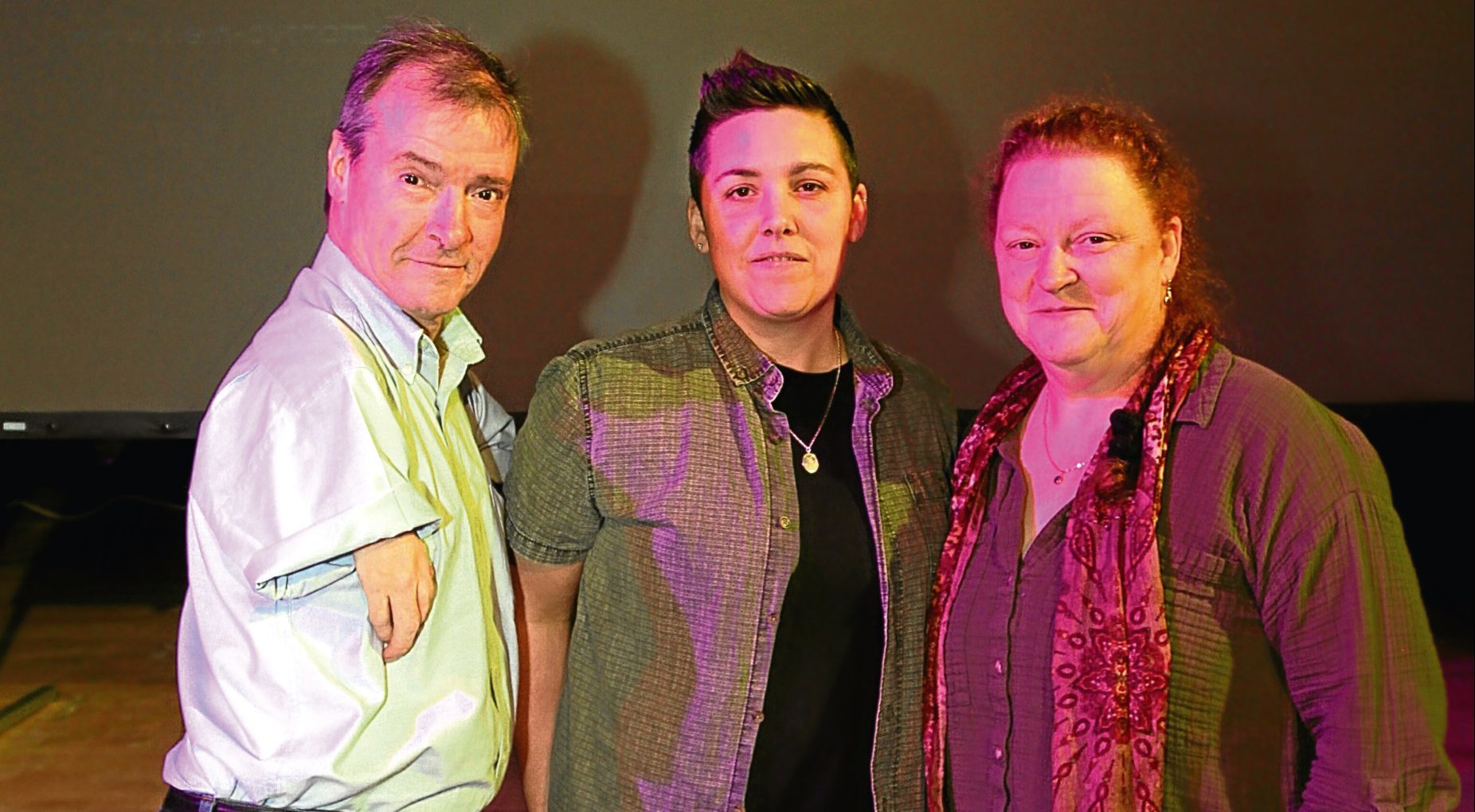 Professor Dame Sue Black was one of the speakers at Dundee's latest Pecha Kucha event in the Bonar Hall.
In the quarterly event, a series of speakers give quick-fire presentations on their work or interests.
Pecha Kucha Night Dundee Line Up. Tues 28th Feb 2017 – #PKN_DND7.25pm – 8.20pm GMT (ish). Speakers:Joe Kahlo is an Urban Bee Keeper, in the beginning of an exciting new world, in the life of Bees. In partnership with the Bees, Joe makes candles, soap and educates people on the importance of bees and creates empathy between humans and the Bee family. The trials and tribulations of a novice Bee Keeper. Follow your dreams, find your passion, fuel your mindset and DO IT!Miles Harrison works in leadership and organisation/governance development and is an independent meeting facilitator. He has particular expertise and experience in the not-for-profit and public sectors. He's a keen fan of the outdoors (a key reason for moving to Scotland in 1998), and has climbed mountains in Europe, Africa, Asia and South America.Charis Robertson is the Assistant Director of Hot Chocolate Trust, an innovative grassroots youth work organisation in Dundee. She's particularly interested at the moment in the impacts and ethics of storytelling. She also spends a fair bit of time reflecting on the nature of suffering. She's a real hoot at dinner parties. @charis_robbo@HotChocoTrustLee Ivett is the founder of Baxendale, a participatory architecture firm based in Glasgow. The practice undertakes socially-focused projects encouraging public participation and self-build processes. Last year Lee was selected for inclusion in New Architects 3; a publication from the Architecture Foundation that profiles the best architects to have emerged in the UK over the past 10 years. Lee also teaches at the Glasgow School of Art. @baxendale_dcoChris Duffy is the founder and curator of The Auchtermuchty Food Museum; a project he created to share the collection of food related photographs, books, manuscripts and eating related ephemera he has gathered over the past 25 years. Through exhibition, publication and events he aims to contribute to the dialogue about our food, and its place in our culture, history and future. The collection features a very broad range of material including artworks, printed cookbooks from the sixteenth and seventeenth centuries, 1970s cookery cards and periodicals, personal manuscript recipes from people of all backgrounds, novels, picture books, photographs of people cooking and eating and archive material from leading figures in the world of food and drink, including the Fanny Cradock Archive. @MuchtyFoodProfessor Dame Sue Black is Director of the Queen's Award winning Centre for Anatomy and Human Identification at the University of Dundee and Director of the £10M Leverhulme Research Centre for Forensic Science. Sue is a forensic anthropologist and an anatomist and advisor to the Home Office and Interpol on issues pertaining to forensic anthropology in disaster victim identification (DVI). She is a Fellow of the Royal Anthropological Institute, a Fellow of the Royal College of Physicians (Edinburgh), a Fellow of the Royal Society of Biology, an honorary Fellow of the Royal College of Physicians and Surgeons of Glasgow and a certified expert in forensic anthropology. She was awarded an OBE in 2001 for her services to forensic anthropology in Kosovo, a DBE for her services to forensic anthropology in 2016, is the lifetime honorary Professor of Anatomy for the Royal Scottish Academy and has received many awards including the Fletcher of Saltoun award for her contribution to Scottish culture, the Jephcott gold medal for scientific advancement and the Lucy Mair medal for humanitarian assistance. She also holds two police commendations for her forensic casework.Pecha Kucha Night Dundee Line Up. Tues 28th Feb 2017 – #PKN_DNDSecond Half – 8.455pm – 9.40pm GMT (ish). Speakers:Cally Booker is a Dundee-based designer, weaver, teacher and writer. She is also a mathematician, cat lover, and immediate past president of /Complex Weavers/, a non-profit organisation run by weavers around the world to encourage curiosity and innovation in weaving. @bonnyclaithThe Nethergate Writers are a group of poets and storytellers based in and around Dundee. They meet on a regular basis to share and discuss their work. An antidote to procrastination, the group provides support and encouragement for each other to commit their ideas to paper. @NGWritersLaura Geyer is a soon to be graduate of Graphic Design at Duncan of Jordanstone College of Art and Design. She and her partner Adam are the proud owners of a VW camper van named Yellow Matilda. The current plan is to run away in the van after University to pursue their 'Gap Life'. @yellowmatildaFrancis Cummings was a founding member of the Chamber Orchestra of Europe and has worked extensively with some of the most eminent conductors and soloists of our generation; appearing in festivals throughout the world. Francis was also a founding member of the Goldberg Ensemble, a chamber group dedicated to the performance of contemporary music. Nowadays he is the Director of Music for Sistema Scotland, a children's charity dedicated to the social transformation of communities through the delivery of a high- quality music education programme. @sistemascotlandChris Marr is the founder of Content Marketing Agency, the UK's largest content marketing membership organisation. Working with a variety of businesses across the globe, Chris is passionare about the use of content marketing to set businesses apart from the competition. @chrismarr101Mark Urban is a member of St. Kilda Mailboat. Haystack Monolith is his new solo project. With his modest, Nylon strung guitar and occasional electronics, he hatches myths, sagas and fanciful tales. STRIPPED BACK. FULLY CLAD. DELICIOUSLY SURREAL and totally committed to opening small oddly shaped doors, shining lights under damp boulders and looking up in to the rain. The future is glorious!

Posted by Creative Dundee on Tuesday, 28 February 2017
Each presenter shows 20 images, each for 20 seconds.
Other speakers on Tuesday night included Chris Marr, the founder of the Content Marketing Agency, urban beekeeper and soap maker Joe Kahlo, Cally Booker, a Dundee-based designer, weaver, teacher and writer, and Myles Harrison, who spoke about Climbing Out Of Our Comfort Zone.
Pecha Kucha Dundee live musical finale

Pecha Kucha Night Dundee Line Up. Tues 28th Feb 2017 – #PKN_DND7.25pm – 8.20pm GMT (ish). Speakers:Joe Kahlo is an Urban Bee Keeper, in the beginning of an exciting new world, in the life of Bees. In partnership with the Bees, Joe makes candles, soap and educates people on the importance of bees and creates empathy between humans and the Bee family. The trials and tribulations of a novice Bee Keeper. Follow your dreams, find your passion, fuel your mindset and DO IT!Miles Harrison works in leadership and organisation/governance development and is an independent meeting facilitator. He has particular expertise and experience in the not-for-profit and public sectors. He's a keen fan of the outdoors (a key reason for moving to Scotland in 1998), and has climbed mountains in Europe, Africa, Asia and South America.Charis Robertson is the Assistant Director of Hot Chocolate Trust, an innovative grassroots youth work organisation in Dundee. She's particularly interested at the moment in the impacts and ethics of storytelling. She also spends a fair bit of time reflecting on the nature of suffering. She's a real hoot at dinner parties. @charis_robbo@HotChocoTrustLee Ivett is the founder of Baxendale, a participatory architecture firm based in Glasgow. The practice undertakes socially-focused projects encouraging public participation and self-build processes. Last year Lee was selected for inclusion in New Architects 3; a publication from the Architecture Foundation that profiles the best architects to have emerged in the UK over the past 10 years. Lee also teaches at the Glasgow School of Art. @baxendale_dcoChris Duffy is the founder and curator of The Auchtermuchty Food Museum; a project he created to share the collection of food related photographs, books, manuscripts and eating related ephemera he has gathered over the past 25 years. Through exhibition, publication and events he aims to contribute to the dialogue about our food, and its place in our culture, history and future. The collection features a very broad range of material including artworks, printed cookbooks from the sixteenth and seventeenth centuries, 1970s cookery cards and periodicals, personal manuscript recipes from people of all backgrounds, novels, picture books, photographs of people cooking and eating and archive material from leading figures in the world of food and drink, including the Fanny Cradock Archive. @MuchtyFoodProfessor Dame Sue Black is Director of the Queen's Award winning Centre for Anatomy and Human Identification at the University of Dundee and Director of the £10M Leverhulme Research Centre for Forensic Science. Sue is a forensic anthropologist and an anatomist and advisor to the Home Office and Interpol on issues pertaining to forensic anthropology in disaster victim identification (DVI). She is a Fellow of the Royal Anthropological Institute, a Fellow of the Royal College of Physicians (Edinburgh), a Fellow of the Royal Society of Biology, an honorary Fellow of the Royal College of Physicians and Surgeons of Glasgow and a certified expert in forensic anthropology. She was awarded an OBE in 2001 for her services to forensic anthropology in Kosovo, a DBE for her services to forensic anthropology in 2016, is the lifetime honorary Professor of Anatomy for the Royal Scottish Academy and has received many awards including the Fletcher of Saltoun award for her contribution to Scottish culture, the Jephcott gold medal for scientific advancement and the Lucy Mair medal for humanitarian assistance. She also holds two police commendations for her forensic casework.Pecha Kucha Night Dundee Line Up. Tues 28th Feb 2017 – #PKN_DNDSecond Half – 8.455pm – 9.40pm GMT (ish). Speakers:Cally Booker is a Dundee-based designer, weaver, teacher and writer. She is also a mathematician, cat lover, and immediate past president of /Complex Weavers/, a non-profit organisation run by weavers around the world to encourage curiosity and innovation in weaving. @bonnyclaithThe Nethergate Writers are a group of poets and storytellers based in and around Dundee. They meet on a regular basis to share and discuss their work. An antidote to procrastination, the group provides support and encouragement for each other to commit their ideas to paper. @NGWritersLaura Geyer is a soon to be graduate of Graphic Design at Duncan of Jordanstone College of Art and Design. She and her partner Adam are the proud owners of a VW camper van named Yellow Matilda. The current plan is to run away in the van after University to pursue their 'Gap Life'. @yellowmatildaFrancis Cummings was a founding member of the Chamber Orchestra of Europe and has worked extensively with some of the most eminent conductors and soloists of our generation; appearing in festivals throughout the world. Francis was also a founding member of the Goldberg Ensemble, a chamber group dedicated to the performance of contemporary music. Nowadays he is the Director of Music for Sistema Scotland, a children's charity dedicated to the social transformation of communities through the delivery of a high- quality music education programme. @sistemascotlandChris Marr is the founder of Content Marketing Agency, the UK's largest content marketing membership organisation. Working with a variety of businesses across the globe, Chris is passionare about the use of content marketing to set businesses apart from the competition. @chrismarr101Mark Urban is a member of St. Kilda Mailboat. Haystack Monolith is his new solo project. With his modest, Nylon strung guitar and occasional electronics, he hatches myths, sagas and fanciful tales. STRIPPED BACK. FULLY CLAD. DELICIOUSLY SURREAL and totally committed to opening small oddly shaped doors, shining lights under damp boulders and looking up in to the rain. The future is glorious!

Posted by Creative Dundee on Tuesday, 28 February 2017