Ram-raiders used a stolen car to break into a supermarket on the outskirts of Dundee in the early hours of Thursday morning.
The incident happened at the Co-Op on Lawers Drive, in Panmurefield, in the early hours of Thursday morning.
Raiders smashed into the front door with a vehicle before stealing cigarettes and possibly alcohol.
The store remains cordoned off by police this morning with CID officers currently at work inside the shop.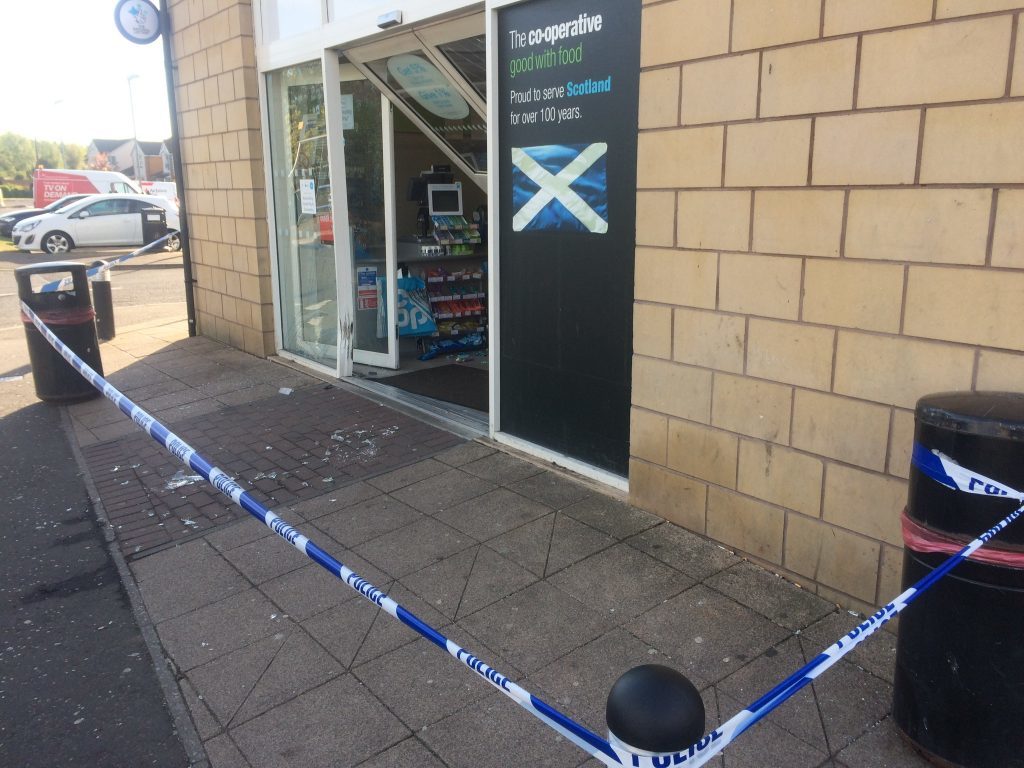 Despite the presence of a CCTV camera overlooking the entrance to the shop, it appears the car was driven over the pavement and into the automatic sliding door of the shop.
The door of the has been forced inwards by the impact of a vehicle and had been propped up on a tower of shopping baskets. It is unclear whether this was done deliberately or occurred when the door was hit by the vehicle.
A vodka bottle was dropped outside the store, presumably by the fleeing thieves.
Police Scotland said a black BMW bearing the registration N111 RNC was used in the incident and may have suffered damage to the rear.
The vehicle was reported stolen from Silport Place in Carnoustie on Thursday morning.
Co-op ram-raid: Owner of stolen car describes "scary" morning
PICTURES: Police seek help in tracking stolen BMW linked to Dundee shop ram-raid
Detective Sergeant Sarah Brow said: "I am appealing for anyone who may have been in the area at the time to come forward nad assist our enquiries.
"We are keen to speak to anyone who may have seen the BMW between Carnoustie and Lawers Drive in the early hours of this morning or anyone who knows where the car is now.
"Officers are carrying out a review of CCTV and door to door enquiries.
"Anyone with information should contact Tayside Division on 101 quoting 0391/04 or speak to any police officer.
"Alternatively, information can be passed anonymously via the charity Crimestoppes on 0800 555 111."
A Co-Op spokeswoman said: "We can confirm that there was a robbery at our Panmurefield store at around 4.30 am on Thursday May 4.
"Fortunately no one was present at the time but the store remains closed whilst we assess the damage.
"We apologise for the inconvenience caused by its temporary closure and appeal for anyone with information to come forward to the police."
One Wyvis Avenue resident, who asked not to be named, said: "I heard the alarm go off but I was annoyed more than anything – the alarms go off all the time, either there or at The Bell Tree.
"I had a look out towards The Bell Tree but didn't see anything untoward so didn't call the police."