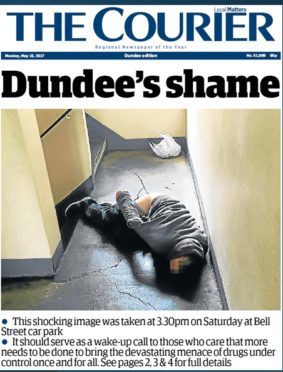 Today our front page is shocking.
It depicts a facet of life that most Dundonians never see. It is also an image many readers would rather not see at all.
So why did we project this photograph on our front page?
It was not a decision taken lightly. We weighed the sensibilities of readers against the utter sense of exasperation that comes with seeing a problem continue to blight our city, ruin its reputation and cut young lives too short.
We would never expect anyone to walk on by when confronted with such a scene and by not publishing we would have been doing just that.
We would have been guilty like so many others of sweeping it under the carpet.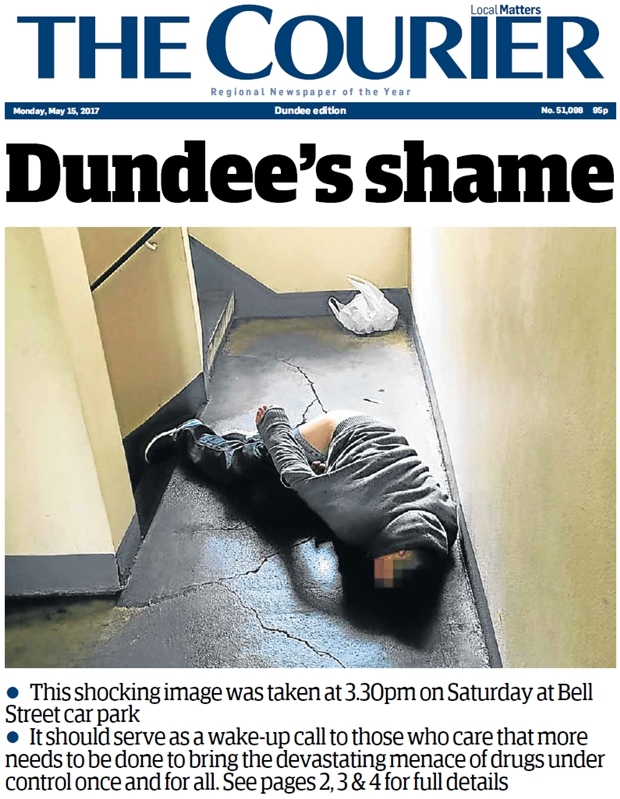 We would have been guilty of ignoring the chance to put pressure on politicians to give professionals and volunteers who do the most incredible work to tackle drug problems the extra help they so clearly need.
We would also have been guilty of doing nothing to help the wretched soul whose image has been the focus of this dreadful but familiar story.
"The sad truth is there are now two Dundees" — shameful image shows depth of drug depravity
The Courier, like our sister paper the Evening Telegraph, is not afraid to use such shocking images to demand change.
The new Dundee City Council administration is just a few days old but we are setting them their first challenge: be brave, bold and creative and come up with a strategy to rid the city of the damning hell of drugs.
Those councillors voted into power for the first time should look closely at our picture. This is your responsibility now.
For those returned for another term, this image confirms that you have failed so far.
There are many who will point to the positive air and sense of
determined vitality across the city today and accuse us of spoiling that spirit.
The incredible renaissance led by the V&A is amazing but it is not a panacea.
Do we want even one visitor to this incredible city to come across a similar scene when they visit?
To those who will accuse us of "doing Dundee down", we make no apology. This issue is too important.
Pictures like this must shock those with power into doing something to prevent another poor soul from ending up alone and undressed in a stupor in a city centre car park at 3.30 on a Saturday afternoon.