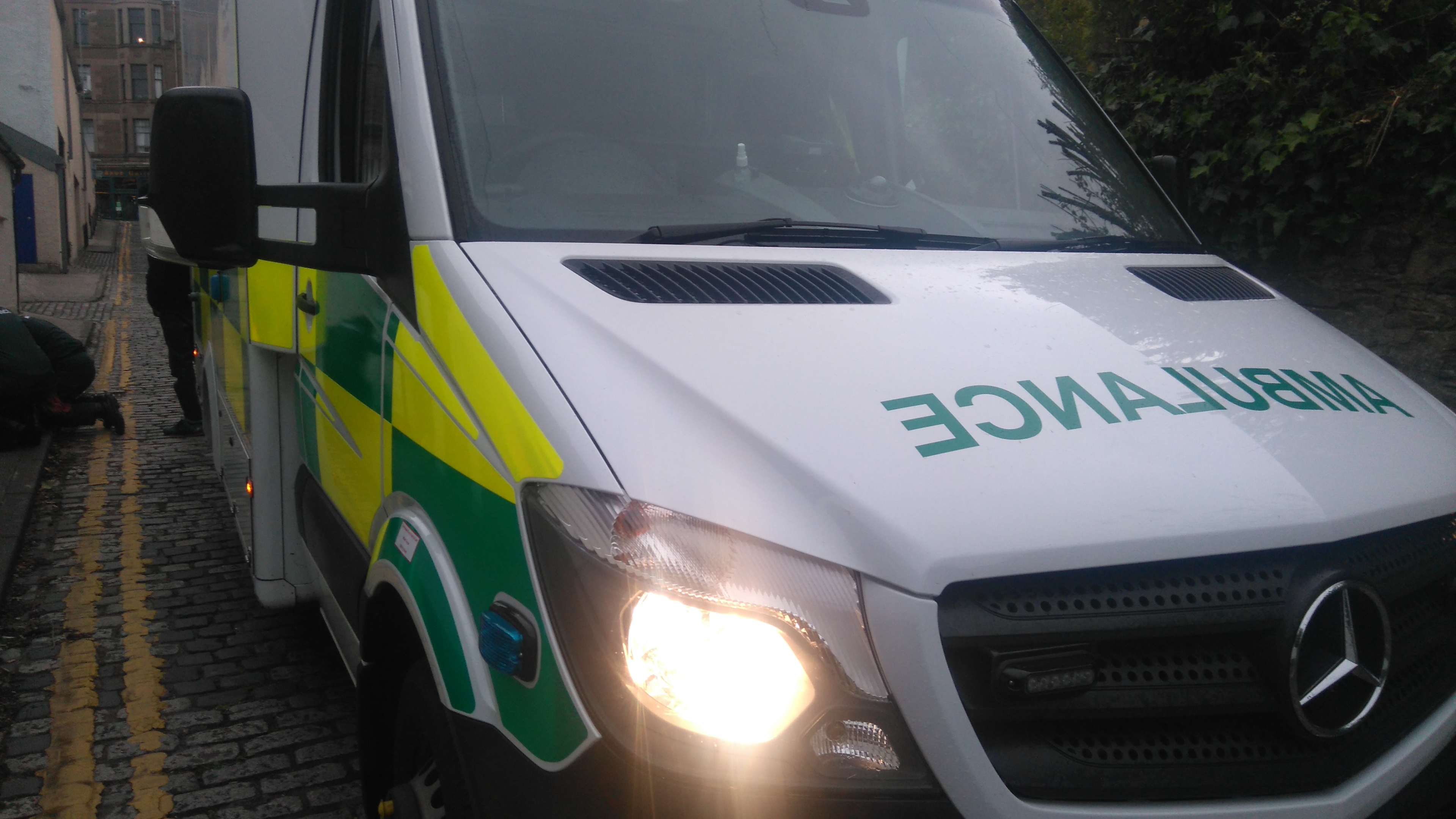 An 85-year-old man was left prone on a wet cobbled street for almost an hour after falling on Monday, due to a lack of available ambulances.
Good Samaritans found the elderly gentleman splayed on the kerb on Westfield Place in the West End of Dundee just after 7.30pm and immediately dialled 999 for an ambulance.
Due to a lack of available crews, an ambulance did not arrive to take him to Ninewells until 8.30pm.
A passing doctor, who came to the man's aid at around 8.15pm, called to check whether a crew was on its way – having assessed the man and deciding it would be unsafe to try to move him without appropriate equipment.
The man, who required the use of a walking stick, appeared to have pain in his back and hip, as well as a small cut to his forehead.
To compound matters, an ambulance was spotted approaching the scene just after 8pm, before turning on its blue emergency lights and speeding off to another apparent call.
The Scottish Ambulance Service apologised for the delay, blaming bank holiday demand for stretching the service.
Lorraine Dawson, a local chaplain who made the initial 999 call after coming to the man's aid, said it was "shocking" how long it took for a crew to arrive.
She said: "I saw the man walking down Westfield Place as I made my way to my car, and by the time I had come out of my drive I saw he had fallen to the ground.
"This must have been just after 7.30pm, and I called for an ambulance just after that.
"We called on three separate occasions, and were told by the call handler each not to move him and keep him still.
"He had to be covered in blankets and jackets from passers-by, but it was quite undignified how long he had to wait.
"It was shocking that it took almost an hour for an ambulance to arrive."
Bill Bowman, Scottish Conservative MSP for the North East Region, said: "It is disturbing to hear of another incident like this, following two in March including a woman that was left stranded for four hours waiting for an ambulance in Dundee.
"This is beginning to look like a pattern that must be addressed as a matter of urgency.
"If ambulances are unable to attend to emergency situations, albeit not life-threatening cases, in less than an hour, then we have the right to ask why.
"Our first responders do an amazing job, but there are questions here as to how resources are being managed locally.
"I will be taking this up with the Scottish Ambulance Service to see if there are improvements that can be made, or if there are simply not enough staff or vehicles in the Dundee area."
A Scottish Ambulance Service spokesman said: "We received a call at 7.34pm on Monday May 29 to attend an incident at an address on Westfield Place in Dundee.
"Ambulances are prioritised according to the clinical need of patients and unfortunately this patient waited longer while crews were busy dealing with other emergency calls.
"An ambulance arrived at 8.30pm and transferred the patient safely to Ninewells.
"We experienced very high demand for our services over the holiday weekend, and are sorry for the delay that this patient experienced. We are currently recruiting and training additional ambulance technicians and paramedics which will help meet additional demand.
"We encourage all patients who are dissatisfied with the service they have received to contact our patient experience team to enable us to explain the circumstances around the delay and see if any lessons can be learned."
Health Secretary Shona Robison said: "I was concerned to hear about this incident and wish the gentleman a full and speedy recovery.
"Scottish Government officials have been liaising with the Scottish Ambulance Service. Unnecessarily long waiting times are unacceptable and when required ambulances should be dispatched as soon as possible.
"Despite increasing demand, our ambulance crews are saving more lives than ever before. We are focused on improving clinical outcomes and ensuring that the right resource is sent to patients first time.
"The Scottish Government has invested an additional £6.3 million in the ambulance service for 2017/18 to deliver our commitment to train 1,000 more paramedics.
"The Scottish Ambulance Service is also providing additional vehicles across Scotland to ensure patients who need an urgent response receive one as quickly as possible."