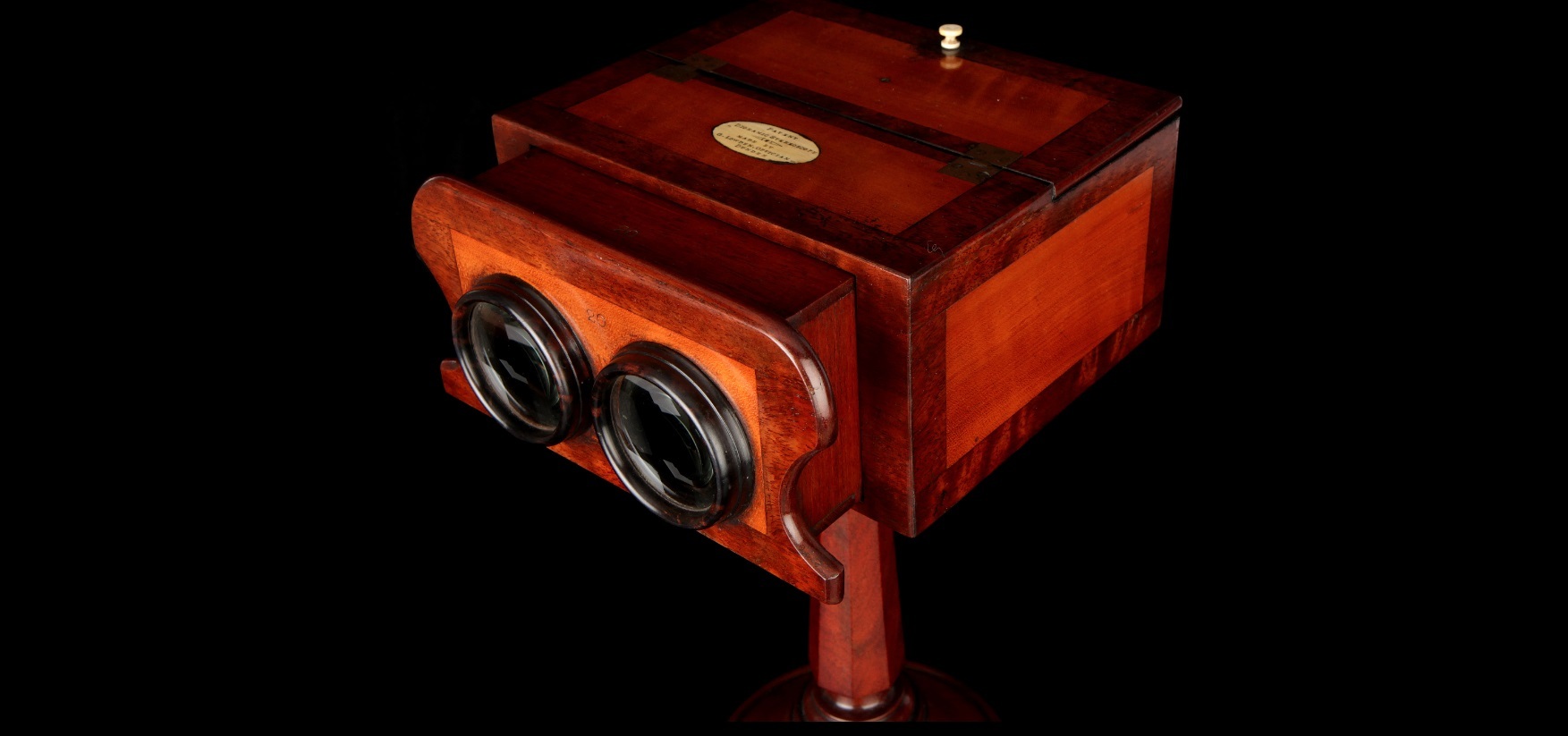 A 160-year-old "virtual reality" machine made in Dundee is expected to fetch nearly £3,000 when it goes up for auction next week.
The Lowden Stereoscope was used as an early form of 3D home entertainment.
The viewing lenses can give the illusion of depth using the same optical technology modern virtual reality headsets use today.
The Lowden model was the first type to be made commercially anywhere in the world.
The item being auctioned at Flints in London next week is made of walnut and satinwood and is expected to fetch between £2,000 and £3,000 when it goes under the hammer at the Fine Instruments of Science and Medicine Auction.
The method of using lenses to create a 3D effect was invented by Dr David Brewster who approached Dundee instrument maker George Lowden, who started making scientific designs at the age of 24, to turn his designs into reality.
Lowden made several stereoscopes in 1849 for Dr Brewster.
Dr Brewster then gave away several of the stereoscopes to members of the nobility and scientists around Europe but the device gained little interest and was a commercial failure.
Lowden claimed the two men fell out after the Dundonian suggested improvements to the stereoscope.
In his autobiography he wrote: "The fault of Brewster's stereoscope was that the lenses were too small being, in fact, only two halved of a spectacle glass.
"This did not suit every eye and in experimenting I discovered that larger lenses were an advantage.
"I pointed this out to Brewster but he was wedded to his opinion, and as I feared the idea might be taken up by another, I took out a patent for my improvement — which experience has amply justified — but my action was, unfortunately, resented by Brewster, and gave rise to considerable friction, for which I did not consider I was to blame, seeing that I had pointed out the improvement and he had refused it."
Brewster later teamed up with a Parisian manufacturer, Duboscq et Soleil to make more stereoscopes.
His invention finally caught on after one of his new devices was exhibited at the 1851 Great Exhibition in London and impressed Queen Victoria.
Other unusual items going under auction include a trepanning set in a sharkskin case, which is expected to fetch between £2,000 to £2,500.
Trepanning involved drilling a hole into the skull in order to relieve pressure. Some also believed it could be used to release evil spirits dwelling within someone.
Other curios on offer at the auction include a military surgical kit dating from around 1860 which contains amputation knives and a saw for removing limbs quickly on the battlefield.
A pair of lead nipple shields, once worn by breast-feeding mothers, has a guide price of £100 to £200.
The auction will take place at 10am on Thursday September 21.