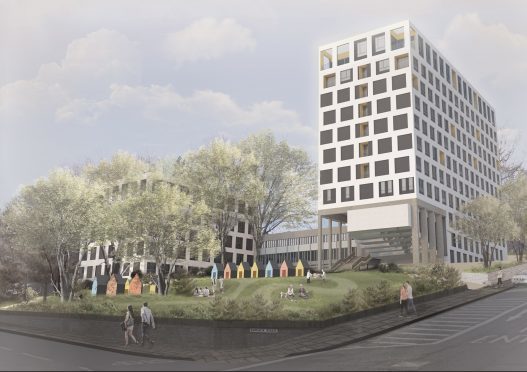 Developers have remained tight-lipped about progress on a major project to turn the former Dundee College building into a flats, cinema, gym and cafe complex.
The Constitution Road  building, which has been vacant since 2011, has fallen prey to youths who have broken windows and sprayed graffiti.
Whiteburn Projects received planning permission last year to redevelop the building into 110 one and two-bedroom flats, as well as communal and entertainment spaces.
A spokesperson from the company said they would provide an update on the £15m project, called VOX Dundee, in the near future.
Coldside councillor George McIrvine said: "If planning permission was granted in 2016 then people will want to know if there's any movement on the project sooner rather than later.
"The building at the moment is a total eyesore, which needs to be fixed as soon as possible.
"It has been open to vandals since the closure of the college, with fears not just for the building but for the safety of the kids, who were hanging off the windows.
"It is an eyesore not just for Coldside, but for the whole city – it's on a hill, so it can be seen as you're coming into Dundee."
In 2013, a man was jailed for breaking into the building and stealing copper piping, which caused thousands of pounds worth of damage.
Earlier this year, councillors raised concerns about youths smashing windows and climbing in, with police also warning of the dangers.
As well as flats and leisure facilities, the new VOX development would have work spaces and extensive landscaped gardens.
The project's outline states that the 1970s building will be stripped back to its concrete frame.
Two new floors will be added to the East Tower and the whole building will be wrapped in an insulated cladding system, with large double glazed windows and inset balconies scattered across the elevations to "bring the building up to modern day building standards".