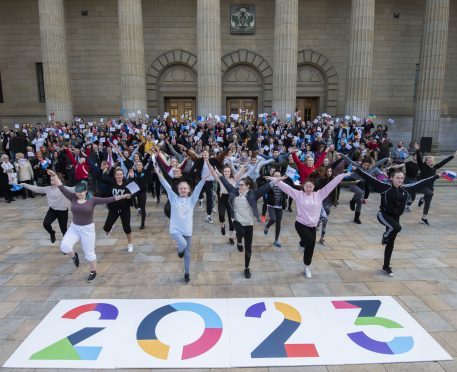 Dundee's bid to become European Capital of Culture 2023 was officially submitted yesterday but the bid team warned the hard work has only just begun.
Politicians, schoolchildren, bid leaders and members of the public waved flags on he steps of the Caird Hall as the document from driven from Dundee.
Members of the bid team will now have to convince a panel of judges the city is worth a place on their shortlist, which is due to be announced on St Andrew's Day.
Bid leaders are confident Dundee can survive the first cull of contenders.
If that happens, judges will then visit the city in the New Year before announcing which UK city will land the coveted title.
Dundee is competing against a number of other British cities including Leeds, Milton Keynes and Nottingham.
Stewart Murdoch, director of Leisure and Culture Dundee, said: "We have made contact with a whole range of Scottish, British and European cultural performers and we have said to them would you like to come to Dundee in 2023 and help us demonstrate the cultural imagination that we have in the city.
"It is not just about Dundee, it's about our links with Europe. Our contacts through the UNESCO City of Design and our twin cities have helped as have organisations like NCR And Michelin and their own European network.
"It will be a bid that brings Europe to Dundee and Dundee to Europe."
He added: "It will be a 52-week programme.
"There will be a spectacular opening and closing events and other major events at key points through the year.
"But it is not just about the opening of a big open air musical concert, it will be celebrating a whole range of art forms such as art, theatre and poetry."
Mr Murdoch said he was delighted at Thursday's turnout but that the Dundee bid will require event more public support if the city makes the shortlist.
He said: "To get this level of support at this stage is great.
"If you look at Paisley, which is bidding for the UK title, there is real energy behind it now they are through to the second state.
"If we, as we expect, progress to the second stage, the energy will build but we will really need to put on a show when the judges come to visit Dundee."
Anna Day, another members of the bid team, said the hard work is only beginning now the bid document has been submitted.
She said: "It's been great to see the city turn out to support the bid. I think it reflects what Dundee has done with the bid. We've made it true to the city."
Members of the bid team will travel to London next month to make a presentation on behalf of the city before a judges announce their final shortlist.
They will then visit the city before announcing which city will be granted the coveted title of European Capital of Culture 2023.
Ms Day said: "The presentation is as important as the bid document itself.
"It is a two-hour presentation and the team has to know the bid document inside out."
SNP administration leader John Alexander said the bid was one all of Dundee can get behind.
He said: "The bid has been informed by the people of the city.
"People have sent in their ideas – it's not just about those who are involved on the bid team."
City development convener Councillor Lynne Short and Juraj Ciernik from the Dundee 2023 team drove the bid document from the City Square in an electric car.
Bid leader Bryan Beattie said details of the bid document are being kept under wraps so as not to give Dundee's competitors any unnecessary advantage.
However, it is understood to contain proposals for more than 100 projects or events.
He said: "It's a competition that is worth so much to the city in terms of jobs "
Mr Beattie said he was delighted at the turnout on Thursday.
He said: "It shows the city wants this and we believe the city can deliver it – and deliver it really well."