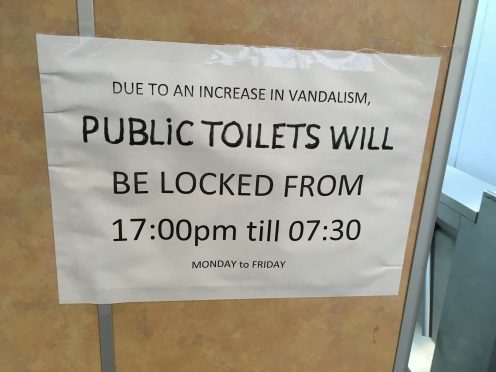 Bus company Stagecoach has been forced to limit the opening hours of the lavatories at Dundee's bus station because of vandalism – including pranksters putting potatoes down toilet bowls.
The toilets in the Seagate depot are currently closed between 5pm and 7.30am each day because of repeated attacks.
A sign has been pinned up informing customers of the move.
Stagecoach has said it will review staffing to prevent vandals striking again and is planning a series of improvements to the station.
Bus passenger Jean Clark from Brechin said she had seen one mother forced to change her baby's nappy in the main waiting area because access to the loos had been restricted.
She said: "Those in need were faced with a notice on the wall outside the toilets in small type stating the closure – no explanation and only in English.
The drivers we noted headed for the office after reading the notice but there was no such luxury for a mum whose baby needed changing.
"She had to use with the floor in a corner of the booking hall.
"The rest of us had to cross our legs in the hope that Stagecoach buses were on time."
Mrs Clark said the bus station was a "disgrace" to the city.
Paul Thomas, managing director of Stagecoach East Scotland, said the company was planing improvements to the station.
He said: "Unfortunately we have suffered from mindless vandalism of the toilets and anti-social behaviour at Dundee bus station over the years and we have attempted numerous operational changes to counteract this.
"This has included installing a turnstile mechanism, limiting the opening hours and increasing the level of staffing we have provided at the site to provide more regular checks.
"Once again we will revisit our staffing requirements at the site to ensure our customers are waiting in a clean and safe environment and we will further monitor the situation following recent concerns."
Mr Thomas revealed the company was planning to make improvements to the station.
He said: "We are in discussions with a new cafe unit to enter the premises and we are also in the process of reviewing the layout of our travel shop to provide an improved level of customer information."