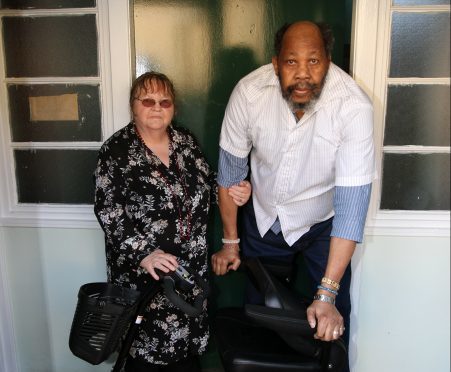 A Dundee man left housebound after cruel thieves stole wheels from his mobility scooter has been given a new lease of life.
Michael Simon, 77, originally from Curacao in the Caribbean and who now lives in Douglas, discovered his wheels had been stolen last Sunday.
The 77-year-old suffers from arthritis and relies on his scooter to get out and about.
Michael's wife Catherine, 69, told The Courier she feared her husband had been targeted in a "racist prank".
Now, following a week of frustration, Michael and Catherine have been left delighted after charity fundraiser Charlie Kean intervened.
Charlie's donation of a new mobility aid for Michael has left the Douglas couple over the moon.
Catherine said: "Charlie appeared from nowhere. I hadn't expected it — I wondered who was banging at the door.
"It is a surprise, a nice surprise.
"I'm happy with this — I hope this one doesn't get nicked.
"I never heard a thing about the last one, but this will help my husband get back out."