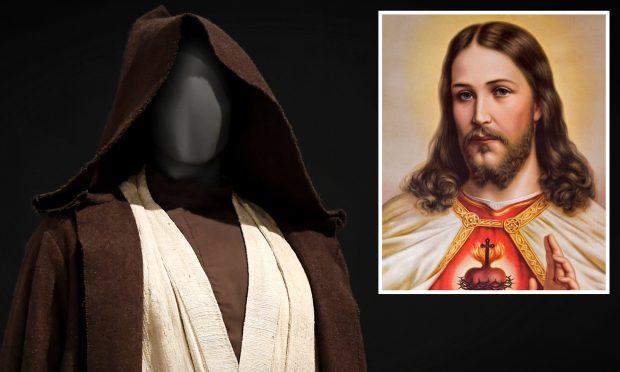 As anyone who has ever been to a supermarket can tell you, the big Christmas push comes as soon as Halloween is out of the way.
As soon as the clock strikes midnight on October 31, the witches, ghosts and ghouls are taken down to make way for the festive fare on offer for the next two months.
If one was looking for a metaphor for the brutal and decisive way Christmas takes over – and why wouldn't you be? – there can be none better than someone dressed as Jesus punching someone dressed as a Jedi to the ground after a Halloween party.
When reporters are asked what we like about our jobs, one of the stock answers is that every day is different – something that is, at best, a half-truth.
Although we would like the world to think our working lives are filled with secret meetings with shadowy figures in underground car parks who want to expose the fact that some crooked politician has been claiming packets of Skips on expenses, the reality is a lot more mundane.
So you can imagine the  excitement that spread through the newsroom when details of the Jesus-Jedi brawl emerged last Friday.
It is rare that real news dovetails so nicely with the sort of story you would read on spoof news sites like The Daily Mash or The Onion.
Fortunately, the Jedi involved was not seriously hurt, which meant people could spend the day coming up with ludicrous suggestions for possible headlines. Everything from "Crucify him" to, as one former colleague suggested, "Jesus, that hurt" were put forward.
Of course, it is possible to take things too far: both "Jesus forgives self for Jedi assault" or "Barabbas hoping for quick arrest in Jesus attack" were just a little too clever for their own good.
And while it shouldn't be forgotten that the incident is being treated by police as a serious assault, you can bet it will be as long remembered as those other head-scratching entries in the hall of Dundee infamy, such as the man caught bouncing a Space Hopper down a dual carriageway.
Which means that for years to come in Dundee, the transition from Halloween to Christmas will always be remembered as that time a Jedi was felled by Jesus' wicked right cross.