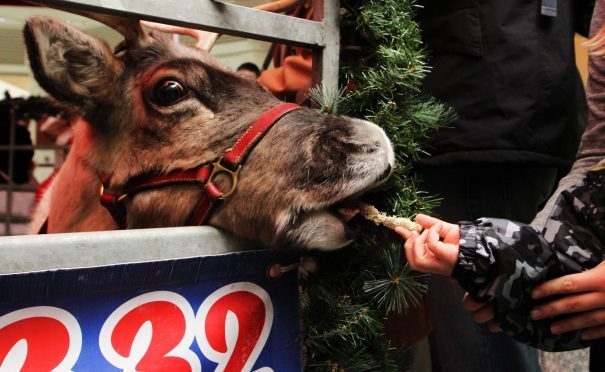 Animal rights groups have condemned a Dundee shopping centre for penning a reindeer indoors for a Christmas light night event.
The Wellgate Centre has come under fierce criticism for using the animal as part of its festive celebrations on Thursday.
A petition with almost 1,000 signatures from people threatening to boycott the mall is to be handed to bosses.
It demands an outright ban on the use of animals being "exploited" for entertainment.
Children and families lined up on Thursday to pet and feed the single reindeer which was kept inside the centre during the festivities.
Steven Wilson set up the petition and said the indoor shopping centre environment was a "cruel" environment for a beast which is suited to the cold climes of the North Pole.
He said: "Many customers have been outraged and have left reviews on their Facebook page threatening to boycott the shopping centre.
"A petition has been brought forwards by many of us who are concerned about the live use of animals.
"Reindeer in the wild live in herds in the cold arctic and sub arctic regions of the world.
"The Wellgate shopping centre's Christmas event saw a reindeer placed in a small pen surrounded by people and noise.
"Not only was the environment for the reindeer unsuitable, but the event was cruel.
"Rudolph would not approve of his fellow reindeer being stressed out in a loud shopping centre."
The petition follows a similar campaign earlier this year, when animal rights activists threatened to boycott the Overgate Centre after plans for a live chick hatching event emerged.
Centre management pulled the plug on their Easter attraction after People for the Ethical Treatment of Animals (PETA) said any entertainment event involving animals in a shopping mall was "cruel".
No-one at the Wellgate was available to comment.