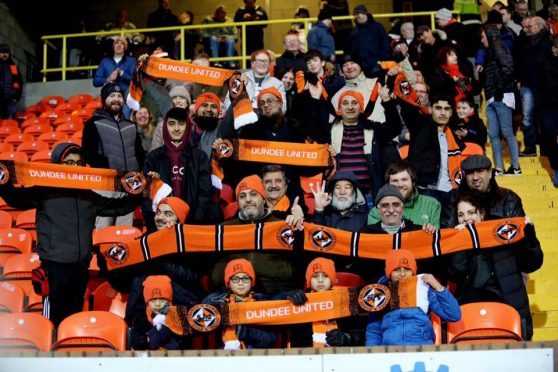 A group of refugees became Dundee United's newest supporters on Sunday after attending Tannadice for the first time.
Twenty fans from Syria and Iraq attended the Tangerines' 3-o win over Falkirk.
The visit was organised by the Yusuf Youth Initiative to help refugees settle into life in Dundee.
According to support officer Vali Hussein, the visit was a huge success thanks to the efforts of Dundee United staff.
Vali said: "The experience was 100% a positive one.
"We felt that we were very privileged guests. When United scored the goals, they were jumping up and down and were waving their scarves. They looked very into it.
"Maybe they will be future Dundee United supporters. The kids loved it, despite it being cold. The excitement kept them going, especially with United winning.
"United scored three goals, so maybe we brought them some luck."
Vali believes football, as a universal game, is the perfect activity to make new arrivals to Dundee feel at home.
He said: "It was to make them feel safe, welcome, and that Dundee is their home.
"There is no better way to give than experience than something like football, it is a sport for everybody. It was a very positive experience.
"When we arrived, we were taken to the lounge for teas, coffees and biscuits. We were given scarves and hats, which was a really nice gesture because no one had anything to symbolise that they were a supporter.
"The whole process, we felt we were very well looked after and respected."
United won the match against Falkirk 3-0.
The Yusuf Youth Initiative works to encourage young people to contribute to their society.
The charity operates a foodbank and various educational and outreach projects in Dundee.
The Courier met with some of Dundee's first Syrian refugees last year.
All escaped war in cities like Daraa and Homs before arriving in Scotland.
They have since taken it upon themselves to volunteer with groups like Taught By Muhammad to assist their integration into the local community.