Dundee's bid to become European Capital of Culture 2023 has been scuppered by Brexit.
The European Commission has confirmed Dundee, or any other UK city, will be unable to compete in the competition because of the country's decision to leave the European Union.
Dundee's team were due to pitch their bid to the department this coming Tuesday.
A spokesperson for Dundee 2023 said the "bombshell" decision was "disrespectful" to the people of the city.
A letter, written by Martine Reicherts, director-general in the Commission's education and culture department, said: "The participation of the United Kingdom in the European Capital of Culture action will not be possible."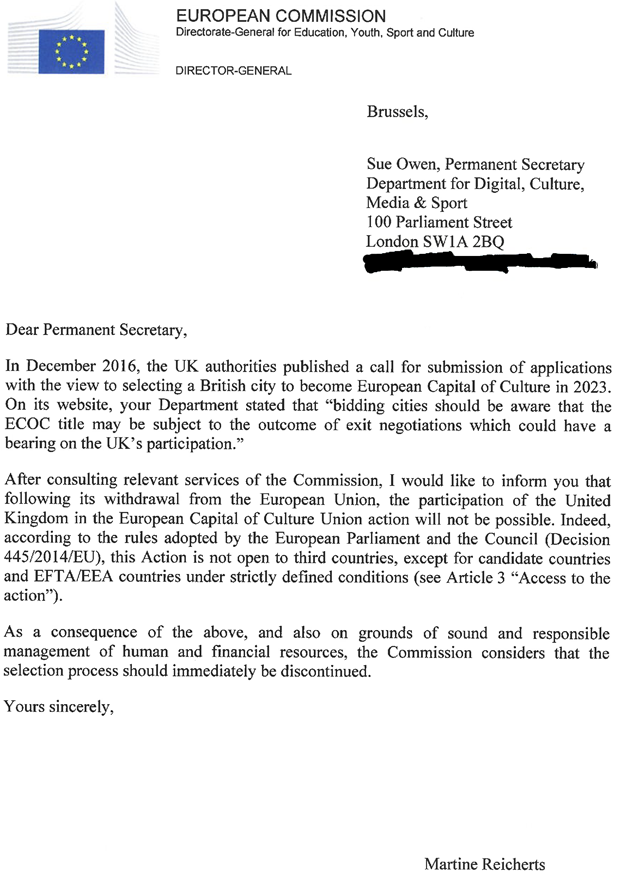 A spokesperson for the European Commission has now confirmed Dundee will not be able to run for Capital of Culture.
"The #Dundee2023 team are urgently seeking clarification on what this statement will mean for the Dundee bid and we will be speaking to the DCMS as soon as possible."

— Dundee2023 (@dundee2023) November 23, 2017
"Concrete consequences" of Brexit
He said: "As one of the many concrete consequences of its decision to leave the European Union by March 29 2019, the UK cannot host the European Capital of Culture in 2023.
"According to the rules adopted by the European Parliament and the Council (Decision 445/2014), this action is not open to third countries except candidate countries and European Free Trade Association/European Economic Area countries.
Furious!! Huge amount of effort has gone in to this bid which would have been a massive economic boost for #Dundee and Scotland. https://t.co/5lJZ2IoRVJ

— Joe FitzPatrick (@JoeFitzSNP) November 23, 2017
Thanks #Brexit a lot of time and energy spent developing this bid now wasted https://t.co/S3z7bFd4q8

— Mairi Gougeon (@MairiGougeon) November 23, 2017
"Given that the UK will have left the EU by 29 March 2019, and therefore be unable to host the European Capital of Culture in 2023, we believe it makes common sense to discontinue the selection process now."
Westminster's Department for Culture, Media and Sport – who were due to choose the UK's entry on Thursday November 30 – has said they were deeply disappointed with the Commission's position.
"We disagree with EC stance"
A department spokesperson said: "We disagree with the European Commission's stance and are deeply disappointed that it has waited until after UK cities have submitted their final bids before communicating this new position to us.
"The Prime Minister has been clear that while we are leaving the EU, we are not leaving Europe and this has been welcomed by EU leaders.
"We want to continue working with our friends in Europe to promote the long-term economic development of our continent, which may include participating in cultural programmes.
"We remain committed to working with the five UK cities that have submitted bids to help them realise their cultural ambitions and we are in urgent discussions with the Commission on the matter."
"Disrespectful"
A spokesperson for the Dundee 2023 bid said: "We are hugely disappointed at this decision that has come just days before the Dundee bid team was due to travel to London to make its pitch.
"The timing is disrespectful not only to the citizens of Dundee, but to people from all five bidding cities who have devoted so much time, effort and energy so far in this competition.
"It's a sad irony that one of the key drivers of our bid was a desire to further enhance our cultural links with Europe.
"We are hugely appreciative of the messages of support that are flooding in from around the world, particularly from our UNESCO city partners
"We are seeking urgent meetings with the UK and Scottish Governments to discuss how the enthusiasm and imagination of Dundee's bid can be taken forward.
"Dundee will also be talking to its Tay Cities region partners, who are such strong supporters of Dundee's cultural ambitions, and to Scotland's local authorities who have also backed Dundee's efforts to become European Capital of Culture 2023.
"Dundee's bold bid was designed to help continue the transformation of our economy and to provide exciting new opportunities for our young people.
"While the dust is still to settle on what is a bombshell for all of us, the spirit of the bid remains very much alive and kicking."
More to follow.