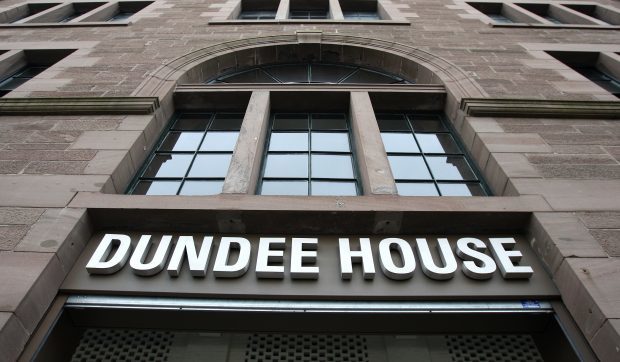 Dundee City Council has warned it could be facing budget cuts of almost £70 million pounds over the next three years.
The grant given to the council by the Scottish Government is expected to shrink by at least 3%, or £54.1 million.
However, the amount could stretch to 4% – £61.9 million – or as high as 5% – £69.6 million.
Councillors are due to receive a report on the potential cuts at a meeting of the policy and resources committee.
It will sit three days before SNP finance secretary Derek Mackay MSP reveals the final sum as part of the annual budget announcement.
Details of how the cuts might affect services in the city have yet to be announced, but administration leader and convener of the committee Councillor John Alexander said the council could not afford to "shirk" from the difficult choices ahead.
He said: "These projections have been produced to allow us to better plan how to make efficiencies and shape services for the future.
"We are working hard to produce a balanced budget but there are a number of risks and uncertainties around this process. These include the impact of Brexit, the performance of the Scottish economy and the policies of both the UK and Scottish governments.
"I am absolutely determined to do the very best we can for the people of this city.
"We need to develop better ways of delivering services to meet these significant financial challenges, building on our strong partnerships with agencies across the city in innovative and pioneering projects.
"Our ambition for Dundee remains undiminished and we are committed to making the city a better place for everyone.
"We cannot shirk the hard work that lies ahead to adapt our services in the face of serious pressures."
Dundee City Council was forced to make savings of £6.4 million when the 2017 budget was set earlier this year.
In 2016, the administration had to find £23 million in savings when the Scottish Government reduced its grant by 5.5%. The move resulted in the loss of 200 council jobs.
Councillor Alexander promised the authority would keep the public and council staff briefed on the current situation.
"We have a responsibility to clearly explain the financial position of the council and the implications this will have for everyday service delivery," he said.
"We will also be providing regular updates to the general public and our staff in the lead-up to the setting of the council's revenue budget and the council tax.
"I would stress to the people of Dundee that we are leaving no stone unturned when it comes to finding a way forward for our council."