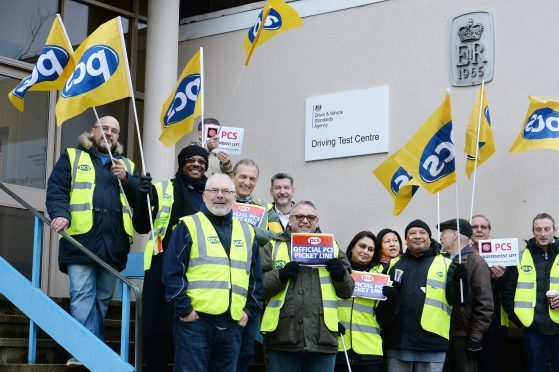 Hundreds of driving tests have been cancelled in Tayside and Fife after examiners across the UK launched a 48-hour strike.
Members of the Public and Commercial Services (PCS) union have mounted picket lines outside major test centres amid claims examiners are being told to work longer, harder and for no extra pay because of changes to driving tests.
The Driver and Vehicle Standards Agency (DVSA) disputes PCS's claims.
A picket line is scheduled to take place on Tuesday from 8am outside Kirkcaldy Driving Test Centre on Randolph Place.
On the day the new driving test was introduced, it was estimated around 10,000 tests have been cancelled across the UK due to the dispute.
Donna White, the representative for PCS union members in Tayside and Fife said: "Members are furious at the seeming lack of respect shown to them by DVSA's refusal to conduct meaningful negotiations with their elected PCS representatives, on the main issue of travel time terms and conditions.
"Driving examiners and vehicle side members could be deployed to anywhere in the country,  enforcing an extended day.
"It beggars belief that an organisation tasked with ensuring that drivers adhere to the law, regarding travel time and enforced breaks, could put their staff at detriment and personal risk in extending the working day using this 90 minute "own travel"  time.
"PCS also have major health and safety concerns surrounding the new driving test and one of the new manoeuvres.
"This dispute has been ongoing for over two years and, despite an interim agreement, DVSA have continually batted this issue between themselves and DfT (Department for Transport) to further frustrate the negotiation process."
Labour has given its backing to the examiners in the dispute.
Shadow rail minister Rachael Maskell said: "It is appalling that DVSA senior managers and ministers have allowed this dispute to escalate, meaning thousands of driving tests are having to be cancelled.
"Driving examiners have told me they have serious and genuine concerns about the safety of the new test and we support the PCS union's call for it to be suspended to allow for further analysis.
"Instead of stoking disputes like this and demonising unions who raise concerns, the next Labour government will work with staff, their representatives and employers to protect working conditions while improving standards."
DVSA director of people, communications and engagement Adrian Long issued a strongly worded statement disputing the points made by PCS.
Mr Long said: "PCS's desperate claim that changes to the driving test will cause examiners to work longer and harder is simply not true.
"In the last year we've recruited more than 320 extra driving examiners – reducing waiting times to an average of seven weeks across the country.
"It's also significantly reduced the number of times we ask examiners to work at other centres – 1.5 days on average in the last four months. This means that we are not asking examiners to travel an extra day each week as PCS claim.
"DVSA has met with PCS more than 40 times to try to solve this dispute but, despite our best efforts – including an offer of mediation – PCS has stuck to its unreasonable demands. The possibility of constructive discussions has been made even harder by their strike action."
Meanwhile, GMB union members driving for delivery firm DPD will protest in Dundee and elsewhere today (Tuesday)  over pay cuts and enforced working hours.
150 Owner Driver Franchisees (ODFs) will stage a demonstration at the firm's depots in Glasgow, Uddingston, Edinburgh and Dundee from 6am.