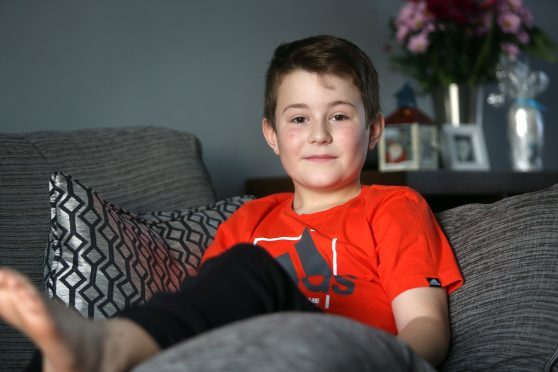 The mother of a 10-year-old who was attacked by a dog in a Dundee street is to make a formal complaint to the police after officers closed the investigation without speaking to them.
Terri Thorburn's son Finlay was bitten by a Rottweiler while he was playing with a friend near shops on Fintry Drive last Friday.
The St Francis (Longhaugh) Primary pupil needed surgery following the ferocious attack and said the episode was the "scariest day of his life".
Now Terri has spoken of her shock after she learned the investigation had been closed since "nothing criminal had taken place".
She said neither she, nor Finlay, had been given an opportunity to give the police his version of events.
Terri said: "I am not happy at all with how the police have dealt with it and I will be making a formal complaint.
"They told me that because it was just one bite they won't pursue it but how can that be right?
"The nurses who treated him said he's so lucky that it wasn't his artery or that it wasn't a toddler that was bitten.
"They (police) said they'd closed the investigation but that was before they had even spoken to me or Finlay."
Finlay needed an operation at Ninewells Hospital to close a gaping wound on his leg.
Terri said a number of people had been in touch with her to share their concerns.
She said: "I have had so many people contact me about this particular dog.
"One woman told me that her dog was attacked by it and she was worried at the time that it would go on to attack a person.
"I'm now worried that the dog will still go on to attack and seriously hurt someone."
A Police Scotland spokesperson said the force was reviewing the circumstances of the case.