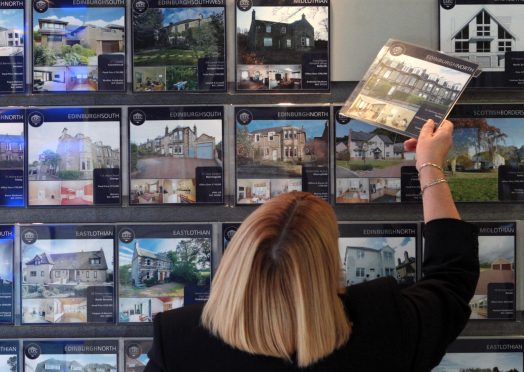 House prices across Dundee and Angus have slumped while most of Scotland enjoyed a year of "strong growth" in the housing market.
Properties in Dundee experienced a dip in value of 1.8%, with Scotland's annual growth coming in at 3.5% – the second highest of any UK region.
It was an even tougher year for homeowners in Angus, with house prices plummeting by 3.9% over the period.
However, some areas across Courier Country did see an improved performance, with Fife enjoying an increase of 6% and Perth & Kinross experiencing a whopping 7.8% rise – one of the highest anywhere in Scotland.
North East MSP Bill Bowman said it was "disappointing" to see a fall in prices but hoped more homes would sell now that 80% of new buyers are exempt from Land and Buildings Transaction Tax (LBTT).
"Dundee values saw a modest rise in October and the decline seems to be slowing down in Angus too," he said.
"I welcomed the SNP's decision to follow the UK Government's lead in providing more help for first-time buyers.
"Time will tell how significant an effect this will have, but this will hopefully get the market moving and allow more people to own their own home."
Peter Ryder, Managing Director, Estate Agency of Thornton's Dundee, rejected the notion that the region had experienced a poor year and said local estate agents had reasons to be optimistic.
"As the year progressed, we saw less supply coming onto the market which meant a very good later half of the year from a sales point of view, with deals going through far more quickly," he said.
"I think in large part this was down to uncertainty in the market with things like Brexit and the General Election creating an uncertainly that can definitely impact on whether people decide to put their homes on the market."
Across Scotland, house prices sit at around £6,000 higher than they did a year ago, with experts pointing to median full-time earnings that are the third highest in the UK, along with the lowest median house price.
It means Scotland currently has the lowest affordability ratio anywhere the UK, with the Scottish housing market relying on a mix of strong demand and tight supply.
Christine Campbell, managing director of Your Move in Scotland – who commissioned the report – said: "Despite a slowdown in annual growth, both the strength and consistency of the Scottish market continue to be impressive.
"With demand strong and property still affordable, Scotland looks like it will finish 2017 in good shape."