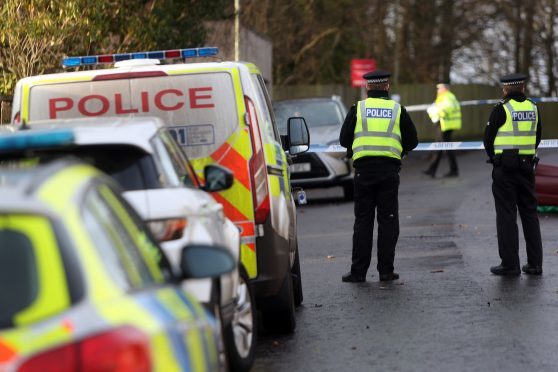 Police have still to rule out criminal involvement in the incident that left a 17-year-old boy lying unconscious on a Dundee street with a suspected fractured skull.
It is understood the boy remains in Ninewells Hospital but that his condition has not deteriorated since he was found in Adelaide Place in the early hours of Saturday morning.
A taxi driver discovered the boy lying in the middle of the road around 5.30am.
Emergency services were called to the scene and forensic officers spent two days scouring the street and the footpath that runs alongside it to Kinghorne Road.
The boy's mother is maintaining a bedside vigil at Ninewells Hospital.
She, along with other family members, has been with the 17-year-old since he was taken to Ninewells Hospital.
A family friend said the boy's mum was too distressed to speak to the media herself, but added she was keeping a bedside vigil in hospital along with relatives.
The friend said: "His mum is in a terrible state.
"She remains with her boy in Ninewells where he is in a coma, but they are hoping he wakes up soon.
"Right now, they are taking it one day at a time. The family is also working with the police and hoping to get an explanation soon. The family is trying to remain
positive.
"This is a devastating thing to have happened — especially at this time of year."
Meanwhile, police are continuing their probe into how the youngster, who was discovered by a taxi driver, came to be injured.
Adelaide Place was cordoned off for the scene to be investigated after the teen was found at around 5.30am on Saturday.
Wheelie bins were laid on the road to cover clothing that was cut from the youth by paramedics.
Scenes of crime officers in white suits were in the area all day on Saturday and returned  the following day.
Detective Inspector Keith Duncan from Police Scotland's Tayside Division urged anyone who was in the Adelaide Place, Lawton Road, Byron Street or Strathmartine Road areas in the early hours of Saturday to come forward.
He said: "Inquiries are ongoing as to how this man came to be injured.
"Anyone with any information should get in touch with us.
"The injured man is described as wearing grey jogging bottoms and a dark grey hooded top.
"Anyone who saw him in the area can contact police on 101, quoting incident number 1072 of 23/12."