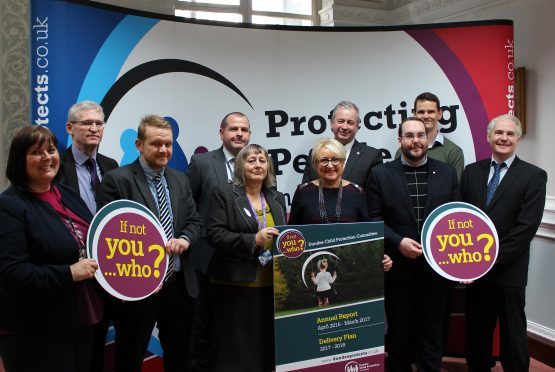 More than 200 child protection investigations were carried out in Dundee last year.
The Dundee child protection committee's annual report and delivery plan reveals 231 investigations were carried out on the risks posed to vulnerable children over the course of the year.
It also showed 42 Child Protection Orders were granted over the same period. These are given by courts when there is an immediate danger to children so they can be removed to a safe place.
The committee has now launched a new campaign – "If Not You, Who?" – which aims to tell people how they can raise concerns about the welfare of a child.
The committee's independent chairwoman Norma Ritchie said: "We all have a responsibility to recognise and actively consider potential risks to a child.
"I hope this report will help promote greater public awareness, understanding and support for the work we do as a child protection committee.
"My thanks go to our partners for their continuing commitment to improving outcomes for children and young people identified as being at risk of harm.
"Dundee has a committed workforce who want to ensure that children, young people and families have the help they need to overcome the challenges of everyday life."
The report gives a summary of the work done by agencies in Dundee, from investigations and case conferences to public awareness and engagement.
The committee and its partners have identified four key priorities – domestic abuse, substance misuse, child sexual abuse or exploitation and neglect – they want to tackle over the next year.
SNP councillor Gregor Murray, convener of the children and families services committee,  said: "This report underlines Dundee's collective commitment to get it right for every child, especially those who are most vulnerable.
"We all share the responsibility for making sure children and young people feel safe, nurtured and respected.
"As the report highlights, there is excellent work already being done in Dundee and a will to continuously improve how we protect children from harm."
Community Safety and Public Protection committee convener Alan Ross added: "This report will raise awareness amongst the local community of the work being carried out in the city to help our children live safe and secure lives.
"I look forward to continuing our work with our key partners to deliver on the outcomes set out in the Delivery Plan," said the SNP councillor.
Anyone who has concerns about a child's welfare can call Dundee's Child Protection Line on 01382 307999