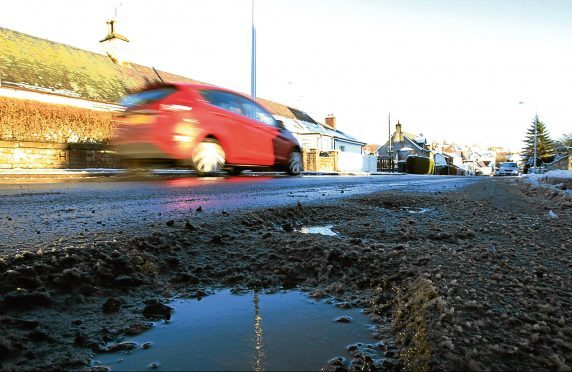 Road users across Tayside and Fife paid out for more than 76,000 MOT suspension failures last year, it has been revealed.
Across Dundee and Angus, 25,471 cars failed for suspension related issues, with a further 14,510 failing to make the grade in Perth.
Meanwhile, a whopping 36,574 road users with a KY postcode — which covers Fife, as well as Kinross — also saw failures for problems relating to their vehicles' suspension.
The figures have prompted concern over the quality of roads in the region, with Tayside councils alone having already paid out £61,027.35 in compensation for repairs since 2012.
Ian Francis McCarle, director at George Malcolm & Son Ltd said the firm has a skip full of coil springs and other parts from people who have damaged their cars on potholes.
"We've seen a big increase in the number of people coming in with damage caused by them," he said.
"I would say not a day goes by when we don't have someone coming in with that kind of issue – I've even had it happen twice on my own car."
However, Kevin Forbes, co-owner of Rosefield Motors, questioned whether some road users could do more to prevent the damage.
"I do speak to people who say the roads here are a nightmare or who say they aren't as bad elsewhere but I think a lot of it has to do with cheaper cars or older cars that aren't being looked after," he said.
"It's very seldom that a good strong coil spring will go just from going over a pothole but certainly a ball joint could — I think it's really about looking after things so they can withstand the wear."
A spokeswoman for the Driver and Vehicle Standards Agency advised 295 of the class 1 and 2 faults recorded last year could include instances of vehicles being failed for multiple defects so might account for a small amount of over-reporting.
Mark Flynn, depute convener of Dundee City Council's city development committee said: "The most up to date Roads Maintenance Partnership report due to the city development committee later this month shows that claims for damage to vehicles caused by road condition in Dundee is the lowest of the four Scottish cities and below average for the whole country.
"In addition we have one of the lowest proportions of road that needs to be considered for maintenance of any Scottish city.
"I am also pleased to note that while we spend around the Scottish average on maintaining our roads network, it has one of the best results when it comes to its condition."
David J Brown, roads and transportation service manager for Fife Council, said the authority has been facing "very challenging" economic conditions but has seen an improvement in road conditions over the past five years and a reduction in the number of potholes recorded.
Perth & Kinross council were also approached for comment but failed to respond.