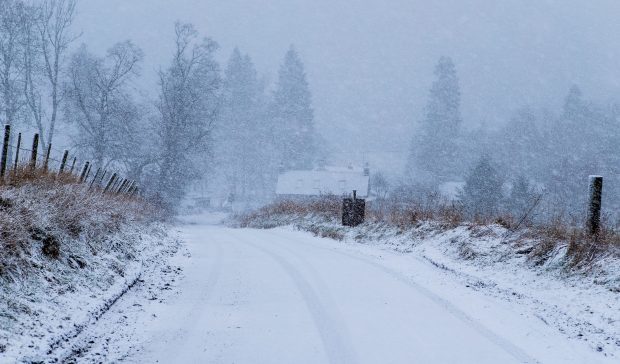 The majority of local authorities in Courier Country claim they have not yet overspent on their winter roads budget despite the continuation of the tough weather conditions currently sweeping the nation.
Fife Council said they are close to using up this year's finances required to keep their roads clear, but Angus Council said they are within their allocated limit.
Perth and Kinross Council couldn't confirm if they had overspent, with Dundee City Council stressing they are to review their figures shortly.
The details were requested after it was revealed that many Scottish local authorities have already overspent their budget for winter roads maintenance. Highland Council has stated it has overspent its £5 million winter gritting budget by around £500,000 due to the weather.
A leading Fife Council official confirmed they expect to have to increase their winter roads budget by another £500,000 by the end of the year if the inclement conditions continue.
Derek Crowe, senior manager with Fife Council's roads and transportation services, said: "Our 2017/18 gritting budget is £3.008 million. If the current weather pattern continues it's likely that we will have to increase this by around £500,000."
An Angus Council spokesman said: "The low temperatures experienced so far this winter means that our spending on winter roads maintenance is above average, but not overspent at present."
He added that Angus Council spend around £2.3 million dealing with winter weather conditions.
Perth and Kinross Council couldn't confirm if they had reached the limit of their winter maintenance budget for 2017/18, but did reveal it amounts to £3.717 million.
"Actual expenditure depends on the severity of weather across the entire winter service period, which we are obviously in the middle of at present," she said.
"Expenditure is closely monitored and reported regularly to the council's strategic policy and resources committee."
A Dundee City Council spokesperson said an update on their winter maintenance budget will be considered by the local authority's policy and resources committee in the "near future."
"The council has been deploying its resources to keep the city's pavements and roads safe for pedestrians and motorists through these spells of colder weather," he said.