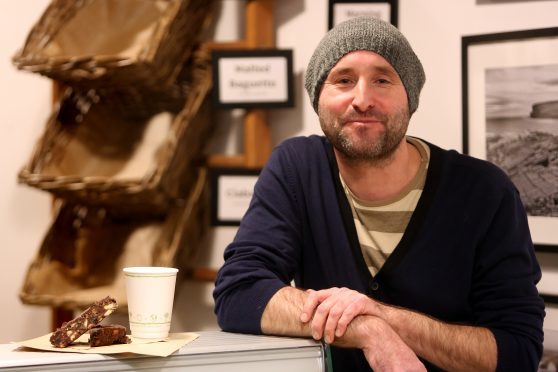 Dundee's first fully vegan cafe has been launched.
As of Saturday, Marwick's on Union Street ceased to use animal-derived products and now offers a 100% plant-based menu.
The move has been welcomed by Dundee Vegan Festival organisers, who said it would help to cater for the city's expanding vegan community.
Lois Marwick, who runs the cafe with her husband Michael, said: "Mike and I both worked in restaurants in our younger years.
"When Mark returned from living in Denmark he swore he wouldn't work in restaurants again, because of the long hours.
"However, when we saw the premises on Union Street we knew we had to be there."
"The couple initially started selling street food-inspired dishes for people to take away. A few seats are also available inside for customers who want to sit in.
They tried out a few vegan options, such as soup, which proved popular, and soon realised there was a gap in the market.
Lois said: "Through word of mouth people started coming and asking about vegan options, so we saw there was a demand.
"In October we started doing vegan brunch, and in December we decided to try being vegan ourselves.
"So far we've been really into it and we've seen how many tasty options there are."
She said none of the staff working behind the counter were meat eaters, meaning it was difficult to taste test non-vegan dishes, so the decision to go fully vegan had been a "natural progression".
Barry Mackie-Conlon, co-founder of the Dundee Vegan Festival, said: "Lots of places in Dundee are vegan-friendly, but as far as we're aware this is the first fully vegan cafe.
"It's really exciting, because it shows that change is happening and people are adopting more progressive lifestyles.
"I became a vegan around two and a half years ago and at that time I wasn't aware of there being a  community in the city.
"Now we have the Vegan Festival, which in 2016 had 800 people, and in 2017 the number grew to 1,400.
"With places like this becoming fully-vegan, there will be a lot more choice and convenience for people adopting this lifestyle."