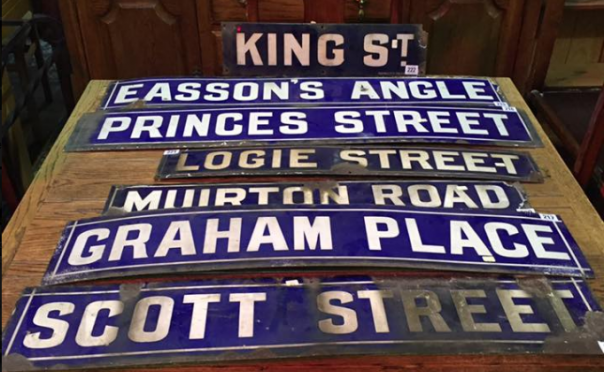 A selection of historical Dundee road signs have sold for hundreds of pounds at auction.
The enamel signs, characterised by their distinctive royal blue background with white, upper case lettering, were sold at local auctioneers Curr and Dewar.
King Street, Princes Street, Graham Place, Muirton Road, Scott Street and Logie Street were all on offer, with some of the signs going for as much as £80.
Stephen Dewar, of Curr and Dewar's, said items of local historical interest are always popular with bidders.
"The collection was brought to us by one of our local, well-known customers, who decided to have a clear-out of some of the things he had collected over the years," he said.
"We were happy to take them on, as items of local historical note are always very popular among our Dundee bidders, who love to see these sort of things.
"One gentleman in particular was very interested in the sign for Graham Place, as he shared his first name with the street.
"Princes Street was sold for £65, Graham Place for £80, Scott Street for £75, Muirton Road for £65, Logie Street for £55 and King Street for £60.
"The signs were quite difficult to date. We believe they are from the post-war era, circa 1950 or thereabouts, because they are made from enamel.
"It is not always easy to figure out how old some items are. With the street signs, some of the older ones would have been constructed from metal but these particular ones have been made from enamel."
Family-owned company Curr and Dewar has operated in the city  for more than 150 years and recently announced they would be expanding their business by moving to a new site.
The business, which is currently situated in North Isla Street, is looking to modernise by relocating to a site in West Pitkerro industrial estate, after submitting planning proposals with Dundee City Council.
Curr and Dewar appeared on an episode of the popular BBC television programme Antiques Road Trip, as well as shows like Bargain Hunt and Flog It.