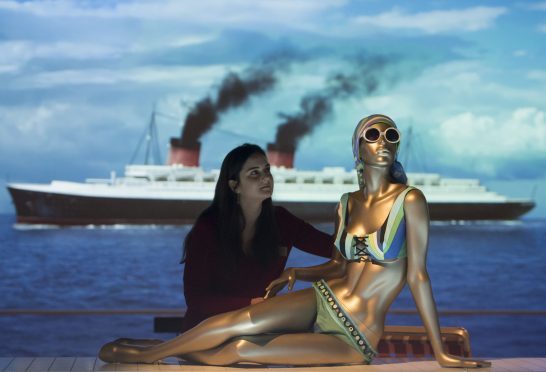 The Courier's Dundee chief reporter Stefan Morkis visited the V&A in London to enjoy a preview of what will be Dundee V&A's first exhibition when it opens in September. This is his take on what visitors will encounter.
Ocean Liners: Speed and Style looks to a glittering past of impossible glamour.
But the real question is — what does the exhibition hold for the future?
More specifically, how will you, dear reader, feel after visiting the exhibition first hand when the long-anticipated V&A opens in September?
The answer, I'm happy to report, is almost certainly stunned. Possibly overwhelmed. And fortunately, in a good way.
This is a stunning exhibition, whether you have an interest in ocean liners, 1920s glamour and The Titanic or not.
And it's big. Really big: both in scale and ambition.
There are five main areas of the exhibition, taking you from the promotional materials urging people to book passage, through to life on the liners themselves, and their legacy.
V&A Dundee helped inspire groundbreaking Ocean Liners exhibition
It successfully brings back to life the halcyon days of ocean-going travel by means of a tiara rescued from the Luisitania and even the Duke of Windsor's luggage, as it reveals how these liners shaped, and were shaped, by time in which they were built.
Visitors can expect to spend a good couple of hours poring over the various exhibits and it's likely more than a few will make repeat trips.
The items from the Titanic are, obviously, likely to attract most of the attention but as curator Ghislaine Wood said, the exhibition tells an even bigger story — one in which Scotland, with its shipbuilding history, plays a major part.
The V&A at Dundee was built on the promise of bringing hundreds of thousands of visitors to Dundee.
Since it was announced, most of the focus has been on the building itself.
It's already iconic but the question was always — would the exhibitions inside live up to it? Would they be the draw that made the £80.1 million cost of building the V&A worth it?
If Ocean Liners is an example of what to expect from future exhibitions then the answer can't be anything other than a resounding yes.
IN PHOTOS: Here are some of the treasures coming to Dundee for V&A's first exhibition